To receive the Glossy Pop newsletter in your inbox every Friday, click here.
All products featured on Glossy Pop are independently selected by our editorial team. However, when you buy something through our retail links, we may earn an affiliate commission.
Since March, Taylor Swift has been setting the country ablaze with each stop of her Eras Tour.
In each state it's crossed through, the tour has enlivened local economies and provided businesses and even governments with opportunities to make cheesy, pun-filled bids to fans in an effort to display their cultural relevance.
For fashion, beauty and wellness businesses, there is a tangible opportunity to engage with the moment and offer customers special experiences or products times to the Eras tour. There are opportunities catered to fans going to the show, those designed to lean into a city's temporary Swiftmania and even those designed to alleviate the pain of not having scored tickets. And of course, there are shopping opportunities for those still finalizing their #ErasTourOutfits. The hashtag now has 650 million views, up from 318 million when Glossy Pop last reported on the burgeoning trend in April.
For some companies, this has meant a spike in sales or foot traffic as Swift has passed through town. Countless brands have fit their styles into Swift's 10 "Eras," allowing them to get in on the conversation dominating TikTok and Instagram alike. For two months, Swift and Eras Tour content has been virtually inescapable. The Eras Tour has far too many associated hashtags to discuss, but the simplest, #ErasTour, has 8.9 billion views on TikTok, and Swift's three-night, Memorial Day Weekend takeover of New Jersey's MetLife Stadium has not even yet begun.
The Eras Tour has even sparked the growth of niche specialty businesses such as Truffle, which makes clear handbags, a safety requirement for many stadiums. On TikTok, simply packing your bag for the Eras Tour — "Advil? Check. Portable battery? Check. Red lipstick? Check." — is a trend. And even the hashtag #ErasTourBagPolicy has over 29,000 views.
"Our sales of stadium- and concert-friendly bags have seen 200% over year-over-year growth," said Sarah Cusumano, co-founder of 11-year-old Truffle. She attributed the spike, in part, to the Eras Tour, noting that Swift's concertgoers are amongst the brand's target Gen Z audience. In May, Truffle released its newest "stadium-friendly" style, the Clarity Mini Crossbody Carryall. Cusumano said the brand plans to create content for social media and publish a blog post centered on guidance for styling its bags with different Eras looks.
Brands with a stylistic association to Swift's style — in any era — have seen lifts, especially those with brick-and-mortar presences in cities that have been stops for the tour.
"We saw a significant lift in sales — up to 4x our average daily sales — in both our Dallas and Houston stores during the dates Taylor performed in the two cities," said Lisa Sadoughi, founder of the headband and accessories brand Lele Sadoughi. "Our store teams also shared several anecdotes of customers coming in groups to coordinate their outfits for the concert. … Store traffic was exponentially over the average, and the average spend was much higher because customers were [favoring] our embellished headbands that have a higher price point [than other items]."
Overall, 50% of sales during concert days were driven by the brand's embellished headbands. The $85 Taffy Rainbow Tweed Kelly Headband was a bestseller in Dallas, while the $145 Pastel Gem Crystal Bloom Bessette Headband was a bestseller in Houston.
In the song 'You're On Your Own, Kid," from Swift's most recent album, "Midnights," she sings, "So make the friendship bracelets /
Take the moment and taste it." The lyric has inspired concertgoers to exchange friendship bracelets by the thousands. For Little Words Project, the nearly-10-year-old brand that calls itself the "original word bracelet," the lyric presented a perfect opportunity. The brand, which has seven stores, promoted its beading bars to Swifities preparing for the shows. Last weekend in Boston, it hosted fans who paid for 30- or 50-minute sessions, for $50 and $75, respectively. The brand used outdoor signage to draw Eras Tour fans.
"The idea of friendship bracelets is passing them on, making friends, loving yourself — all of that which is completely the embodiment of Little Words Project. We're the original word bracelet, and all these girls are joining together, and they're making them on their own. So we felt like, why not say, 'Hey, come to our store if you're going to the Eras Tour. Sit down and make the bracelets together.' We have the supplies, we have the beads, we are the place to do it," said Mariah Grippo, Little Word Project's director of brand experience.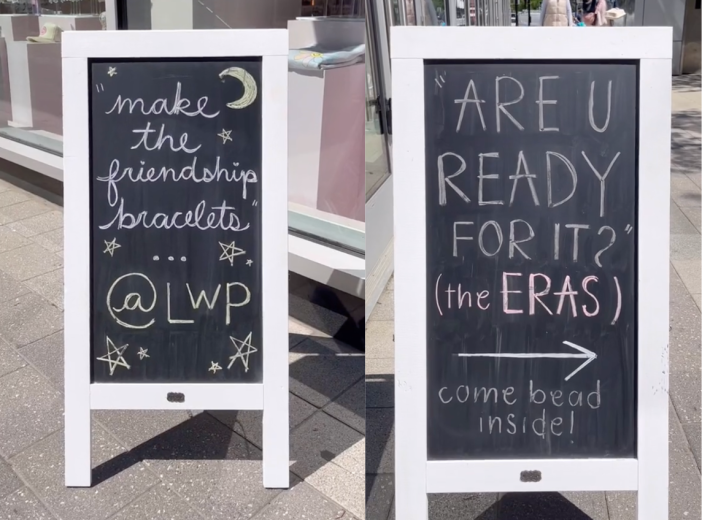 Meanwhile, Hally, the Gen-Z-focused hair-color brand saw the opportunity to seize the Eras moment while on a branded bus tour making stops at college campuses throughout the country. When Swift's tour stopped in Nashville on May 5-7, the bus was nearby. So, on May 7, Hally set up its bus in a parking lot behind Honky Tonk Central, a popular bar on the way to Nissan Stadium. The brand shared details of where it would be and when with its 37,000 Instagram followers via Stories. Like college sporting events, concerts present a space rife with opportunity for the 2-year-old brand that specializes in temporary, colorful hair dye, said founder and CEO Kathryn Winokur.
Winokur said she's seen how concert fashion has exploded over the past few years, especially on TikTok — see also: Harry Styles, "Love On Tour". When Styles's shows kicked off, Hally had not yet launched its temporary hair makeup, now known as Shade Stix. When developing the product, Winokur knew they'd be perfect for concert style, she said.
"Friends are getting ready together— some even traveling to go to these shows together — and really thinking about their accessories and their outfits and their makeup and fun stuff they can do with their hair. With Shade Stix, they can add color to their look, in the same way they might do a bold lip or eyeshadow." The brand saw consistent foot traffic with "no lulls," she said.
"Many Swifties heard about the Hally mobile and wanted to amp up their overall look on their way to the concert. Hair gems, butterfly clips and baby braids were the most requested styles and accessories, and our pink and purple Shade Stix were used the most to complete 'Lover' and 'Speak Now' looks. It was amazing to feel all the excitement firsthand and to see how Hally truly became part of the fans' get-ready experience," said Daniella Smith, senior marketing manager at Hally, who was on the ground in Nashville.
Even fans who did not have tickets stopped by. "The bus presented an opportunity for the brand to activate the city around a star they really love and all the excitement that was happening in the town while she was there," Winokur said.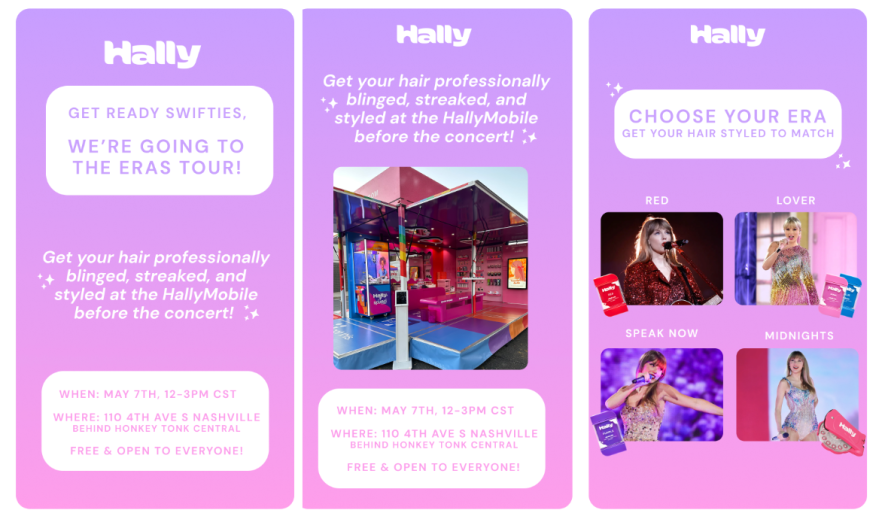 Though details are not yet confirmed, Winokur said the brand will similarly activate around Beyoncé's Renaissance world tour as it hits the states later this summer.
Another brand that has long found success by aligning itself with moments in music culture is SoulCycle, which is making one of its biggest music-based marketing pushes ever in tandem with the Eras Tour. It will host over 100 Eras-themed rides across Manhattan and Brooklyn over Memorial Day Weekend.
"We have a suite of artists and different themes that we know really drive engagement," said Ben Johannemann, SoulCycle's head of marketing. "But we really keep our finger on the pulse of music. … We naturally dial up the number of classes for certain artists, depending on what's happening in culture. … We know that a lot of our riders love Taylor Swift and that getting tickets to the Eras Tour has been near impossible, so we saw a need. We really wanted to show up for our customers, as a brand, and play a role in their love for Taylor Swift, and actually be able to give them the energy of the concert in-studio and on a bike."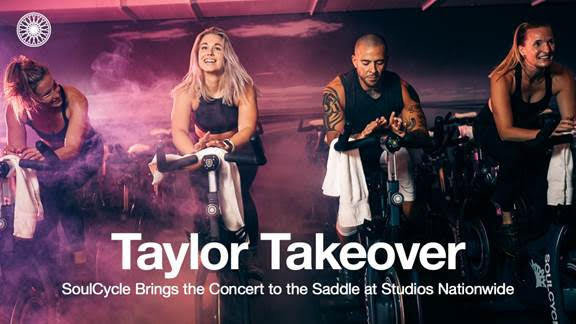 Swift-themed rides consistently sell out and even bring in new riders, Johannemann said, adding, "We typically bring in about three times the number of new riders in Taylor classes than we do for non-Taylor classes." Bad Bunny- and Beyoncé-themed rides are also draws. On Thursday, New York riders in a Taylor Swift-themed ride who booked bike 13 — famously, Swift's favorite number — received their ride for free. Also on Thursday, Tribeca's SoulCycle hosted a friendship-bracelet-making stand, so guests could bead after biking.
The Eras Tour has even offered some lessons in marketing, Johanneman noted. "It's a masterclass in how to sustain engagement over a long period of time — because the tour has consistent elements, but it also takes on new life in every city it goes to." SoulCycle aims to do the same, he said.
Spate Trend Watch: Glow has staying power
The popularity of the "glowing" trend continues to grow. It all started with the rise of products that enhance one's glow, like Charlotte Tilbury's Hollywood Flawless Filter and various brands' lip oils, à la Dior Lip Glow. But the trend has since exploded to include a wide range of creams, oils, serums, complexion products and lip-care items. Beauty fans are just not over that lit-from-within vibe, especially during the summer months.
When it comes to face makeup, searches for products offering a glowing effect have increased by an average of 123,000 searches per month, compared to last year, representing a growth of 92.4%. This surge is largely driven by the popularity of the E.l.f. Halo Glow Liquid Filter, according to Spate. Other notable mentions include the Nars Sheer Glow Foundation and the Anastasia Beverly Hills Glow Kits.
In the skin-care category, the search interest in glowing as a benefit has risen by an average of 68,000 searches per month since last year, marking a 19.6% growth. Well-known products being searched for include the Jergens Natural Glow line and Pixi's Glow Tonic. Searches for self-tanning effects alongside chemical exfoliants highlight the different ways consumers seek to maximize glow in their beauty routines.
"Increased interest in achieving a glowing look demonstrates consumers' desire to appear healthy, radiant and, in some cases, even tanner. Many brands have noticed this trend and are capitalizing on it," said Yarden Horwitz, Spate's co-founder.
Inside our coverage:
Mother Science's Mike Einziger and Ann Marie Simpson-Einziger on the path from rock star to beauty founder
Sir John on expanding beauty inclusivity beyond complexion makeup
Brandon Blackwood's Beyoncé tour outfit showcases designer's 'full-look' brand ambitions
Reading list:
Sachi Skin files lawsuit against Current State
Hair care brand Mielle signs basketball star Angel Reese as ambassador
First Scarlett, then Cara, now Emma: The blunt bob is back on top