All products featured on Glossy Pop are independently selected by our editorial team. However, when you buy something through our retail links, we may earn an affiliate commission.
In April 2022, CTZN Cosmetics made celebrity makeup artist Sir John its chief creative officer and equity partner. His role encompasses working on product development with the brand's three co-founders, sisters Aleena, Aleezeh and Naseeha Khan. He's also responsible for promoting the brand's globally inclusive shade range.
On May 19, the brand debuted its first products created in collaboration with Sir John: the CTZN Cosmetics Eye Elements collection, made up of seven dual-ended eyeshadow sticks.
CTZN Cosmetics is best known for its Nudiversal nude lipsticks and liners, which received a major boost in both sales and popularity from Mikayla Nogeuira. They also caught on for their ability to provide a "nude" look for a wide range of skin tones. Now, the brand wants to do the same for eye makeup, a category that hasn't historically been part of the inclusivity conversation.
The eyeshadow sticks retail for $30 each on CTZN's e-commerce site, as well as at Nordstrom and Thirteen Lune, including Thirteen Lune's JCPenney locations.
Sir John spoke with Glossy about the launch and the state of inclusivity in beauty.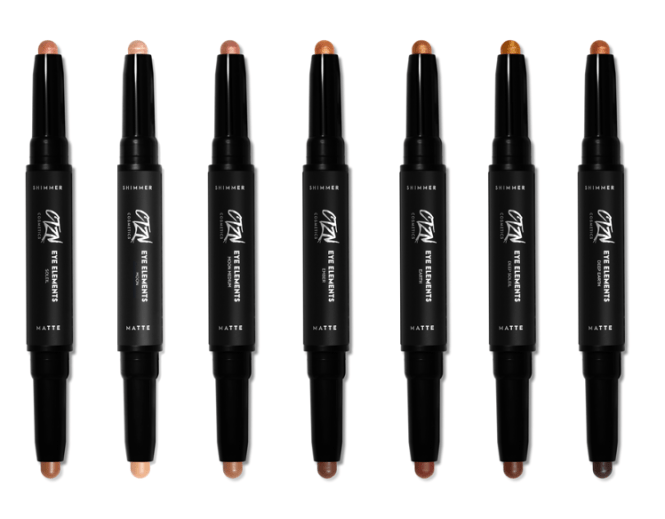 Why did you want to take on this role with CTZN Cosmetics?
"I loved their mission, which is to allow people to truly see themselves. It wasn't performative; they really did care and they really were trying to get it right. I felt like we were aligned on understanding that everyone should be invited to the party. [Having grown up in the business], I always campaign for companies or brands and say, 'Hey, listen. This shade range is not working on some people. This lipstick is a nude, but it looks chalky on everyone else.'"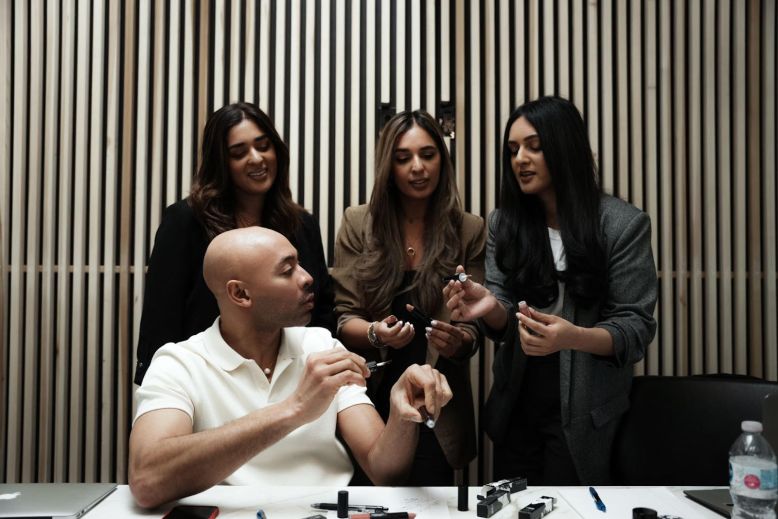 What inspired your unique approach to eye makeup?
"We were in my living room, and I pulled up this big whiteboard, and we were just like, 'OK, what can we do for the eyes?' Sculpting the eyes is always going to be timeless. It's not trendy, it's just something that everyone wants, whether their eyes are beautiful and deep-set or almond or hooded. And we started to figure out how to address every complexion.
A lot of companies just think: light, medium and dark. But we thought: The deeper the spectrum, the warmer they have to go. The highlight changes — it's not the same highlight [for darker skin]; it's not as pearly. It may be more amber or maybe even a bit more rosy.
When we were in the lab, we were thinking about the names, too. The naming constructs are so important when it comes to beauty, because they're also psychological triggers. When you think about foundations, and you hear 'fair' and then you hear 'dark,' it does something. So instead of 'fair,' [we said,] 'Let's throw away 'fair' and 'dark.' Instead, we went with 'deep' and 'rich.' The elements of the cosmos in the sky and the earth and the natural world also inspired the names. [The seven shades are named Moon, Moon Medium, Soleil, Deep Soleil, Ember, Earth and Deep Earth.]"
On a basic, beginner-friendly level, what does it mean to sculpt the eyes?
"Light and shadows are really important. I have a contract with Allergan, and I go around the U.S. talking to dermatologists and plastic surgeons, because we really want to make sure that people are not homogenizing everyone's look. Everyone doesn't need the same cheek, the same lip, the same brow. I grew up as an art student. When we look at a room, a beautiful building or a sunset, what we love most about it are the lights and shadows — the way the light hits something and it protrudes and then the shadows allow something to recede.
When I think about sculpting the eyes, it's about using the darker side of the stick to give the eyes a little bit more depth. Maybe it's sculpting the side of the eyes with a little bit of a V-shape and then blending, which creates this beautiful deep vampy look. Sculpting is about allowing something to pop or recede. It's almost like a pair of Spanx for the eyes."
Inclusivity in makeup is typically tied to complexion products. Talk about the importance of bringing inclusivity to other categories.
"We see it in complexion. [Brands are] diversifying their offerings in concealers, foundations and powders. Whenever we look at any beauty brand, we've always been told that complexion keeps brand loyalty; complexion [products] are people come back to. So any brand's complexion offering is either going to be the birth or the death of them, in terms of who they're trying to target or who they're trying to leave out. But as we look at how we can have more fun with our makeup wardrobe, I think that same conversation, and that same energy or advocacy, should also be a lens or a filter for asking if products are still working for everyone."
How has your work with clients inspired this launch?
"Whenever I'm working with anyone on the deeper end of the [skin tone] spectrum, sculpting their complexion is often a challenge. Because of the [limited] offerings, we're still mixing stuff — some companies have [inclusive shades] and some don't. Oftentimes, [to make eye makeup pop] on anyone with a darker complexion, I'll have to use an eye kohl first, smudge that baby out and then pop shadow on so you can see it. It takes a little bit more time, but it's the prep work we have to do.
But [evolution] is happening. I've never seen so much change in the business. And what I attribute that to is social media."
Shop the launch:
Featured
Visit the Pop Shop to browse all products featured in Glossy Pop.