To receive the Glossy Pop newsletter in your inbox every Friday, click here.
All products featured on Glossy Pop are independently selected by our editorial team. However, when you buy something through our retail links, we may earn an affiliate commission.
It used to be common for a tween, or pre-teen, with a pimple to wind up on a frenzied trip to a drugstore to pore over the best spot treatment fo a quick fix. Nowadays, people are introduced to beauty products and effective routines at an earlier age, thanks to social media.
Kelly Atterton, a former Allure editor and the founder of tween-focused Rile, launching June 9, said, "[Creators] are unknowingly influencing a very young audience who have very sensitive, gentle, beautiful skin that really does not need all this stuff, but they want to feel mature."
Therein lies the white space she, and a number of like-minded entrepreneurs, identified. Rile is aimed at Gen Alpha, who turns 13 this year. The brand's starting lineup focuses on simple skin care. It provides not so much a routine, but rather the building blocks one might put in place before actually instituting a routine. Products include a cleanser, a moisturizer, a gender-neutral lip balm, a charcoal deodorant and a no-rinse shower product, which Atterton described as an all-over micellar water, though it's a foam. Prices will range from $8-15.
"This deserves its place on the shelf," she said. "There should be an option for pre-teens and young teens who don't really have acne, but who want something that feels that it's for them."
In late June, the brand is launching a collaborative facial treatment at Formula Fig, a Canadian facial studio with a West Hollywood outpost. "We recognize the importance of skin care for teens and in-betweens, and we have numerous guests asking for teen-specific skin care and treatments," said Jessica Walsh, founder of Formula Fig founder. To celebrate the launch, the studio will host master classes spotlighting a step-by-step application and the benefits of a consistent skin-care routine.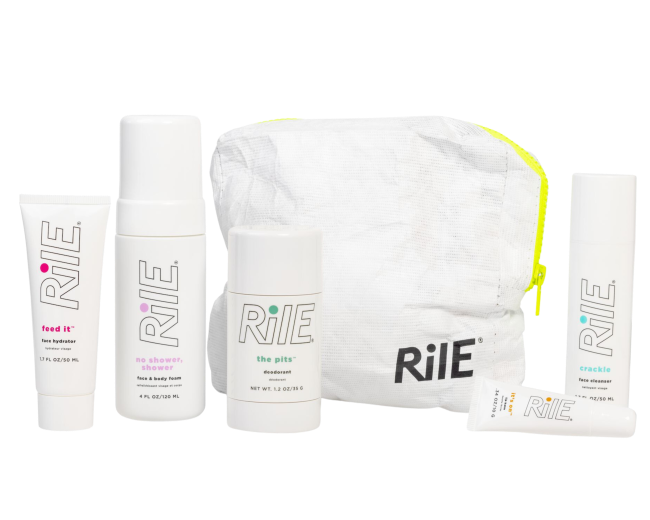 Atterton is a mom of three, and her kids and their friends — totaling eight young people, ranging in age from 14-21 —have been involved in bringing Rile to life. They've designed the look and feel of the brand and shot social videos for it — and rejected many of the ideas Atterton has brought to the table.
"Every time I tried to do something that sounded authentic to a teenager, I got schooled and told, 'That sounds lame,' and, 'If you're the one talking to them, you're just another mom in their face.' And, they're right," she said, adding, "Our vision team is earning equity in the company."
Atterton first started toying with the idea for a brand catering to this niche customer segment years ago, but waited. As beauty has boomed, shelf space for more niche subcategories has increased, she said. She sees her competitors, many of which have also just launched, as proof of concept.
One such brand is Gryt, which launched in mid-May. Unlike Rile, which sees itself as product-focused, Gryt positions product as part of a larger platform for education, particularly around puberty. Co-founder Kathryn Beaton described her goal for the company as becoming "Goop for the next generation."
"We have this education arm, we have this community arm and then we have this product arm," she said, calling the products a means to an end: "We are a tween and teen empowerment brand built on the belief that one's own actions matter — and building healthy habits at an early age sets someone up for a more resilient, grittier adulthood."
When a user pulls up the Gryt site, they see questions befitting a 12-year-old. For example, "What even is puberty?" "Why is hair everywhere?" and "Will I ever get boobs?" The brand debuted with three facial skin care products: the Face Courage Daily Cleanser ($16), the So Chill Stress Less Super-Serum ($24) and the Balancing Act Daily Face Moisturizer ($18).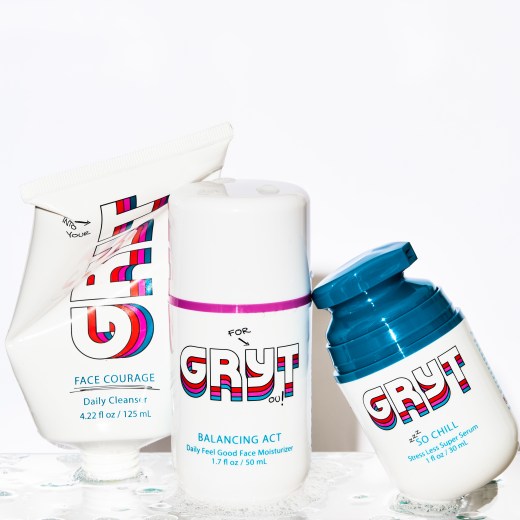 Both Rile and Gryt see an opportunity to set kids up for success at an early age — and importantly, to reach them before misinformation from social media does. Every brand founder serving as a source for this story said tween products now exist because, without dedicated products, tweens will often use products that are far too strong for their skin. Atterton said a friend's 15-year-old daughter uses Shani Darden's $88 retinol serum. Active ingredients like retinol are unnecessary for children's skin and can often lead to adverse effects like irritation or degradation of the skin's barrier.
"We want to offer these young people an opportunity for an easy win. You wake up in the morning and you wash your face, and you're telling yourself, 'I matter.' You are ready to face the day," Beaton said. Gryt has a Youth Advisory Council of eight teens found via grassroots local high school outreach, who have helped Beaton and her co-founders create the brand. "From our branding to our colors to our taglines, anything you see from us has been approved across a multitude of ages and demographics. And that's not an easy feat, because they don't always agree."
Another recent entrant to the space — in the U.S., anyway — is Allkinds. The Australia-based brand doesn't as specifically on tweens as Rile and Gryt, but it makes a large suite of products for a younger audience ranging from five-year-olds to teenagers. "We see ourselves as being here to [help] kids and teens feel their best every day, because there's lots going on for kids and teens," said Paula Gorman, the brand's general manager.
Allkinds' bath and body range is playful — hero products include a maple syrup body wash. As Gorman put it, "It's all very color-driven and scent-driven, and it's all about the experience and the excitement and the joy of the products." The brand's skin care, however, is "a lot more serious."
"If you're wanting to take care of your skin, or you're wanting to take care of your children's skin, it's not a fun product you're looking for. You're looking for a product that's simple and effective and well-formulated," she said. "At this age, it's [about having] a simple base and not a whole lot of stuff that your skin really does not need."
She added, "Our skin support is quite pared back; it's an intentional, simple, well-formulated introduction to a proper skincare routine. It's designed to help kids learn to take care of their skin and establish good habits. I like to think of it as being like a cool older sibling that shows them the ropes, when it comes to their skin."
According to Gorman, young consumers introduce each other to products through word of mouth and social media. Allkinds has nearly 200,000 followers on TikTok. "A lot of demand is being driven by this group of really savvy, switched-on, engaged and interested kids and teens, who are thrilled to have a brand that's been designed for them," she said.
Whether there's a need depends on who you ask. According to a New York City-based psychologist speaking off the record, the budding category lets tweens "feel mature and like the older teens, while also claiming they are not just imitating their older brothers and sisters; they are doing their own thing."
Spate trend watch: With rising temperatures, blotting paper is back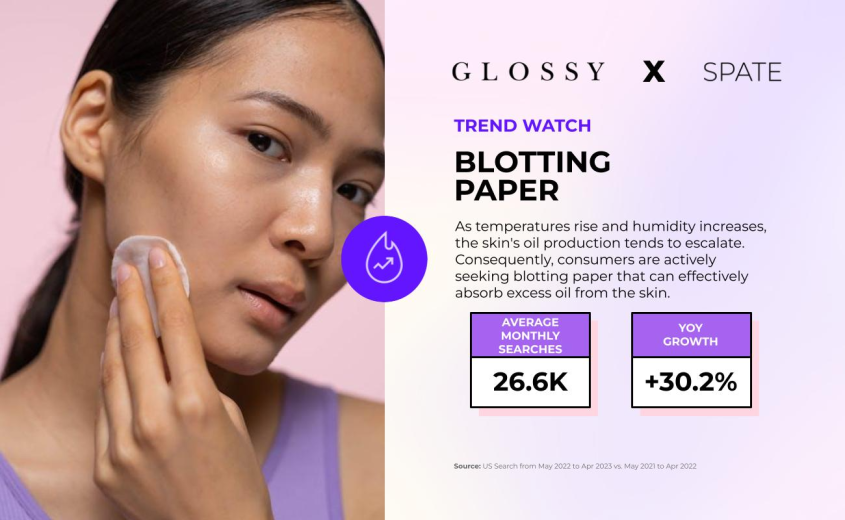 Blotting paper has long been an effective tool in combating oil secretion, particularly for those with oily skin. So, it comes as no surprise that the popularity of blotting paper is on the rise as the summer season heats up, bringing with it increased humidity — and oiliness.
"Oily skin is a common challenge, and blotting paper offers a practical and convenient solution. Its compact size makes it ideal for on-the-go touchups. Consumers are embracing the versatility and effectiveness of blotting papers leading to rising demand," said Yarden Horwitz, co-founder of Spate.
Consumer interest in oil blotting sheets is evident, with various brands being searched alongside the trend. Consumers are looking for a range of options, from high-end brands such as Fenty Beauty to affordable drugstore choices like Clean & Clear.
Although traditionally used for the face, searches are also emerging for oil-absorbing sheets for hair. This presents an exciting opportunity for beauty brands to innovate and expand the use of oil-absorbing sheets beyond just the face.
Inside our coverage
Cider launches its first Gen Z-focused out-of-home campaign
Beauty brands tap into Roblox for Pride campaigns
How MAC Cosmetics is expanding its Viva Glam charity
Reading list
The Balenciaga comeback is happening
Sharon Chuter leaves Uoma Beauty C-suite, board