To receive the Glossy Pop newsletter in your inbox every Friday, click here.
All products featured on Glossy Pop are independently selected by our editorial team. However, when you buy something through our retail links, we may earn an affiliate commission.
On TikTok, #marcjacobsdaisy has 5 million views, which is especially impressive when you consider the scent has been around since 2007. I remember its launch; Marc Jacobs, the fashion brand, was at its peak, and Daisy was, with its pre-Instagram, Instagrammable-packaging, an easy entry into that high-fashion world.
Marc Jacobs perfume, which is operated by Coty, has kept the appeal of Daisy alive for 15 years. Coty and Marc Jacobs renewed their deal in 2019, and it seems to be a very lucrative one. According to an article in WWD, published in 2019, "The Marc Jacobs Daisy family has been a top performer in Coty's luxury fragrance portfolio. The franchise brings in around $300 million in retail sales annually, according to an industry source." Daisy continues to be in demand, which is interesting given that the makeup brand, Marc Jacobs Beauty, which was produced by Kendo, has all but officially disappeared. The brand was put "on hold" in 2021.
This has been possible, in part, because the original Daisy fragrance has maintained ongoing popularity, but the brand has also sustained momentum by continually growing the Daisy family. Today, the original signature scent has countless offshoots including Daisy Love, Daisy Love Eau So Sweet, Daisy Dream, Daisy Eau So Intense, and the newest, an August addition, Daisy Ever So Fresh.
To understand the enduring appeal of the scent, I wanted to learn more about its history, so I spoke with Erwan Le Berrigaud, Coty vice president of global marketing at Marc Jacobs & Calvin Klein. Daisy, he told me, was inspired by Marc Jacobs's friendship with Sofia Coppola and her 1999 film, "The Virgin Suicides." Its name is an homage to Daisy Buchanan of "The Great Gatsby," because Buchanan epitomized "strength, but with fragility and elegance," he said. When Daisy launched, Marc Jacobs was also on a high; he was the creative director at Louis Vuitton, a role he held from 1997-2014.
The original Daisy is a fruity floral featuring notes of strawberry, violet leaves and jasmine. It still smells, to me, much like a girl's first fragrance. "The Virgin Suicides," Le Berrigaud said, inspired the scent's "attitude, mood and landscape." "The original Daisy speaks to an in-between age, when everything is still possible, who you're going to be, who you are becoming, you start to get some convictions, but you are still very much influenced by your surroundings, by your friends," he said.
It's helped that Marc Jacobs and Coty have cast a who's who of emerging young talent as Daisy's many faces, including Kaia Gerber. In an August TikTok by creator Newman Parker @newmanparkerr (159,000 followers) called "What your perfume says about you", Parker describes Daisy as "the beginning of womanhood. When you unwrapped this on Christmas day in middle school your entire life changed and you never looked back."
For the August launch of Daisy Ever So Fresh, the Marc Jacobs perfume team leaned heavily on TikTok creators to help spread the word. It held an event in Chelsea and worked with influencers, including Ella McFadin (65,000 followers on TikTok), Kelsey Kotzur (141,000 followers on TikTok) and Lily Chee (1.1 million followers on TikTok). Mikayla Nogueira also organically posted a glowing review of the franchise's newest addition, in a post that got 344,000 likes. In it, Nogueira says, "I have never fallen in love with a perfume the way I fell in love with this." She adds, "Not only do I collect every single Marc Jacobs Daisy perfume and they're my favorite, but they have a mango one now!"
Sable Yong, co-host of the fragrance podcast Smell Ya Later, is a Daisy collector herself. She has a "garden" displayed above her desk.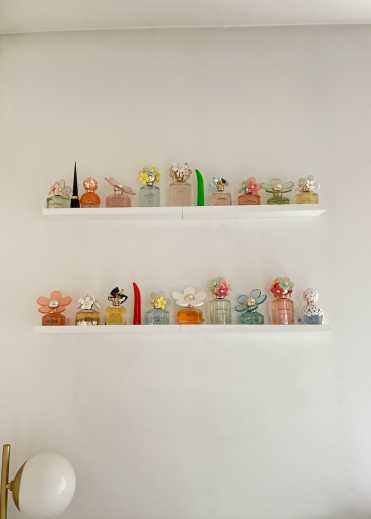 "It's overall a universally pleasing scent," Yong said. "For as long as it's been around, nostalgia is really big now, so it's almost like a cycle effect where what goes around comes around. People who grew up with Daisy in the early days are now enjoying different iterations like the Eau So Intense Daisy, Daisy Love or Daisy Dream."
#PerfumeTok creator John Gonzalez (@johngnzz, 297,000 followers on TikTok) noted the qualities that have made Daisy a classic. "Part of the appeal that makes the Marc Jacobs Daisy collection so enduring is its scent profiles and its timeliness design. They have expanded their scent ranges across the various flankers, [but the scents remain] sweet, clean, or fresh and floral which makes them great for every day use."
For the launch of Daisy Ever So Fresh, TikTok creators' content "garnered five times the engagement rates and nearly three times the view-through rates (VTR) compared to brand-created content," according to data provided by Coty. "Mikayla's video performed the best for both engagement rate and VTR, garnering 6x the engagement of the average brand asset. This demonstrates how leveraging native content from TikTok creators effectively engages our Daisy audience in impactful ways," said Frederic Arbel, senior vice president and chief marketing officer, US Luxury Marketing at Coty.
Globally, Daisy's original scent is still the bestseller, though Daisy Eau So Fresh and Daisy Love are particularly popular in the U.S.
It seems that Daisy continues to play a role in young women's lives; they just might be first exposed to it on TikTok rather than on a stop at Ulta Beauty.
For a fragrance to endure for decades, Le Berrigaud said, it must be "universal and timeless," he said, adding that he believes Daisy can speak to anyone at any age. "That is really the condition for long-term success. It's like in art; if you want to go beyond your period of time as an artist, you have to convey something that can go across time. It's the same in fragrances."
"[There is a lot of] positive emotion about Daisy, especially in the U.S., because a lot of young women grew up with this fragrance. They wore it, or had a friend at school, at the gym who wore it," Le Berrigaud said. "It becomes a rite of passage."
Fans like Nogueira, who see the flower-topped bottles as not just perfume but a sort of beauty lovers' decor, also help fuel the success of the franchise, which the brand calls its "Daisy garden." Le Berrigaud said, "We know that our fans also collect the fragrances for the bottles, so we always try to surprise them with new variants, color combinations, and new shapes [of flowers on the caps.] "The bottle epitomizes how it smells, which is unique. It's hard to communicate fragrances because they are something that you don't see. [Here,] what you smell is what you see, and what you see is what you smell."
Visit the Pop Shop to browse all products featured in Glossy Pop.
The wild wonderful world of Iris Apfel
Sartorial legend Iris Apfel teamed up with makeup brand Ciate London for a Nordstrom exclusive collaboration that debuted Sept. 29. The collab consists of eight products, including two eye shadow palettes, three lipsticks, nail wraps and a collectible bag.
Glossy caught up with Apfel, who celebrated her 101st birthday on August 29, to chat about the collection, how she views her legacy and her oldest beauty memory.
Can you tell me how you weaved your personal taste and aesthetic into the new Ciaté London collection?
"I was super involved throughout the whole creative process. I knew that I wanted bright colors, especially a bright orangey red lipstick that was matte in texture. [Founder] Charlotte [Knight] and her team were so accommodating and gracious to work with."
How do you think you honed your style over the years?
"My style has evolved over the years with me. I just want fashion to be fun. I think that fashion should be used to express individuality and personality, that's what I've always tried to do."
You recently celebrated your 101st birthday — what do you think your legacy will be?
"I hope my legacy will be encouraging everyone to feel confident enough to express their personality or mood through how they present themselves to the world and have fun while doing it, whether that's through fashion and style, lipstick, or eyeshadow."
You're well known for your sartorial aesthetic, but how would you describe your approach to beauty products?
"Similar to my fashion philosophy, wear what makes you feel the best version of yourself. I love lipstick; the brighter, the better."
What's a trend you hope never comes back?
"I don't really believe in following trends. You should look in the mirror and know who you are and dress for yourself and not dress in what they tell you to put on."
What was your first beauty memory?
"My oldest beauty memory is when I was younger, I did my eyes up like Miss Piggy. I loved heavy, big lashes, which we got with mustache wax. You put a chunk of it in a spoon and held a flame underneath, then you took a brush, built the lashes layer after layer, and beaded the ends. It was great looking." — Emma Sandler
Visit the Pop Shop to browse all products featured in Glossy Pop.
Collabs of the week
Pleasing (by Harry Styles) x Marco Ribeiro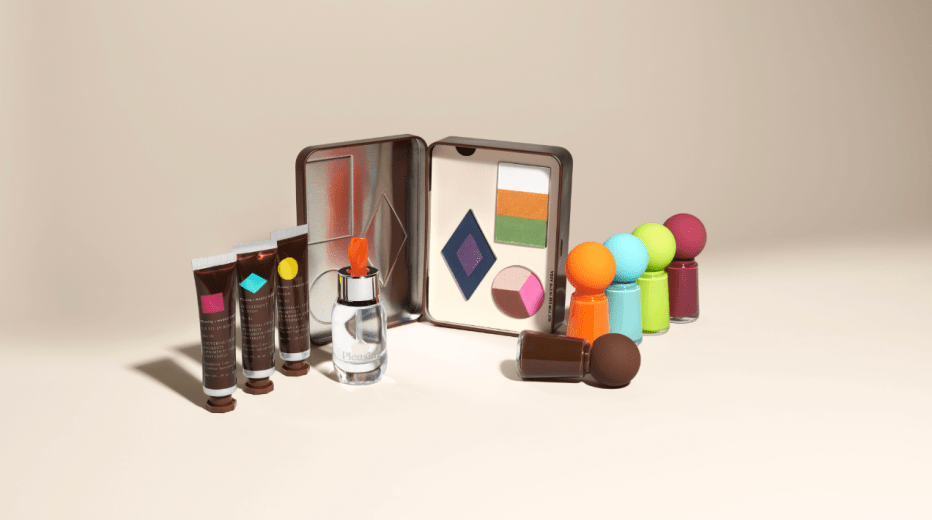 Harry Styles's Pleasing teamed with Brazilian designer Marco Ribeiro for its latest set of nail polishes — and its foray into color cosmetics, via the $50 Pressed Powder Pigments palette, pictured above. The collection also includes five nail polishes (Pleasing's hall mark since its launch), three cream pigments, and a multipurpose gloss.
Visit the Pop Shop to browse all products featured in Glossy Pop.
Dedcool x Youth To The People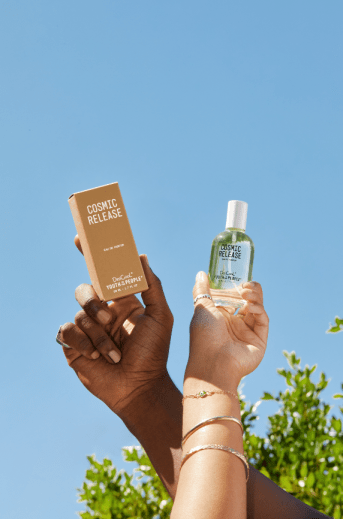 Born out of a DM conversation between Dedcool founder Carina Chazanas and Youth To The People co-founder Greg Gonzalez, comes this limited edition collaboration, which marks Youth To The People's first entry into fragrance. Cosmic Release is meant to "elevate" the wearer. YTTP's site says it "smells like a back-pat from the universe, leaning in, and unrealized potential." Notes include violet leaf, vetiver and cedar.
Visit the Pop Shop to browse all products featured in Glossy Pop.
Inside our coverage
Julie gives emergency contraceptives a much-needed rebrand

K18's older sibling, Aquis, rebrands for the TikTok era
Lady Gaga's Haus Labs launches first TikTok campaign and challenge
Reading List
Is a bra a shirt? These women say yes
TikTok has cracked the code to flawless driver's license photo makeup