To receive the Glossy Pop newsletter in your inbox every Friday, click here.
All products featured on Glossy Pop are independently selected by our editorial team. However, when you buy something through our retail links, we may earn an affiliate commission.
As the influencer marketing industry matures, the way brands and influencers work together has evolved. At the forefront of this evolution is Nudestix, the makeup brand known for its portable, stick-format products. The brand recently announced two influencers as not just ongoing partners and ambassadors, but also as investors: 19-year-old Olivia Ponton and 30-year-old Stephanie Valentine, aka Glamzilla.
The brand has labeled these deals as a CSOP, or celebrity stock option plan. Essentially, in exchange for equity in the company, they are now "perma-influencers" for the brand, agreeing to post about the brand regularly throughout 2022 and at least into 2023. "There are certain deliverables that are put in place contractually. However, because Olivia and Stephanie are extremely business-minded, they really do have a vested interest in the growth of the business," said Taylor Frankel, co-founder of Nudestix.
Nine-year-old Nudestix did not disclose how much equity Ponton and Valentine were granted. Ponton and Valentine are not the only well-known personas to have such a deal with Nudestix. Celebrity makeup artist Mary Phillips also has equity in the brand, and Hilary Duff is a traditional investor. And though celebrities have long amassed investment portfolios, influencers doing the same is indicative of the ways their roles have shifted: They've become increasingly important revenue drivers for brands and as culture has fully accepted them as a new class of celebrities.
Ponton and Valentine were the first to announce their new roles on social media.
For both Ponton and Valentine, the agreement falls way beyond your typical brand-influencer transaction — and it's mutually beneficial. "When I think, 'I'm an investor,' I think, 'Well, yes, I have invested all of my time and energy into building a relationship with not only the brand, but [also with] my followers. So, why should it be a one-off [post I'm doing for the company]?" Valentine said.
On June 22, Valentine announced to her 1.5 million followers on TikTok her title as a Nudestix "collaborator, ambassador and investor," as well as an upcoming product collaboration with the brand. She also stated that she wanted to send a bunch of followers lab samples before fall product launches.
Though the collaboration won't be for sale for a couple of months, both parties wanted to tease the news early. "If we were to just launch Stephanie's kit, right away without introducing her as a partner and without her organically talking about the products she uses organically and consistently, it wouldn't be as successful," said Frankel. "We wouldn't have enough time leading up to that product launch for her community to understand the partnership and our relationship. It plants the seed for when we launch our product."
For both brands and influencers, the question of authenticity is always top of mind. And working with influencers, particularly those with top-tier followings, is expensive and has no guarantee of an ROI. "The influencer world is extremely crowded. The consumer is getting so smart, that it wasn't seeming authentic. It didn't matter how much the individuals loved the product. [They] obviously had to disclose #ad or #sponsorship," Frankel said. "We also realized that, in order for an influencer to convert, they need to post about your product a minimum of 7-10 times to get their community engaged and get them to [think], 'Oh, you actually love this product — let me try it.' We said, 'OK, we need to find a strategy that's a bit more authentic and find people that have a vested interest in the growth [of the business], [where] it's not just about this [one-off] deliverable."
Valentine emphasized that she has never done one-off partnerships. Long before she started posting to TikTok in 2020, she had been creating content for Instagram and YouTube. She counts Sephora, Caudalie, Ole Henriksen and Maybelline among her long-term partners.
"The opportunity for a creator to become a partner, co-collaborator and investor in a brand they believe in establishes a unique occasion for them to leverage their expertise in the space and act as a strategic advisor for the business," said Rebecca Miller, Valentine's manager at Digital Brand Architects. "Unlike the typical brand partnership, these types of opportunities give creators a peek behind the curtain at the brand's day-to-day business and allow them to provide counsel on aspects including marketing and production. [For] Steph, this is a major milestone in her career; it goes far beyond the 'stamp of approval' piece of her brand."
"Being an investor in the company makes me feel more valuable," Valentine said. As soon as she started spending time at Nudestix's headquarters in Toronto, where she is also based, she got to work on the forthcoming product collab. Ponton, for her part, launched her own shade of Nudestix's signature Nudies Bloom eyes, lips, and cheeks stick, "Sweet Cheeks," in May.
Ponton and Valentine both have huge followings, and very different audiences. "Olivia is Gen Z. She is a TikToker. We wanted a Gen Zer to speak to that community. In addition to that, she is a huge advocate for the LGBTQ+ community — she's very vocal on her platform about her own coming out story," Frankel said. She added that Ponton is also active in advocating for ocean conservation and is a true makeup minimalist, which makes her a great match for the brand's easy-to-use, on-the-go friendly sticks.
Valentine, on the other hand, is a makeup guru. "She is that TikToker who will make beauty trends go viral. She's so in-tune with her community, and it was important to us to have someone who was known for makeup and skin care. In addition, she is a part of the AAPI community and vocal about embracing her most beautiful self, from a body positivity perspective," Frankel said.
I asked Valentine if she had ambitions of starting her own brand — after all, influencers with far fewer followers do so all the time. "I see myself doing that, but I'm not somebody who rushes into things. Everything has to fall into place. That's why it took me 10 years to come up with a collaboration. I need to pay my dues. I have a lot of hoops to go through and I have a lot of things to learn before I become [a founder]…. When I create something, it's going to replace what you already have. iI's not going to be something that you just store away," Valentine said.
Valentine hopes that she can be a leader in paving the way for a more thoughtful and sustainable framework for the influencer-brand relationship. "What I hope for content creators in the future is that we can create an ecosystem where we're creating value in the community, instead of just doing cash grabs that are one-offs. Those don't last long. It's never worth it."
Hill House launches swim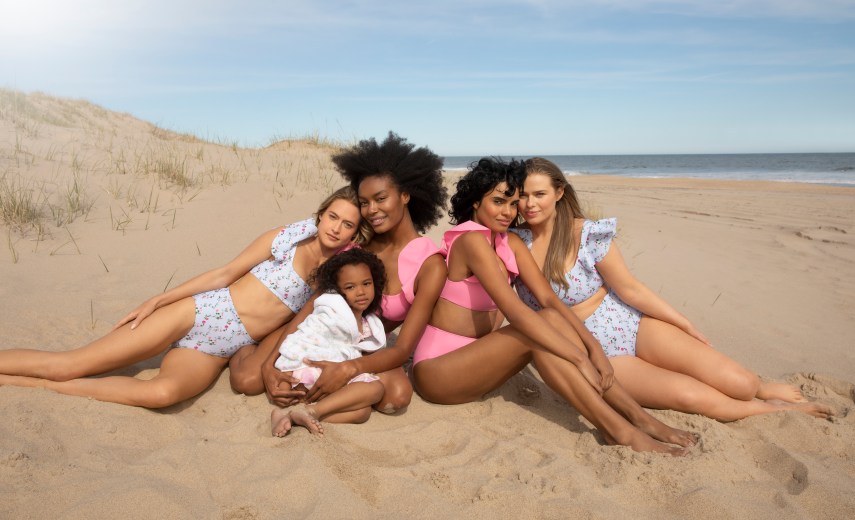 Nap dress aficionados can now get their ruffle sleeve in swim form, as Hill House brand debuted swim this week. The collection includes one ruffle-sleeved one-piece, one bikini and one "pool skirt," in customer-favorite prints like gingham and its "pond floral."
Inside our coverage
Idris & Sabrina Elba launch genderless skin-care brand S'able Labs
TikToker Andrea Cheong says shopping mindfully is good for mental health
Steph Shep teams up with Snif for first fragrance, Suganami
Reading List
Hair gems are TikTok's hottest Y2K beauty trend of summer 2022
The mother-daughter pair making it big on TikTok OOTDS