Idris and Sabrina Elba, husband and wife, have joined the band of celebrities to break into skin care, with their new line, S'able Labs, launched on Tuesday.
"I expect a natural, healthy skepticism," Idris Elba told me in March, while sitting next to Sabrina Elba at a New York City hotel. "Sexiest man, sure, but I'm not known for skin care."
According to Sabrina Elba, "The world doesn't need another skin care or celebrity skin-care brand. But we did feel that there was a gap in the market to at least have a conversation about some of the things that we were talking about."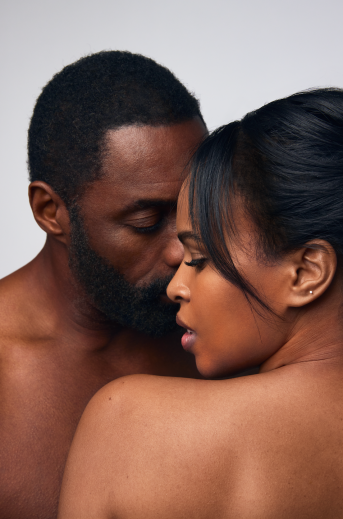 Unlike many celebrity brand origin stories, S'able Labs didn't stem from the founders having modeled for so many other brands and deciding it was time to make one themselves.
Rather, it was a pandemic-born venture that arose from an Instagram Live series the couple started together called Together Tuesdays, in which they talked about couples. The S'able Labs brand launch was coupled with the debut of The Hub by S'able Labs, a content site "exploring all things coupledom," according to its own site. Articles on the site now cover topics such as "Why working out with a partner works," "Six of the best books about fatherhood" and "Sex and the pandemic."
Idris and Sabrina Elba got married in 2019. At the start of the pandemic, they were living together in New Mexico. At the time, everyone was upping the ante on their wellness and self-care, including the Elbas. "Self-care turned into 'us care,'" Sabrina Elba said. "Isolation had a direct impact on our mental health, so we realized we needed to go outside ourselves."
They then launched a podcast with Audible, "Coupledom," on which they interviewed iconic, successful duos like Ben & Jerry founders Ben Cohen and Jerry Greenfield, and Kris Jenner and Kim Kardashian.
"The jump to skin care is still a reach … but we realized that, when you're good and happy with yourself, you're a better partner.… You feel good, like [you have time for other people]," said Idris Elba, well-known for his role in the HBO series "The Wire."
So far, S'able Labs has been exclusively funded by the couple. "We realized that, to partner with [an investor], we would have to bend what we believe in — literally, bend for a check," Idris Elba said. The brand launched with three genderless skin care products, which use East African ingredients. There is the Qasil Cleanser ($30), the Black Seed Toner ($37) and the Baobab Moisturizer ($56). The Elbas hired Sabrina Elba's friend Jessica DeBruyne to be chief product officer and lead product development — she was formerly in sales and education at Tom Ford Beauty.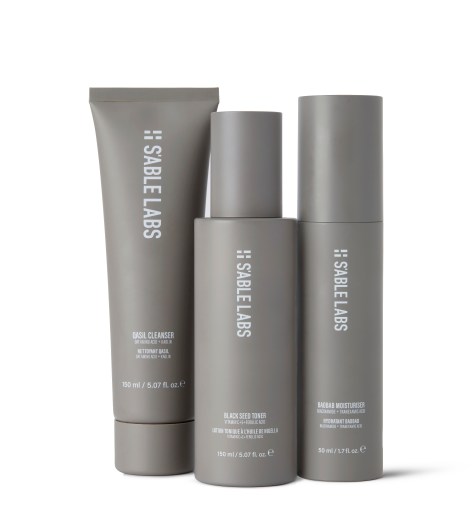 In setting out to create skin-care products without the help of a beauty conglomerate or incubator, the Elbas prioritized natural sourcing, sustainability and accessibility.
"We both work as Goodwill ambassadors. We looked very deeply into the agriculture [involved in producing the products], at a time when food shortages were a real issue. To trace [ingredients] back to the source, you're talking about farmers. So we found ourselves … advocating for small farmers. There are skin-care products in the world, but no one's really sourcing natural ingredients. …And there might be a celebrity attached, but it's [even better] if your pound or dollar goes to a cause that matters," Idris Elba said.
Though plenty of brands do work to source natural ingredients, the Elbas have taken extra steps to assure the quality and sustainability of their products. S'able Labs received the Butterfly Mark, a certification that independently assesses that a brand's suppliers meet and exceed industry standards.
Sabrina Elba said the duo chose partners who share their values: "We've tried to create products that we feel good about creating.… I don't feel a lot of brands are starting out that way anymore, which feels inexcusable at this point in time."
At the start of their endeavor, Idris Elba admitted he was not a skin-care aficionado. "I was like, 'What's an active ingredient? Is it moving?'" he said. Now, however, he wants to use this brand and his platform (he has 5.5 million Instagram followers) to encourage men to practice self-care.
"Now I can have those conversations. And that's a healthy space for men to be in, because it's so gender-ified. … Women tend to be very comfortable speaking about what's going on with their skin. With men, it's like, 'Dog, you don't need to know.' That landscape needs to shift. You are what you eat. You are what you put on your skin."
And, he said, he's a proponent of sharing products in the bathroom. "We're not experts in skin care, I won't lie to you. But I do know that I represent a lot of men who don't know, either. So here we are — a doorway, a junction. I use it, my wife's using it, there's no shame here."