To receive the Glossy Pop newsletter in your inbox every Friday, click here.
All products featured on Glossy Pop are independently selected by our editorial team. However, when you buy something through our retail links, we may earn an affiliate commission.
In 2013, Jennifer Garner filmed a commercial for Neutrogena. That commercial, featuring Garner's smiling face and blown-out hair, aired in millennials' living rooms. Many will recall that her hair somehow remained perfectly intact, even after a dramatic and now iconic giant splash of water hit it on camera.
This June, both in honor of Garner's 15th anniversary as a brand ambassador and in an effort to make inroads with a younger customer, Neutrogena decided to reinvent the campaign, tapping 36 influencers and four of its ambassadors to #MakeASplash on TikTok to promote the brand's hero Hydro Boost Hydrating Hyaluronic Acid Cleansing Gel. It was recently also launched in a fragrance-free edition.
The brand first went to Garner, who recently celebrated her 15th anniversary of being a Neutrogena ambassador, to introduce the campaign. Neutrogena is not the only beauty brand currently working with past ambassadors of an older demographic; Covergirl recently re-appointed Niki Taylor as the face of its Simply Ageless campaign.
Garner kicked off the campaign by posting a video on both TikTok and Instagram, inviting Neutrogena's followers to recreate the splash on their own. Participating fans were then entered in a contest. The top prize was $5,000 and a year's worth of Hydro Boost skin care.
Garner interspersed video footage of her doing the splash in present times with her original commercial. "Oh, you're a little peanut," she says to her younger self, while shown today with her hair up and wearing a white T-shirt. "I can't believe she was already a mom, that chick! … Oh, there's the splash!" As present-day Garner, now 50, splashes in the same way, her shirt becomes increasingly see-through, and she jokes, "It's getting a little questionable in the ratings." Garner's charm and the nostalgia all proved a winning formula. Garner's TikTok alone, posted on June 9, has 3.7 million views. Other influencers tapped to participate in the campaign included Dylan Mulvaney, who, in a previous interview with Glossy noted the campaign's significance for her: "That wasn't even a Pride campaign, it just happened to be in June. So that that felt really, really special," she said, noting that many of her other June brand deals were Pride-related. Other creators included Elyse Meyers (5.4 million followers), Rod Thill (aka @rod, 1.5 million followers) and Brittany Broski (7.1 million followers).
The #MakeASplash campaign was a multitasker, when it came to meeting brand goals for a big, splashy — pun intended — campaign. Neutrogena knew that it had an opportunity to organically participate in the general '90s/early '00s nostalgia that currently informs so many trends on TikTok and beyond. It also saw the campaign as a vehicle to reintroduce the brand, particularly to Gen Zers who might only know the brand for its name.
"The goal of the campaign was to take this nostalgic wave and ride it, but put our Neutrogena spin on it," said Ethan Prizant, brand marketing manager at Neutrogena. "We had also honed in on this consumer insight that a lot of millennials, and even Gen Z, remembered Neutrogena for the splash. We wanted Jen to kick off the campaign, because she was the iconic mother of the splash. The idea was that she would teach everyone how to do it. Then we invited all of our followers and people engaging on TikTok to create the splash, as well." Influencer posts went live from June 10-12, and submissionstwere open until the June 16.
Garner, who was 35 when she filmed the first iconic splash commercial, said she's always loved being a Neutrogena ambassador. "I grew up using Neutrogena, full stop. I used the acne products. [For] my sisters and I, Neutrogena was the fancy brand that we literally would get in our Christmas stocking," she said over Zoom.
"We made a mess and it took forever to get the splash right," Garner said, reminiscing about that first ad. "You use waterproof makeup. It's a whole thing; lots of people wiping everything down, blowing the hair dry. It took me a while to get it, and I had rehearsed it. I had already ruined my bathroom at home."
The re-shoot of the splash was a low-key affair, staged by Garner's assistant Maureen Grosser, aka Mo. "If I'm going to work with a company, [it's really important to me] that I have the same feeling I have about Neutrogena, which is just nostalgia, trust and history," Garner said, adding that she's happy to share the brand with the next generation. "I'm so happy that [the new campaign] was successful. I told Neutrogena, 'It's just Mo and me and an iPhone.' It's not like we really know what we're doing," she said.
In addition to brand awareness, Neutrogena also wanted to appeal to younger customers. Last year, the Glossy Pop newsletter covered the launch of Neutrogena's TikTok account led by the singer-actor duo Chloe and Halle Bailey. Halle Bailey also participated in the #MakeASplash campaign.
"We as a brand were there in those years when many millennials were teens, using us for their acne care. But we've also grown up. We have products in our portfolio — such as the Hydro Boost Hydrating Cleansing Gel, which was the hero of this campaign — that address a more mature skin or the skin needs of an adult," Prizant said. "The challenge has been, with heritage brands and the new incumbents that are playing within the skin-care space, that Neutrogena has been a brand that people are aware of, but Gen Z may not be considering it as a brand for them."
Previously, the brand's acne portfolio had "shaped, in the consumer imagination, what Neutrogena is as a brand," Prizant said.
Surely, in the age of BeReal and increasingly less curated social media feeds, the campaign also resonated for showing Neutrogena's willingness to poke fun at its own past — and the fact that no one can make a dramatic splash of water look graceful or realistic at home. The campaign was a success, garnering 7 billion views on TikTok (paid and earned) and, across Instagram and TikTok, 45.4 million impressions and 2.4 million likes. Over 100 consumers entered the contest, making their own splash videos. According to Tribe Dynamics, the earned media value of the campaign came to $1.9 million.
Neutrogena wanted "get back on Gen Z's radar, as an overall cleansing brand, and get back into the conversation as a brand that's been around. There's a reason that we've been trusted for so many years by dermatologists and by consumers alike," Prizant said.
Visit the Pop Shop to browse all products featured in Glossy Pop.
Jones Road enters hair care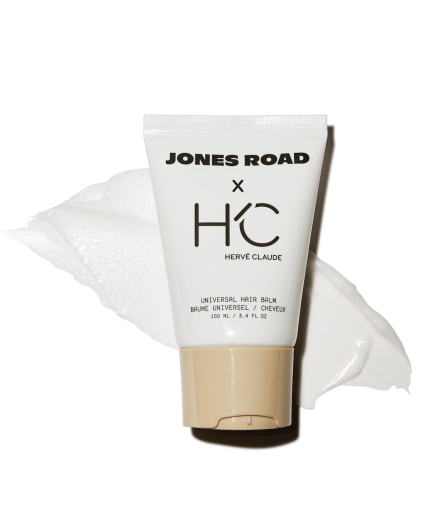 Both Bobbi Brown and her 2-year-old "clean" makeup brand, Jones Road, have been breakouts on TikTok this year. Now, for the first time in her career, Brown has moved beyond makeup, to hair care, with a single product under the Jones Road label. Called "Universal Hair Balm," it's meant to be a multitasker, in line with the ethos of Brown's Jones Road makeup. She likes to use it to smooth frizz. The brand is positioning the new balm as the hair equivalent of the brand's hero product for the face, its Miracle Balm. It also marks Jones Road's first collaboration with Hervé Claude, Brown's long-time stylist.
Visit the Pop Shop to browse all products featured in Glossy Pop.
Inside our coverage
To get in on #RushTok, Tarte sent products to 30,000 sorority hopefuls
Press-on nails move beyond drugstore beauty aisles
'I don't even Google anymore, I TikTok': How TikTok became an aesthetic generator
Reading List
How 7 people chose their ironic Boat and Tote inscriptions
TikTok's "reverse hair washing" hack breathes life back into lifeless hair