To receive the Glossy Pop newsletter in your inbox every Friday, click here.
All products featured on Glossy Pop are independently selected by our editorial team. However, when you buy something through our retail links, we may earn an affiliate commission.
K18, known for its always-on social media strategy, is taking things IRL. And, for the first time, it's launching in the metaverse. The two-fold pop-up and VR activation will launch this weekend. The hair brand, which is a bestseller at Sephora, is known for competing with Olaplex in the bond-building category. It's also become increasingly recognized for its TikTok savvy.
Beginning on May 12 and extending through the weekend, K18 will host a bus outside of the Sephora store at The Grove, the outdoor mall in Los Angeles. The mall has become a common spot for brands to pop up. Other examples of brands setting up temporary stores there include Shay Mitchell's luggage brand Beis, high-end fragrance brand Byredo and skin-care brand Tatcha.
The brand has been posting about the pop-up on its social channels, promoting it to its 266,000 Instagram followers and 151,000 TikTok followers. It is also using paid ads on Instagram and TikTok to promote the event. Sephora and The Grove will also be marketing it.
"It all started with this idea of a magic science bus that would transport you to our K18 lab, and we wanted to create an in-real-life component of it, too," said Michelle Miller, K18's svp of global marketing.
Up until now, the brand has been hyper-focused on the creator economy. "That's where we've often been first-to-market," Miller said. While other brands have experimented with metaverse concepts and VR via virtual showrooms, K18 has opted out, with Miller saying such activations aren't a fit for K18's audience. The brand is now jumping into the metaverse, upon realizing fitting ways to leverage it. "What makes sense is immersive education and being able to tell [our] biotech story in a different way," she said.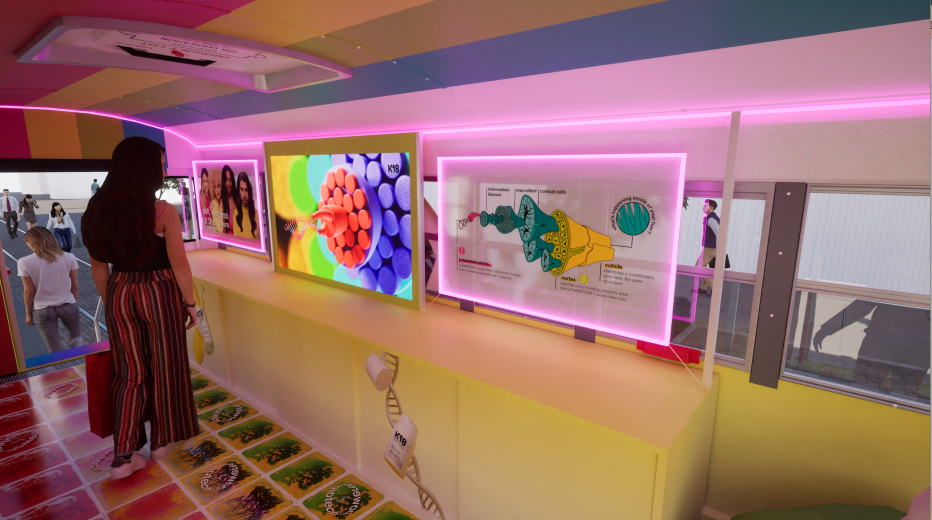 Enter the educational "magic science bus," which is getting ready for its physical and virtual debut. K18 has purchased around 50 Oculus VR devices, which will be used by bus visitors to get a VR experience centered on content around the brand's products and proprietary science. After the pop-up, the devices will be used for education with K18's community of hairstylists.
The idea to educate hairstylists via VR came first, Miller said. "Then we had this idea to make the bus real, as a consumer touchpoint and pop-up, to be able to tell that biotech story in person."
At the pop-up, visitors will be treated to Happy Ice and have the opportunity to receive free samples of K18 products. The activation will also celebrate the brand's most recent launch, its Molecular Repair Hair Oil. Products will not be available to make purchases on the bus — visitors will be directed to the Sephora store to make a purchase. The only item available to buy on the bus will be a K18 sweatshirt emblazoned with the phrase "Science Geek."
To pop up at The Grove for the weekend required a six-figure investment. Miller said. And creating the bus itself was just as costly. Many brands do month-long activations in the rectangular glass box outside of the mall's Nordstrom. Miller said doing so would present the brand with additional challenges, including around staffing.
Just ahead of the pop-up's broader opening to the general public, the brand has invited 100 influencers to celebrate at a seated dinner at Du-Pars, located a short walk from where the bus will be stationed. The brand has paid influencers including Alix Earle, Bretman Rock, Dylan Mulvaney and Victoria Paris to promote the hair oil launch. All of these partners have been invited to the event, but K18 declined to share confirmed attendees.
The VR experience was built with Obsess, which typically creates experiences more focused on commerce. "There aren't a lot of options for building beauty experiences in the metaverse and in VR. Obsess had the resources and the know-how to make ours look like a K18 world and do what we wanted, plus they helped us differentiate from other brands' experiences."
The digital experience, accessible on K18's website or with an Oculus device, showcases a main "room" and another room dedicated to "edutainment" on the hair oil. The main room plays a video featuring hairstylists discussing how K18's technology has impacted their ability to do their jobs and execute their full creativity.
Of the goals for the activation, Miller said that her biggest "is to be able to meet people where they are, and to be able to [share the brand's] science in a fun, engaging and digestible way."
"Educating on science and the power of biotech is a core pillar for us. … When we truly understand hair, we can take better care of it," said Suveen Sahib, co-founder and CEO of K18. The pop-up at The Grove is anticipated to reach over 5,000 "science and hair lovers," he said.
"K18 has been able to tell our story really well on TikTok, online and in-store, but we haven't had the space to be able to fully own the narrative while connecting with the community," Miller said. In the past year, the brand has focused on communicating the science that makes it unique — namely, its patented peptide "that's never been made before," she said.
Spate Trend Watch: Exfoliating serums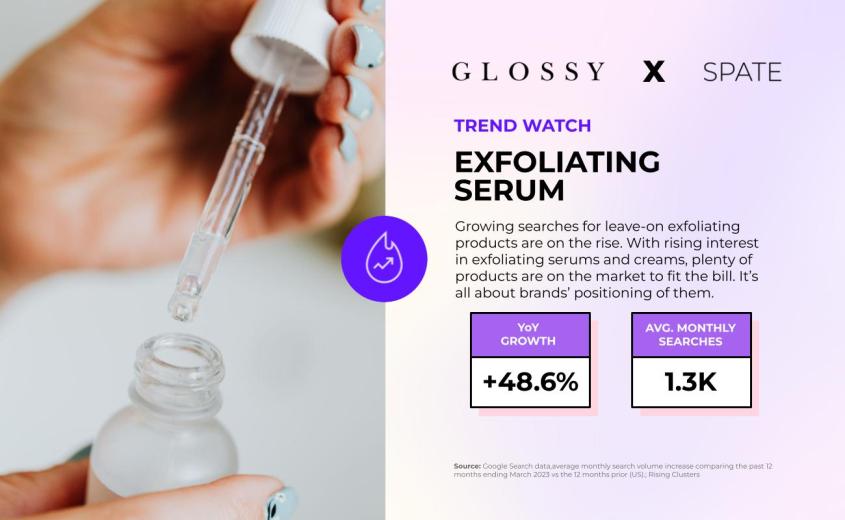 Searches for exfoliating serums are trending, up 48.6% year-over-year — and that's not the only leave-on exfoliant gaining traction. Exfoliating cream searches are also up, by 17.9% year-over-year.
With new skin-care brands like Naked & Thriving joining the party, competition is on the rise. Searches for Naked & Thriving have increased 168%, with top search queries focused on its Renew Resurfacing Night Serum.
"Face serums see 1.2 million branded searches monthly — significantly higher than non-branded searches, at 235.8K per month. The emergence of exfoliating serums as a high-growth category highlights the importance of product positioning to stand out. Today's beauty lovers tell us what they want through their searches, including serums and creams that exfoliate. It's up to brands to place this benefit front and center to stand out from the crowd," said Yarden Horwitz, Spate co-founder.
Shop Now: The mom-daughter collab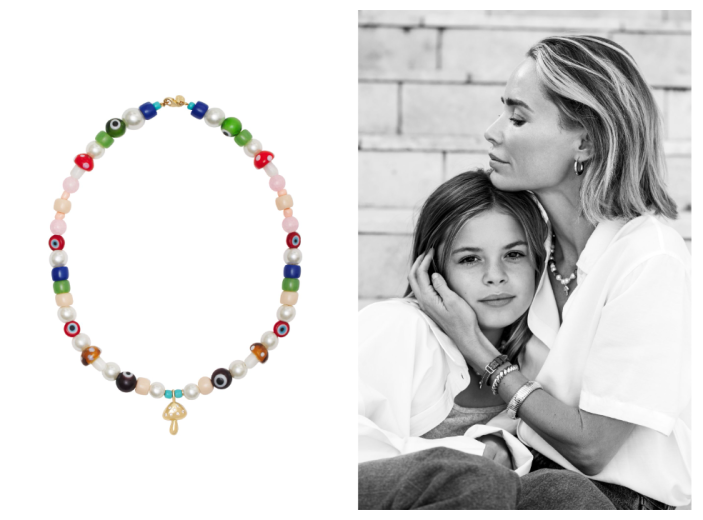 Ahead of Mother's Day this year, Anine Bing found inspiration — and a collaborator — in her daughter, Bianca. The resulting Anine x Bianca Bead Necklace is made of glass pearls and beads fixed to a solid 14k gold mushroom charm accented with pavé diamonds. "Designing this necklace with my daughter was a dream collaboration. She's my forever muse, my soul mate. … I feel lucky to be able to design bespoke pieces with her … especially around Mother's Day," Bing said.
Inside our coverage
Too Faced announces TikTok star Sara Echeagaray as first creative director in residence
Inside Shark Beauty's marketing strategy targeting moms
Tarte Cosmetics CEO announces brand is overhauling influencer program, apologizes
Reading list
The companies trying to make live shopping a thing in the U.S.
Everything Beyoncé has worn so far on her 'Renaissance' world tour
How 'Get Ready With Me' videos became the ultimate confessional