To receive the Glossy Pop newsletter in your inbox every Friday, click here.
All products featured on Glossy Pop are independently selected by our editorial team. However, when you buy something through our retail links, we may earn an affiliate commission.
There has never been as much attention paid to a brand's values than in this day and age. According to research by WP Engine, reported in Newsweek, "72% of Gen-Z shoppers are more likely to buy from a company that contributes to a social cause. And they claim they're willing to spend a bit more for that product, too." The same thinking applies to influencers.
More than a decade into the influencer economy and we now understand that our follows, likes, shares and clicks on links in bios are powerful tools that dictate the success of creators.
So when a decision with as serious and dangerous implications as last Friday's overturning of Roe v. Wade is made, today's consumers want to know where the brands they buy from and the influencers they follow stand. In the past week, I've saved 108 Instagram grid posts from fashion, beauty and wellness brands, some stating their disgust with the decision and support for the people it impacts, some announcing donations, and some sharing the ways they'll be supporting their employees in receiving reproductive health care and access to abortions, when needed. I've also been closely watching the ways in which influencers have, or have not, responded and have spoken to a number of influencers about their decisions to speak out and the way such decisions play out in the current digital landscape.
It got interesting, and quite meta, as a number of influencers have now made TikToks about why they think speaking out or, at the least, making your stance known is a non-negotiable. I spoke to a number of influencers who not only chose to make their stance clear, but also to talk about why doing so, as someone with a platform, was important.
Speaking out was never a question for the influencers I spoke to. They're not concerned about losing potential brand deals because they don't want to work with brands who don't share their values on choice and access to abortion. Dana Patterson, 29 (237,000 TikTok followers), feels it's an influencer's responsibility to make their followers feel that their page is a safe space for them.
"The reality is that people who follow us come from all walks of life, and they all deserve to feel safe on our page," Patterson told me via Zoom. For her, that means speaking out and providing resources for information about abortion. This is not a question of "'Do you like vanilla ice cream?' [Instead] it's like, 'Do you want to have rights?'"
Meghan Rienks, a long-time YouTuber (over 2 million followers on YouTube and 164,000 on TikTok), posted to TikTok to criticize a since-deleted Instagram post made by religious influencer Jackie Hill Perry. In the post, Perry expressed her distaste for "social pressure" to "add commentary to every current event." Rienks has posted at least eight TikToks about influencer responses to Roe v. Wade. "Why should your followers give a shit about you, if you do not care about their literal rights? … Why should we be buying your products? Why should we be swiping up on your links? Why should we be trusting you with, like, 'Oh, this shampoo is fantastic,' if we can't even trust you to be like, 'Yeah, I think you deserve body autonomy?'" Rienks asked in one post.
MJ Hedderman (1.1 million TikTok followers) made a powerful video in which she speaks about responding to a DM from a girl asking for advice in helping a friend who had been recently evicted and didn't want to be pregnant. "Obviously, it's not my job as an influencer to do this, considering the job description of an influencer literally means to influence people into buying things. But when I have a woman terrified in my DMs asking for my help, I'm going to continue to post about it. And you can get angry because I'm calling influencers out, and you can get mad because you don't like talking about politics or heavy subjects. I don't really give a fuck. It's bigger than that. This is literally life and death, and if you're not scared, you're not paying attention. So, yeah, continue posting your Princess Polly hauls. Have fun with that."
Influencer @lipstickittty (89,000 TikTok followers) made two videos titled "Beauty Brands That Have Been Silent Since Roe V. Wade Was Overturned" and included screenshots of the Instagram profiles of the following brands: Glamlite Cosmetics, Kylie Cosmetics, Summer Fridays, Fenty Beauty, Tarte Cosmetics, Milk Makeup (which has since posted), Fresh, Anastasia Beverly Hills, Kiehl's, Makeup by Mario, Haus Labs, MAC Cosmetics, Too Faced, Supergoop, GXVE, Laura Mercier, Nars Cosmetics, Farmacy, Dior Beauty, Briogeo and Kosas. In a follow-up video she explained her reasoning, noting that consumers deserve to "support brands that support them," and saying that "if it takes them that long to say something, I guarantee you they're saying it just to say it."
For decades now, Planned Parenthood has worked with celebrities, filmmakers and artists to shape the narratives around reproductive health care to lessen stigma and help spread accurate information. As influencers have become celebrities in their own right, the organization has increased its work with digital creators, too. "Unlike traditional celebrities, social media influencers and content creators build intimate communities through engagement with their audience, compelling original content and authenticity. They interact and engage with their followers, sharing personal stories and, in doing so, have become trusted messengers," said Caren Spruch, Planned Parenthood's national director of arts and entertainment engagement. Full disclosure: She's also my mom.
"In this moment, when the federal constitutional right to abortion has been taken away from us, influencers and content creators have been harnessing their power and voices to educate and mobilize their followers to take action. This has happened through a variety of ways — [taking part in] collaborations, sharing their own abortion stories, sharing infographics and explainers, or directing their followers to places where they can take action, such as BansOff.org, or find information, such as abortionfinder.org. These last few weeks, it has been incredible to see the outpouring of support from creators of all niches, many of whom had never spoken out about their support for abortion. That's especially on TikTok, where Gen Z makes up more than half of all users," Spruch said.
That's opened up a can of worms for the companies that manage influencers, as part of their job is helping clients navigate the evolving landscape. I spoke to Nya Gabriella Parchment, vp of marketing and brand partnerships at Digital Brand Architects (DBA) about how the company is working with clients who want to respond.
"I want them to say something, because they have a lot of young followers and they do have a huge influence. That's why we're in this business. However, as a professional on the management team, I respect their personal choice, whether they want to do it or whether they don't. My goal, and our goal at DBA, is to make sure they're prepared, either way," Parchment said. DBA's managers provided their clients with resources from Planned Parenthood and the DNC. In addition, the company closed its own office on Friday to "process the loss of personal choice for one's reproductive health."
DBA client Chriselle Lim posted to her Instagram, "As a mother of two daughters, I'm so angered, saddened and disappointed." Another DBA client, Mikayla Nogueira, was criticized in TikTok comment sections for promoting an upcoming makeup collaboration without commenting on Roe v. Wade. But by Tuesday, Nogueira posted a video in which she said, "I am aggressively pro-choice. I have voted blue since I turned 18." She announced that she would donate half of her proceeds from the collaboration to "these causes."
Talking about a TikTok that she captioned "a lot of yt influencers are a lil odd ngl :/," Michaela Marks (46,000 TikTok followers) said, "I was following just so many influencers who weren't talking about it. And I'm like, the Supreme Court literally just like took away rights for people with uteruses. And no one is saying anything."
Influencers in the beauty and fashion spaces have long received unwanted criticism when they express their views on anything other than a new mascara. Amanda Zivkovic (12,000 Instagram followers) made a video about receiving the comment, "just stick to makeup."
"It's meant to continue the status quo of this country. When we compartmentalize people, we strip them of their humanity," Zivkovic says in her post.
On Zoom, Zivkovic told me, "It is such a dehumanizing feeling, for someone to say, 'You are just here for my escapism, and you are just here for my entertainment."
Shop to support the fight for abortion rights
Below, a few items from which proceeds will go to nonprofits fighting to maintain the right to safe, accessible abortions.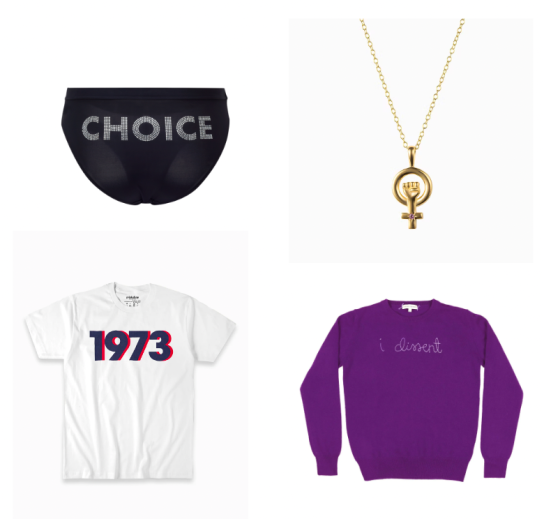 Parade, My Choice Brief, $28 (100% of sales donated to the National Abortion Fund Network)
Awe Inspired, Woman Power Necklace, $150 (100% of sales donated to Planned Parenthood)
Social Goods, 1973 Retro Affirmation Tee, $45 ($5 from the sale of every t-shirt is donated to The National Institute for Reproductive Health)
Lingua Franca, "I Dissent" Crewneck, $380 (20% of each sweater sold will be donated to ACLU Women's Rights Project)
Inside our coverage
Fashion and beauty brands respond to the fall of Roe with grief, anger and support

June launch roundup: 4 new brands to know

Troye Sivan on his skin-care routine and new role as a beauty ambassador
Reading List
Sarah Jessica Parker doesn't think about aging

Kim Kardashian's Skkn skin care brand is being sued
The spidery lash trend inspired by manga characters is taking over TikTok