To receive the Glossy Pop newsletter in your inbox every Friday, click here.
All products featured on Glossy Pop are independently selected by our editorial team. However, when you buy something through our retail links, we may earn an affiliate commission.
Dylan Mulvaney has been an (accidental) influencer for five months. In the first three, she gained 6 million followers (she now has 6.7 million). It all started on March 12, when Mulvaney made a TikTok on a whim — a sort of diary entry, for posterity's sake. She called it "Day 1 of being a girl."
"I've already cried three times, I wrote a scathing email that I did not send, I ordered dresses online that I couldn't afford, and then, when someone asked me how I was, I said, 'I'm fine!' when I wasn't fine. How'd I do, ladies? Girl power," she said. The video has nearly 1 million likes and over 7 million views.
"It went viral and, kind of, for the wrong reasons. Some women were deeply offended by it," she said — though it, quite obviously, is meant to be satirical. "And then, some women were like, 'Oh, my God, welcome to the club.'"
She posted an apology video and decided to make a Day 2 video. Eventually, that became 100 videos in 100 days. By May, on the precipice of Pride month, Mulvaney's TikTok star was rising and brand deals started rolling in.
Here, I should admit that I was late to Mulvaney's party; I started following along when Mulvaney had been posting videos for over 70 days. Eventually, I met Mulvaney in Los Angeles, where she is based, at TikTok Pride. While walking a couple of blocks with her to the VIP section — she was one of TikTok's chosen "trailblazers" for Pride Month — I quickly realized her celebrity, especially in the LGBTQIA community. She was stopped for hugs, selfies and emotional intros countless times. This was Day 93.
The 100 videos in 100 days was not planned, Mulvaney told me earlier this week via Zoom. "It became this goal later on. I kept waking up every morning and expecting everyone to stop watching, but it just kept growing," she said. She imagines that she will show this video diary to her children one day. "That Day 1 video, which was comedy and just making a silly video, turned into something way more meaningful than I thought. And what I never considered was that it could help other people. It felt like, selfishly, 'Oh, I'm making this video to update my family or friends, or as a little diary, in a way that I can look back on it." Now, she said, she gets messages that read "Hi, I just came out to my family because of you," and, "You know, I was really struggling with depression this week, and your videos made my day."
"That's where I'm like, 'Oh, shit, I had no idea,'" she said.
I wanted to talk to Mulvaney and feature her in the newsletter not just because I love to follow her — she's delightful, trust me — but because being transgender means that working with brands is not always as cut and dry as it is for cisgender influencers. Pride Month was extremely busy for Mulvaney. She had partnerships with OKCupid, Neutrogena (though this just happened to be in June), Native, Motorola, Kate Spade and MAC, among other companies. On Day 100, a stacked roster of LGBTQIA stars and creators contributed to a celebratory video posted to TikTok. Plus, Mikayla Nogueira, a Glossy Pop staple, followed Dylan and she made a whole video about it.
Pride, Mulvaney said, coincided with her explosion as a creator. "I became this shiny penny for these brands, because they saw me popping off and they wanted me to work on their Pride campaigns. And with a lot of those brands now, it's like crickets, [now that] Pride is done.
On the one hand, Mulvaney is aware of the privileges she has, privileges that many members of the trans community do not have. "I'm white, I'm skinny, I've got the resources to be making these videos, and I don't have a full-time job. So that lends itself to me actually having this lifestyle," she said. On the other hand, she is fighting a battle cisgender influencers — especially those with as many followers as she does — do not have to fight. For one, many of her partnerships have been one-offs. "I feel like a lot of that is these corporations testing the waters with hiring a trans person — seeing what the response is and how that viewership is gonna go."
Her followers have been extremely supportive, engaging with her sponsored content — often a point of contention for influencers. That's because many they know she is saving money for her transition surgeries. "They're like, 'Yay, Dylan's making money!'" she said.
But Mulvaney has faced criticism. "There was some pushback from the older trans community, as far as me calling myself a trailblazer and what a trailblazer really means," Mulvaney said. "There's room for all of us to be trailblazers, in some way, in the trans community. But I need to be cognizant of [all the things the] older generation did for me. It is because of those trans women that I was able to do a Kate Spade [partnership] and not, you know, be burned at the stake for it. Moving forward, I hope the opportunities I'm having extend not only to the younger generation of trans people, but also to older trans women. Ageism also comes into play," she said, acknowledging her own youth — she's 25.
Mulvaney dreams of seeing her face on a shelf at Sephora or partnering with MAC on a Viva Glam lipstick. "Right now, it's on my platform. It's my followers that are generally seeing [my posts]. But [is the brand] going to take the chance to really promote me to their following, which is a very different situation?" she asked. "Because it's when they include me in those nationwide campaigns or those commercials on TV, that's when those Facebook comments start coming in, saying, 'I'm never going to shop here again, because of that trans girl's ad.'"
She is undoubtedly on the way to accomplishing these dreams. Previously, a Broadway actor who toured with "The Book of Mormon" prior to Covid, Mulvaney recently signed with CAA. "Last year, I couldn't get an audition for anything, and I was having trouble finding an agent. A lot of the gatekeepers of our industry are the ones that don't fully understand trans people and are scared. But now I can walk in there and be like, 'This is how many people have accepted me as a woman and are willing to continue watching me on this journey.' I mean, those numbers don't lie."
Tula debuts its first makeup product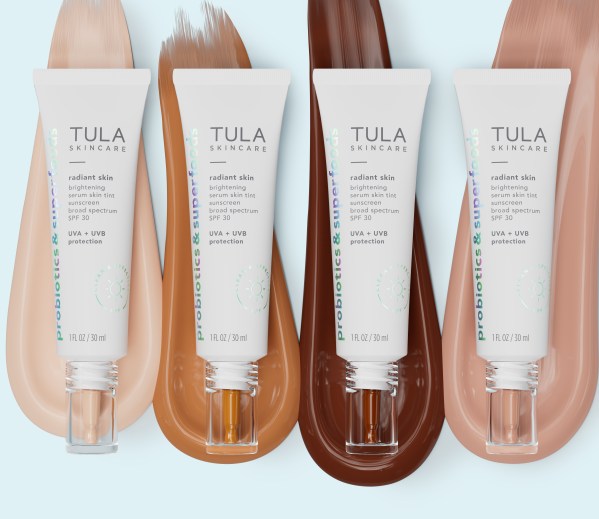 Tula has dozens of products, is sold at Sephora and Ulta, and was acquired by P&G in January. Having conquered skin care, the brand is debuting its first true color cosmetic product on August 1: the brightening serum skin tint sunscreen broad spectrum SPF 30 ($40). It comes in 30 shades. Demand for no-makeup makeup is not slowing down, according to Tula CEO Savannah Sachs. "We know complexion is a competitive category, so our science-backed skin care-makeup hybrid skin tint offers a clinically effective and performance-driven solution that customers have been asking us for."
To explore (and shop!) all the products featured on Glossy Pop, check out the Pop Shop.
Inside our coverage
Exclusive: With Dedcool launch, Sephora enters the laundry detergent and air freshener categories
With new Twitter campaign, Blueland is helping customers recycle any beauty product
From Addison Rae to Hyram, TikTok stars head to short video app Flip
Reading list
Everyone on TikTok Is low key using the same under-$20 blush stick & I need it
Jane Fonda fronts campaign for new H&M 'Move' line