To receive the Glossy Pop newsletter in your inbox every Friday, click here.
All products featured on Glossy Pop are independently selected by our editorial team. However, when you buy something through our retail links, we may earn an affiliate commission.
This week, countless publications (including Glossy) have announced the arrival of Half Magic, the makeup line created by Doniella [Donni] Davy and entertainment company A24. The collection puts Davy's stamp of approval on the trends she has both catalyzed and mainstreamed since "Euphoria" first premiered in June 2019. Since then, the show has become known for its maximalist, expressive makeup — a rainbow of colors, crystal gems, and facial adornments, which existing brands have been quick to create. (See: the burgeoning category of eye gems).
While fashion trends have come from the small screen into the real world plenty of times, it has been less common for makeup trends to transcend in that way, let alone to even be as noticeable as "Euphoria" wants its makeup to be.
After "Euphoria" premiered, Davy had plenty of offers for co-branded eyeshadow palettes and other beauty collaborations. But she chose to hold off, save for her collaboration on eye decals — which she also used on the show — with Face Lace by Phyllis Cohen. In addition to potential brand deals, she also rapidly amassed a following on social media. Today, Davy has 579,000 followers on Instagram and is just shy of 100,000 followers on TikTok.
Most impactful, though, were the fans reaching out. "I was so touched by people who would DM me and say that they were kind of nervous to do ["Euphoria" style] makeup or wanted to but never had the guts to. Then, they saw the show, got inspired and tried it and now they've found themselves," Davy told Glossy.
"I was stoked that people were responding to the behind-the-scenes inspiration for the looks and the emotional place where the looks were coming from. That was really exciting, not just because it's cool or the actor looks cool or hot or whatever. People love the backstory," Davy said.
"In 'Euphoria,' we are always working to communicate the heightened emotions that are part of being young, of growing up, of figuring out who you are. Donni's work is a key part of finding that heightened expression and uncovering more of who our characters are on an emotional level," Euphoria creator Sam Levinson told Glossy in an email.
As the show's impact became more apparent, executives at A24 went to Davy with the idea for a brand. "[Your work] is really doing something in the beauty industry, it feels important and it feels like we should make a makeup line," Davy recalled them saying. She knew she was interested in creating one, but she wanted to do it from the ground up. "I wanted to create everything about it, the user experience, the packaging, the formulas, everything."
Half Magic launched direct-to-consumer on Tuesday, May 17, and ranges in price — for single products — from $10 for a silicone tool that helps perfect a winged liner shape to $24 for the brand's liquid eye pigments. Davy's goal? A brand that makes everyone feel welcome. "The most important thing to me is that this brand doesn't come off as being a 'cool girl brand,'" she said. For her, experimentation is for everyone.
The "magic" of the products lies in the fact that "these formulas, colors and textures allow you to achieve endless customization," said Sam Sachs, Half Magic's director of product development and packaging.
The extent to which "Euphoria" has inspired makeup experimentation has been well documented. On TikTok, the hashtag #EuphoriaMakeup has a mind-boggling 2 billion views. "Overall, 'Euphoria' is definitely influencing the makeup category," said Yarden Horwitz, co-founder of Spate, a data analysis firm. "Consumers are searching for 'Euphoria' inspiration and have shown signs of getting more creative with their makeup designs (i.e. butterfly eyeliner, silver eyeliner, and even flame eyeliner)." All things considered, Horwitz said, it's still the early stages and most of these searches are not yet occurring alongside a brand, which indicates that there is room for growth in the space.
Davy, it should be noted, does not take credit for "bold makeup," which has long existed in drag culture, at raves, on runways and simply on the fringes of mainstream makeup culture. "The tendency to be bold with makeup has always existed," she said. "I feel like I was the shepherd, getting it on to a mainstream platform, so people could enjoy it and be inspired to partake. Runway makeup has been a thing forever. But that's the thing — [it feels like it's only for] models walking down a runway, so I think the impact I've had more so than even the looks themselves is just the bringing [the makeup] to regular people and showing them, through the show, not only how to wear it, but that they can wear it."
Collab of the week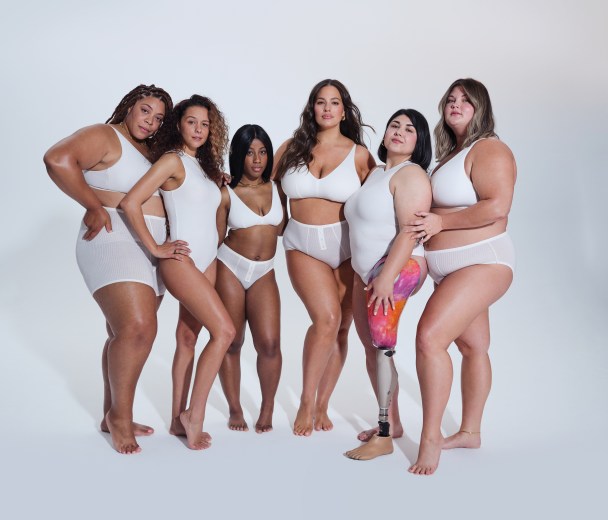 Ashley Graham is taking her role as Knix's first global ambassador, and brand investor, a step further with a new collaboration. The model introduced a capsule collection encompassing underwear, bras and bodysuits in a sexy mesh fabric and a comfy micro modal. Shop it here.
Launches to know

Makeup is officially back. In fact, earlier this week, NPD sales data reported that makeup is now growing twice as fast as skin care. Below, is a look at four new launches to have on your radar.
Keys Soulcare, Sheer Flush Cheek Tint ($22)
The once famously makeup-free singer is adding some color back into her mix. Keys Soulcare introduced makeup with just three products — the above cheek tint, a tinted lip balm and a clear brow gel.
Caliray, Just Add Rays Universal Translucent Glow Booster Drops ($34)
Caliray is (ICYMI) Wende Zomnir, founder of Urban Decay's, second makeup baby. It's all about a wellness-forward, sustainable perspective on makeup. This glow-boosting oil comes in a sustainable glass bottle and blends walnut, brazil and sunflower oils for a super hydrating approach to glowy, bronzed skin.
Ilia, C Beyond Triple Serum SPF 40 Mineral Sunscreen with Vitamin C 10% + Niacinamide ($64)
If you know 'clean' makeup brand Ilia, then you likely know its award-winning, best-selling Super Serum Skin Tint SPF 40 Foundation. Now, the brand is iterating on that success with another skin care-forward product – which was designed to make mornings easier by combining three must-have ingredients — SPF, vitamin C and niacinamide, with just a hint of a skin-perfecting tint.
ICYMI…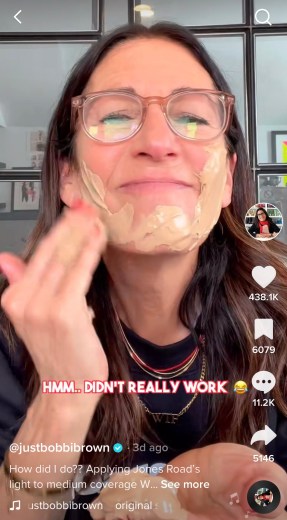 A couple weeks ago, beauty icon turned TikTok phenom Bobbi Brown launched a new foundation. Her second brand, Jones Road, is known for its 'clean' take no-makeup makeup and the launch, a "tinted moisture balm" called What The Foundation, fits that description.
TikTokers were quick to review the product — like one of the brand's other hero products, its Miracle Balm, it has a "dig-your-fingers" in consistency which makes it social content friendly.
Here's where things got interesting: On May 9, Meredith Duxbury (15 million followers) posted a review in which she employed her signature foundation application technique, which involves heaping on globs of foundation. Ultimately, as she moves the product around with a blending sponge, she gives her review: "It's gonna be a no from me."
But lots of people deemed this an unfair review. In fact, even cosmetic chemists like TikToker Javon Ford, who chimed in with advice on how the product is best used given that it is a water-based formula (and explaining that most foundations are not).
This week, however, Bobbi chimed in — and some might say, had the last word. "So I always love learning new makeup techniques, and I learned one today," she said, taking a Duxbury-sized glob of her own formula to her cheek, before declaring "Hmm…didn't really work."
Inside our coverage
Influencer Chloe Morello and manager Ashley Villa launch beauty brand Sireni
Post-ironic "affirmation" memes are the antidote to Instagram's motivational content

How the onesie became social media's go-to athleisure outfit
Reading list
Experimental eyebrow makeup is taking over Instagram. Here's how to get in on the trend
Kendo's Bite Beauty is closing, but its Lip Lab Stores aren't going away
Twitter releases report on Harry Styles' influence on the platform