To receive the Glossy Pop newsletter in your inbox every Friday, click here.
All products featured on Glossy Pop are independently selected by our editorial team. However, when you buy something through our retail links, we may earn an affiliate commission.
There are innumerable odd trends and niche pockets on TikTok. One that's remained fascinating is that of plastic surgeons speculating about the work a particular celebrity may or may not have had done.
Plastic surgery is huge on TikTok: The hashtag #PlasticSurgery has over 18 billion views. It's a topic the Glossy Pop newsletter has covered before — see: The return of the boob job — among Gen-Z influencers, anyway. And it's not just boob jobs. Plastic surgeons have reported a pronounced spike in Gen-Z patients. In fact, 75% of plastic surgeons have seen a spike in clients under age 30, according to February data released from the American Academy of Facial Plastic and Reconstructive Surgery.
Those aforementioned videos that speak to celebrity plastic surgery are buzzy. And, in some cases, they've spurred threats of lawsuits. In 2020, Hailey Bieber threatened to sue Dr. Daniel Barrett, a plastic surgeon in Beverly Hills who has 2 million followers on TikTok, for suggesting that she'd had a rhinoplasty, in addition to a slew of other facial surgeries and injectables — the post is still live. And just last week, Chrissy Teigen responded to a post by Dr. Kay Durairaj (aka @beautybydrkay), in which the doctor wrote, "This post is not out of mean intentions. It is merely here to discuss overfill and its possible consequences. Chrissy Teigen's 'new face' Look at how your face could become if you're doing it wrong!"
Teigen commented via Instagram: "No mean intentions??? But saying this could be your face if you do it wrong? You're a piece of shit. I gained weight."
Back in 2020, Barrett defended his TikTok in a statement to E! "The purpose of my TikTok account is to increase the transparency of plastic surgery and to educate people about plastic surgery," he said. For some, plastic surgeons, celebrities and the surgeries they elect to have are windows to discuss the topic at large, and even to help shatter unrealistic standards of beauty.
To others, it's simply unethical, and the wrong way to discuss plastic surgery on social media and to market oneself or one's practice. Several plastic surgeons serving as sources for this story shed light on their M.O.s, including how they approach TikTok and what they think about discussing celebrity faces.
Dr. Barrett, who has made this type of content, said, "You have to be very careful with this kind of content. You can never say for sure, unless they're your patient. But then, you couldn't be actually talking about them because of HIPAA, unless they give you permission. So you have to state it as your opinion."
He said he wouldn't make this type of video about a regular person. When it comes to celebrities, however, he "feels the need to point out telltale signs of plastic surgery."
"If a celebrity goes around who's clearly had work done and says that they haven't, it's creating a false image of what an actual person could look like. And that's damaging to society, as a whole. So that's the main reason I do it. The other reason I do it is because it gets a lot of engagement with my followers, where we can actually talk about this stuff. I can educate people. What does plastic surgery look like? So it's cool. It's fun."
Dr. Dominick Gadaleta, a facial plastic and reconstructive surgeon in Menlo Park, California, sees things differently. He views speculating about the work a celebrity may or may not have had done as being opposed to a doctor's code of ethics. He "cringes" when he sees the kind of post in question, he said. "Celebrity culture is obviously a very interesting subject that people are fascinated with, and people are just leveraging that — but I actually sympathize with these celebrities. They're in the spotlight and then people are claiming that they know what [they've] had done to their body and their face." Though it may be effective marketing, Gadaleta acknowledged, it ultimately "makes plastic surgery [seem like] a sleazy profession," a perception some already have, he said.
Alternatively, Dr. Gadaleta uses social media to show before-and-after images, which he said "speak for themselves" and are what most prospective patients want to see. He also addresses frequently asked questions.
Dr. Alexander Rivkin, a Los Angeles-based plastic surgeon who has posted celebrity-related social media content in the past, said he doesn't post it anymore. He now thinks such content is "degrading to the field."
"You're speculating about somebody you don't know and you've never seen. And you're seeing one image under certain lighting and in a certain position, and you're making conclusions about those images, which is kind of stupid," he said.
Privacy is not a part of his concern because celebrities, by the nature of their job, trade on their image, he said. That said, he thinks there should be an awareness that oftentimes the images we see of celebrities, like the Kardashians, are not realistic. "There's an entire industry around crafting these people's images — the Photoshops, etc.," he said. "It's really important that people don't base their self-worth on these images that are that are very, very much engineered."
Multiple surgeons called out the Kardashians and J.Lo as promoting unrealistic beauty standards — the latter has credited olive oil with her youthful appearance. Of the olive oil, Dr. Gadaleta said, "Obviously, you have people like Jennifer Lopez saying that she's never had anything done — that she drinks a teaspoon of olive oil a day, or something like that, to keep her skin the way it is. But obviously, as a surgeon and even as a layperson, you know that's not true. The Kardashians are historically famous for this kind of stuff, too. But, at the end of the day, it's their personal decision whether they want to share what they've had done or not."
Ultimately, perhaps the larger concern and one that remains to be addressed is that of social media's larger impact. It's something Gadaleta thinks about daily, especially as younger patients have started showing up at his office. Recently, an 18-year-old came in, he said. "When we first met, she was perseverating about all these little things that she was noticing when she was taking Snapchats of herself. I talked to her about facial asymmetries and how common they are. If you mirror anyone's face, and put the right side beside the left side, you're gonna see that the face is completely different. So I sat with her and talked about trying not to focus on those things."
Spate trend watch: Tanning gel, 2 ways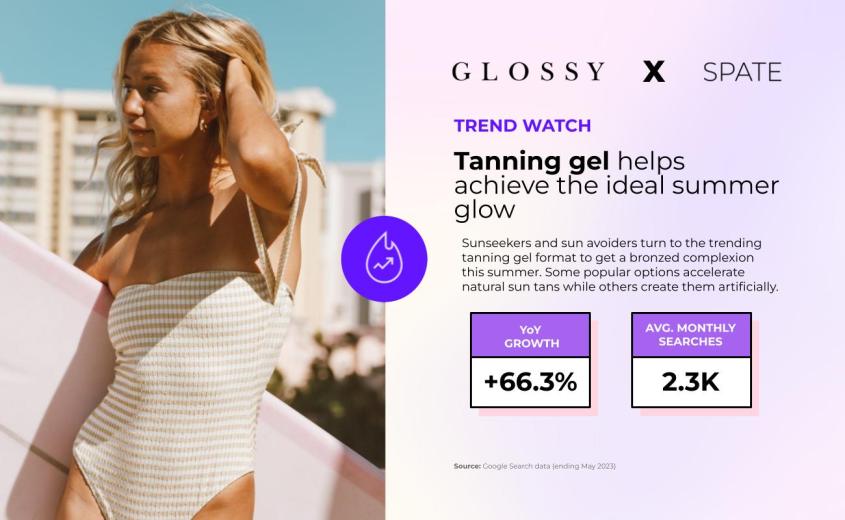 Over the last few years, our collective beauty interest has shifted toward sun safety, giving rise to various faux tan formats. Tanning gel is the latest among many tanning formats to gain traction. However, there are two iterations of this format: a tanning accelerant (read: something to increase your tan from the sun) and a faux tanner that employs DHA, or dihydroxyacetone.
It's interesting — and concerning — to see that, despite all the progress made in understanding the benefits of SPF, some consumers are still baking to bronze. In fact, across the tanning gel trend, Carroten Intensive Tanning Gel, which accelerates the effects of the sun using oils like coconut and sunflower seed, is the top-searched product.
At the other end of the tanning gel spectrum, we have the viral Glow Your Own Way Tan Gel from b.tan, which places second in average monthly searches. This product touts transfer-proof sunless tanning with DHA, making it a safe option.
An overall glow is popular this time of year, and searches for facial bronzing products are up, too. For example, searches for Tanologist Self Tan Drops are up 25.3% year-over-year.
Collabs of the week
Miranda Kerr (Kora Organics) x Sakara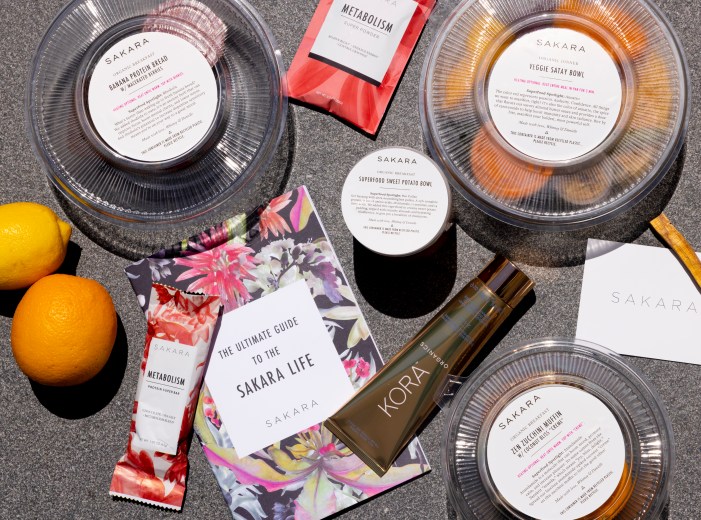 Miranda Kerr, founder of Kora Organics, has curated a Sakara Life meal plan and those who opt will also receive a full-size product from her brand. "I've been a fan since the early days when I lived in NYC. Sakara's meals helped me nourish my body and feel my best after long days on set or traveling for work," Kerr told Glossy, noting that she and Sakara's founders, Danielle DuBoise and Whitney Tingle, all studied at the Integrative Institute of Nutrition. "They went on to channel their passion into serving highly nutritious food, and I focused on the connection of the mind, body and skin, in creating Kora. … There is such great synergy with both our businesses, and we came together on this collaboration with the goal of highlighting the benefits of organic, plant-powered ingredients." The meal plan is heavy on turmeric, a hero ingredient in Kerr's skin-care line.
"This [collaboration] is a fun way to remind people that inner and outer beauty begins with clean ingredients. One of the many superfoods in common, in our meals and in Kora Organics' products, is the anti-inflammatory golden child, turmeric," said DuBoise. "The main active compound in turmeric, curcumin, helps soothe inflammation and boost radiance when consumed or applied topically. Turmeric contains potent antioxidants to protect against environmental stressors while helping to delay the signs of aging."
Boy Smells x Magnolia Bakery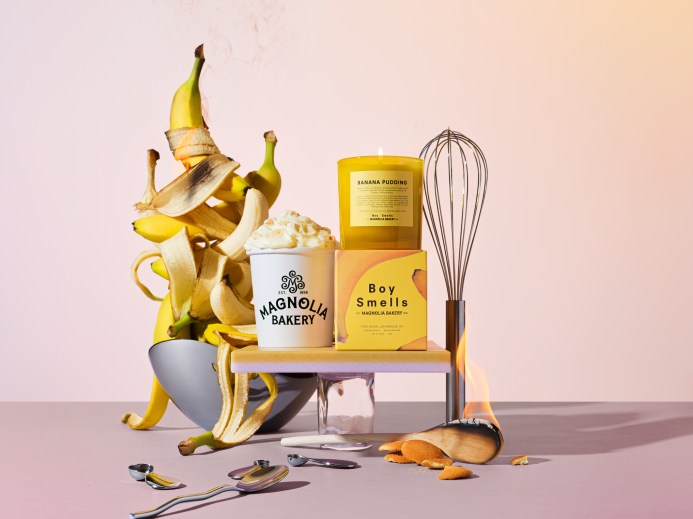 Meet Magnolia Bakery's famous banana pudding, in candle form. The Boy Smells version has notes of ripe banana, cardamom, jasmine petals and leather. For something actually edible, you'll still have to visit the bakery.
Starface x Dedcool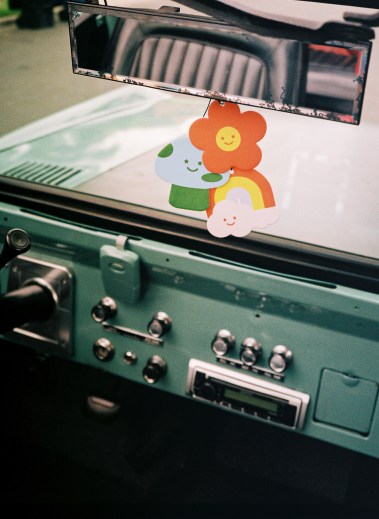 Dedcool, the popular fragrance brand that launched at Sephora last year, has been acing its recent collaborations. It made a perfume with skin-care brand Youth To The People and, just a few weeks ago, it launched a detergent with hair-care brand Ouai. Now, it's created cute "Big Lil Air Fresheners" with Starface, marking the latter's first non-skin-care collaboration. There are three scents offered in three shapes: Magic Forest features notes of bergamot, jasmine and musk; Dream Cloud has notes of lemon, strawberry, amber; and Juicy Blooms has orange, apple blossom and musk.
Inside our coverage
'And Just Like That' costume designers on Season 2's fashion
According to LTK data, skinny jeans are out and Crocs are in this summer
YouTube doubles down on video shopping features
Reading list
Lube that's too chic for the sock drawer
American companies held hostage by the whims of TikTok
Topicals' Olamide Olowe on connecting with the Gen-Z shopper