It's not just female athletes getting beauty brand endorsement deals these days.
On February 15, Houston Rockets basketball player Jalen Green became the new brand ambassador for Un/Dn Laqr, Machine Gun Kelly's nail polish brand. He joins a growing contingent of male professional athletes scoring makeup ambassadorships to promote products across a range of color cosmetics categories. In September 2022, British cosmetics brand Rimmel named Olympic gold medalist diver Tom Daley its global brand ambassador. Former baseball player Alex Rodriguez, aka A-Rod, previously partnered with telehealth startup Hims on makeup for men after his VC firm invested in the brand.
"Ten years ago, a category partnership like this would have been an outlier, but thankfully, personalities like Jalen are creating new conversations and disrupting outdated beauty norms," said Candy Harris, CEO and co-founder of Un/Dn Laqr.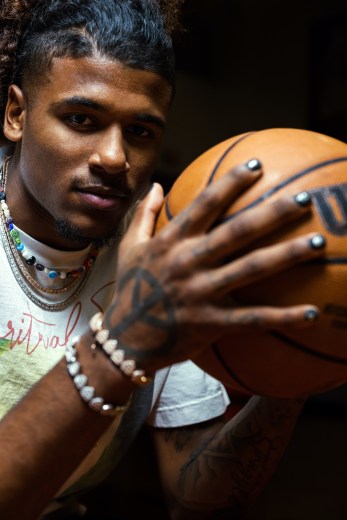 Green partnered with the brand after becoming known for showing off his nail looks on the court. At 21 years old, he has been painting his nails since high school. The NBA's new stars in their early 20s are "reshaping and leading the way in how youth culture represents itself," said Harris. "So, while nail polish on the court might feel new to an older audience, it's representative of attitudes towards beauty and style trends for many people [of the players'] age."
It's not just the wider trend of "malepolish" that athletes are endorsing. For example, Daley is promoting Rimmel's Match Perfection Foundation as the brand's first male brand ambassador, a position previously held by models such as Kate Moss and Cara Delevingne. A-Rod, meanwhile, was enlisted as the face of a concealer for men launched by Hims in 2021.
While male musicians have a long connection with makeup endorsements, brands are hoping to reach a wider market via athletes. According to a March 2022 Ipsos report, 15% of U.S.-based heterosexual men between the ages of 18 and 65 already use makeup, while 17% said they would consider using it in the future. Men between the ages of 18 and 34 are most open to using BB/CC creams, mascara, foundation, bronzer and concealer.
According to Harris, "sports have always had influence on culture, not to mention fashion, which affects beauty trends."
"Basketball is probably the most influential sport that impacts sneaker culture and streetwear trends, which over the past decade has been a leading influence on fashion overall," she said.
As part of the Un/Dn deal, Green is taking a stake in the brand for an undisclosed amount, and will launch a new collab in April. The brand will be promoted on not only brand channels but his own social media, where he has 2.4 million Instagram followers.
"In general, these young athletes are trailblazing and creating a path in life that is just right for them, not constrained to what outsiders may think," said Harris.