A wedding lip kit collab with TikTok influencer Mikayla Nogueira and an ongoing post-Super Bowl partnership with Jennifer Coolidge have been among the drivers of E.l.f. Beauty's continued massive sales growth, according to its recent earnings call.
In the earnings report for its fiscal first quarter, released on August 1, the company showed 76% net sales growth to $216.3 million. Executives owed the growth to the brand's value proposition, its new product launches, including a sunscreen, and its marketing investment.
The company increased its marketing budget, spending 16% of its net sales on marketing during the quarter. This was lower than its guidance range of 22-24% for the year, and it plans to further increase the budget in the coming quarters.
"We really want to step that level up and make sure that we're funding all the great things that we're seeing. We're seeing such strong ROI on our marketing spend, whether that be an investment on social, digital marketing, PR or anything that we're putting our dollars into," said E.l.f. Beauty CFO Mandy Fields in an interview with Glossy.
On the earnings call, E.l.f. Beauty CEO Tarang Amin talked about the brand's "disruptive marketing engine," citing its ability to "generate buzz-worthy moments for our community and reach new audiences with our collaborations."
The brand's limited-edition lip liner and lipstick collab with mega beauty influencer Mikayla Nogueira for her wedding sold out on the brand's DTC site within 18 minutes, marking its fastest-ever collection sellout. The collection helped with brand awareness, as 75% of buyers were first-time customers.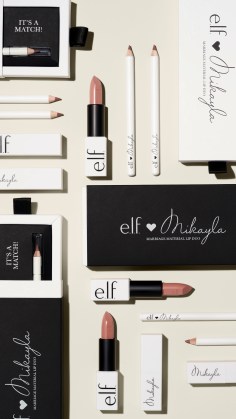 Digital sales channels accounted for 18% of the brand's total consumption during the quarter, up from 14% during the same period last year.
E.l.f.'s move "further into entertainment" included two new digital series that Amin said earned 20 billion impressions. One of these was its comedic get-ready-with me YouTube series, Vanity Table Talks, featuring celebrity guests. So far, these have included Ashley Park, Ziwe and Jennifer Coolidge, the latter of whom also starred in the brand's Super Bowl ad earlier this year.
The brand is "really leveraging that relationship that we built with Jennifer Coolidge out of the Super Bowl," said Fields. "She is very relevant right now. That's what we strive to do with our marketing spend. We strive to be culturally relevant and authentically engage with our community, so you're going to see more from us in that same area."