To receive the Glossy Pop newsletter in your inbox every Friday, click here.
All products featured on Glossy Pop are independently selected by our editorial team. However, when you buy something through our retail links, we may earn an affiliate commission.
If you didn't already know who Sofia Richie Grainge was, (24-years-old, daughter of Lionel Richie) you probably found out around the time of her April 22 wedding, to Elliot Grainge, at Hotel du Cap-Eden-Roc in Antibes, France. It was immediately likened to a royal wedding. TikTok had a field day. Richie Grainge posted her first TikTok ever two days before the wedding on April 20th. Naturally, it was a Get Ready With Me. It has 8.9 million views and Richie Grainge now has 2.7 million followers. On Instagram, she has 10.2 million.
The comments marked the start of an era: "Loving this Sofia Richie era," "Just so you know your wedding is my royal wedding," "SHE'S ARRIVED." Lingerie brand AdoreMe wrote, "THE PEOPLE'S PRINCESS." On TikTok, the hashtag #SofiaRichie has 978.4 million views and #SofiaRichieStyle has 326.8 million views.
My inbox reflects the obsession, too. Recent subject lines include "These Wardrobe Essentials Scream ~Sofia Richie Core~" "Recreate Sofia Richie's Old Money Style," and "Get the Look – Sofia Richie's 'Old Money' Glow."
There are plenty of sub-trends around Richie Grainge on TikTok, too. Gen Zers want her clothes (or at least dupes for them), her makeup — and also to marry a rich man like Richie Grainge — a comical amount of TikToks about SRG use the ABBA song "Money Money Money" as their sound (see here). Another sound, called "Sweet Caroline but dark academia" is used to chronicle Richie Grainge's style evolution. There is no detail of Richie's life and routines that hasn't been documented or at least commented on, on the app. You can see her train with celebrity trainer Megan Roup and hear breakdowns of her pre-wedding diet. There's even a Sofia Richie walk. Finally, there's content analyzing, breaking down and commending the PR strategy that made the wedding the media circus it became.
For example, Robyn DelMonte of the popular account Girlbosstown (619,000 followers), said in a post, "Sofia Richie is the internet's Cool Girl currently and she got married today, but even though she's cool, relaxed and on TikTok getting ready before her wedding, she's still extremely intelligent when it comes to PR moves. Before the paparazzi could post their photos of her getting married today, she made sure that she and Vogue dropped a video of her picking out wedding dresses and photos like this, so she could control the narrative of what her dress looked like before TMZ," DelMonte said before giving the strategy the "GBT approval."
Though many of the headlines about Richie place her in perfect alignment with the buzzwords du jour "quiet luxury" and "stealth wealth," there are also TikToks pointing out the irony of attributing such trends to anyone who had three custom wedding dresses made for her by Chanel.
In March, Richie had become the face of Nudestix's new body franchise, Nudebody. Unsurprisingly, now, many more brands have come calling. The brands I spoke to, who have worked with Grainge in the two months since her wedding, have seen such a powerful impact that more than one source called it the "Sofia Richie Grainge effect." In the span of the time I was working on this piece, an accessories brand also told me they have an upcoming partnership with Richie Grainge, too, but that it was too soon to report on — so there is more to come.
Of this, Richie's manager, publicist and agent, Adee Drexler, founder of the PR and talent management agency, Infinity Creative Agency said, "I'm so excited people are loving the SRG effect. As someone who's been with Sofia for many years, this isn't a rebrand — she has always been an It girl! She's really grown into her sense of style. I'm so happy everyone gets to be a part of this journey in real-time through social platforms." Launching her TikTok in conjunction with her wedding was a winning strategy, which Drexler said, "felt most authentic — inviting everyone in as she started the next chapter of her life." The results have spoken for themselves, she said, as "the media, brand partnerships and the public have all rallied behind her because she's open, real, and sharing her true self."
Richie Grainge's powerful impact on brands shows in the data, too. According to Launchmetrics data, Sofia wearing Chanel during the wedding weekend generated the brand over $12.7M in MIV, Launchmetrics's proprietary measurement for media impact value. "With their power to shape trends and redefine luxury, socialite weddings are captivating moments extending beyond love and celebration," said Alison Bringé, Launchmetric's CMO. "By combining both romance and style, a socialite wedding becomes a unique platform for immersive brand experiences, transcending traditional marketing channels. They present an unparalleled opportunity for brands to align themselves with prestige and influence elevating their presence and showcasing their finest offerings. Through strategic collaborations and bespoke product offerings, these brands are able to effortlessly connect with the aspirations of a global audience, and this is what we have seen from Chanel."
In May, mere days after Richie Grainge's wedding, she shot a social media campaign for Jo Malone London, which the brand said came together, from contract to content, in the span of about a week. The collaboration entailed two social posts on Richie's own pages, an Instagram Reel and a TikTok. The campaign was tied to Mother's Day, intended to "position Jo Malone London as cool and buzzy among Gen Z," said Joia Zanet, vice president of marketing for Jo Malone London, North America. "We knew we really needed to get the It Girl, and we got her," Zanet said, of the successful campaign.
Jo Malone London saw an immediate lift, both online and IRL, Zanet said. Richie Grainge's Reels post went live in advance of Mother's Day on May 11. Over Mother's Day weekend, the brand saw an immediate boost — new customers were up 13%, and traffic to the brand's site was up 118%. The week Richie Grainge's TikTok post went live in early June, traffic to the brand's site was up 67%. "We've heard about new young consumers coming in saying 'I want Sofia's scent,' 'I want to smell like the It Girl,'" Zanet said. The comments, while not all fawning, have echoed the Richie Grainge craze and have spoken to her power to influence perfume sales. Speaking to the former, examples include, "Whoever is on this woman's PR team needs a raise. We're all obsessed at this point." As for the latter, "I'll take five of whatever she said thanks lol," "Suddenly, I'm a huge JoMalone fan," and "So glad I bought wood sage & sea salt before this blows up and sells it out!" — to name just a few. Even Katy Perry chimed in, "Your voice makes me feel safe and calm and beachy and chill."
The partnership resulted in related UGC for Jo Malone London, too. In one TikTok captioned, "Stealing back the birthday gift I got for my dad just bc Sofia Richie says she uses the same one," a girl shows herself spritzing Wood Sage and Sea Salt, having been influenced by Richie Grainge's content for Jo Malone.
On June 2, Glossier introduced its "Sofia Richie Grainge Edit," a $56 kit including its Futuredew Oil Serum Hybrid, Ultralip and Lash Slick mascara. "Sofia is undoubtedly someone people want to know more about which is apparent by her recent entry into TikTok and the engagement she's seeing there," Glossier's CMO, Kleo Mack, said, of the origins of the partnership. In a video posted to Glossier's Instagram (2.7 million followers), Richie Grainge demonstrates the luminous glow imparted by Futuredew, using it first all over her face, and then, doubling down on it as a highlighter on her cheekbones.
"We're calling this the summer of Futuredew. We're embracing the heat and leaning into that summer-glistened (and even a little sweaty!) look," Mack said, noting that Richie Grainge speaking to the product, which launched in 2019, proved an effective strategy as it helped the brand reignite the conversation about it, while also introducing new audiences to the brand. In fact, Mack said, nearly 50% of customers who purchased the products featured in Sofia's edit were new to Glossier.
"Despite her wealth, her social media content and public profile across the media remain relatively relatable," said Permele Doyle, founder and president of influencer agency, Billion Dollar Boy. "She shares fun insights into her day, posts handheld personal videos to the camera in a natural and friendly way, uses humor to engage audiences, adds levity to her content and also shares tips and insights about her makeup, outfits and products. It's a great blend of aspirational, entertaining and educational content that is a sweet spot for both Instagram and TikTok and makes her appealing to brands."
She noted that maintaining relatability will be key for Richie Grainge: "As Sofia grows in popularity, she will need to be mindful of moderating the collaborations she agrees to. Part of her appeal is her authenticity, meaning that any product placement deals she agrees to will need to be aligned with her profile and interests — continuing to play on the quiet luxury aesthetic which she's captured so well while also remaining sensitive to the financial pressures that many among her audiences may currently be experiencing."
Collab of the week: IGK x Chamberlain Coffee
Spate trend watch: The DiamondGlow Facial prompts med spa visits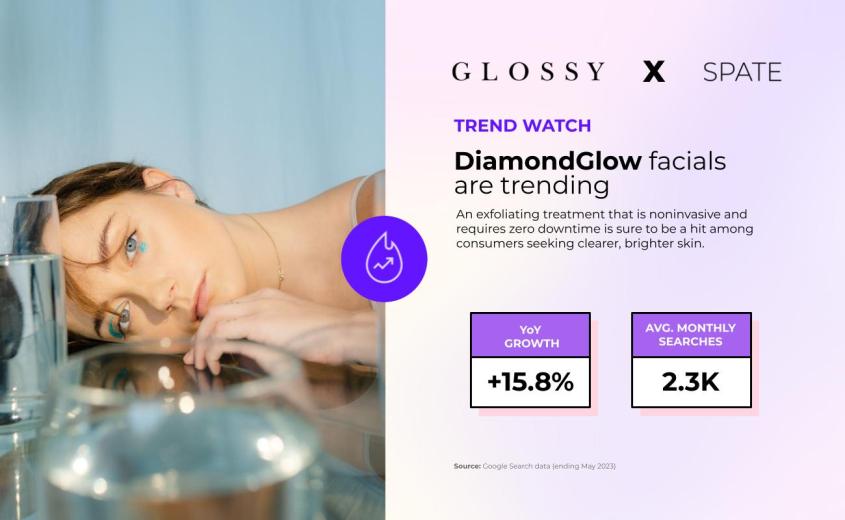 The DiamondGlow facial, which combines physical exfoliation and hydration, is the latest noninvasive skin-resurfacing treatment consumers crave. Like its perhaps better-known competitor, the HydraFacial, DiamondGlow treatments are widely available and require zero downtime.
Searches for DiamondGlow treatments are relatively low compared to other skin-care services at 2.3K average monthly searches. However, with +15.8% year-over-year growth as of May 2023 — and predicted growth of +27.4% in the next 12 months — the trend around this service will continue to grow. Spate predicted this would be one of the biggest skin-care trends of 2023 in January, and so far, has found its prediction holds up.
"DiamondGlow is owned by the same parent company, Allergan, as the topical skin-care brand SkinMedica, and both brands are often promoted together as a one-two-punch solution. Though searches for SkinMedica are down -9.0% year-over-year, its search volume at 123.2K on average each month shows how a service brand (DiamondGlow) might leverage a well-known product brand (SkinMedica) to drive interest for emerging services," said Yarden Horwitz, Spate Co-Founder.
Inside our coverage:
Ava Lee, the TikToker behind #JelloSkin, launches ingestible beauty brand ByAva
Influencer Marie von Behrens-Felipe enters the skin-care arena with Sonsie
Fashion brands Rhode and Loeffler Randall are leveraging partnerships to enter the home category
Reading list:
Cheek implants are gaining in popularity
What happens when the menstrual cycle meets the beauty aisle