To receive the Glossy Pop newsletter in your inbox every Friday, click here.
All products featured on Glossy Pop are independently selected by our editorial team. However, when you buy something through our retail links, we may earn an affiliate commission.
Electric Picks is now 11 years old. But since it started putting out influencer collaborations four years ago, its brand awareness has greatly accelerated. The brand currently has 211,000 Instagram followers — its name recognition has grown based on the ripple effect of the influencers its worked with.
To date, Electric Picks has launched 19 product collaborations. The most recent Electric Picks collaboration debuted Thursday. It's the brand's third collection co-designed with Tampa-based lifestyle influencer Laura Beverlin (1.4 million Instagram followers). The brand has also collaborated with lifestyle influencer Kathleen Post (419,000 Instagram followers) and fitness instructor Megan Roup (313,000 Instagram followers), and three times with lifestyle influencer Caitlyn Warakomski (400,000 Instagram followers). It receives regular inbound inquiries from influencers wanting to collaborate, according to M.J. Carlson, founder and CEO of Electric Picks.
Prior to launching collaborations, the brand worked with influencers organically. "We saw that people would take inspiration from how they would wear a stack [of bracelets]. It was a natural next step to involve them in the design process and [further] connect them to the jewelry, so then their audiences could connect with it, as well," said Carlson.
The brand's first collaboration was with Beverlin's friend and fellow creator Madi Messer (@sweetteawithmadi; 275,000 Instagram followers). At the time, it wasn't prepared for the powerful, well, influence of influencer-designed collections, said Carlson, referring to both the excitement of Messer's followers and the purchases they made. "The women who follow these influencers want to support their entrepreneurial projects."
The model is working for the brand. Beverlin's collab is the first of 10 launching in 2023. It will also collaborate with model Brooks Nader and with Sports Illustrated's Swimsuit Issue, in April. It will mark Electric Picks' first collaboration with another brand and Sports Illustrated's first jewelry collaboration.
Influencer collaborations and the existence of social media marketing have changed the game for smaller brands, Carlson said. "When we started the brand, you either had to make your way onto a celebrity through a stylist, or, if you wanted to do advertising, you had to get a radio ad or a television ad. As a small business, you just didn't stand a chance. We couldn't afford a television ad. When Instagram shifted and Stories became popular, it was this whole new platform for a small business to get to its target audience with an easy access point that had never existed before in business."
For Electric Picks, choosing partners is "not just about follower numbers," Carlson said. "We're looking at demographics, we're looking at engagement, and we're looking at the person as a whole and at our relationship with them. Sometimes someone is so passionate about your product that, even though they don't have a big following, their followers will resonate strongly with the product. We want to find people who are genuinely connected with our jewelry and build that relationship, and then work with their community, as well."
In addition to formal collaborations, the brand has also benefitted from partnerships with tastemakers, like Melissa Wood Tepperberg, fitness instructor and the founder of Melissa Wood Health. Wood Tepperberg often posts herself wearing Electric Picks jewelry, plus she has a discount code for her followers to shop the brand, and a page of her favorites is on the brand's site. She's also co-hosted a virtual anti-bullying summit with the brand. "Our buyer at Nordstrom told us on our initial call that she discovered us through Melissa Wood Health," Carlson said.
The brand has now done five collaborations with first-collaborator Messer, and a sixth is coming this year. "We're a loyal brand. When we start working with someone and we have a good relationship, we build on that genuine relationship," Carlson said. It was Messer who introduced Beverlin to Electric Picks. "Word of mouth has helped us with our influencer relationships," she said. "I've heard about people getting burned by brands. We're very supportive."
According to Carlson, Electric Picks' collaborators are involved in the design process from start to finish, and they often aim to create what they feel is missing in their own jewelry boxes. "They tell us about their dream pieces, and they share sketches and inspiration. From there, our creative team works with our metalsmiths to bring their designs to life," she said. "We send them samples and they make edits along the way."
One piece in Roup's collection, for example, was based on a vintage necklace her mom wore.
Carlson declined to share the business model around the collaborations, noting that the clauses of the contracts with the influencers are confidential.
On Thursday morning, before her Electric Picks collection became available, Beverlin said, "[Electric Picks] jewelry is amazing. But at the end of the day, there are tons of jewelry brands. [I work with] the brand because the people behind it are amazing women who are inspiring and encouraging." Later that day, four of the eight pieces in the new collection had already sold out.
"The majority of our collaborations sell out within 72 hours," Carlson said.
Though the influencer collections are made to be offered for a limited time only, certain pieces have been restocked as a result of high demand. In the case of one of Beverlin's pieces, the $98 Saint Necklace has even been added to Electric Picks' permanent collection. It's a piece that is meaningful to Beverlin for personal reasons, too. "We're going through infertility and we've done four rounds of IVF," she said. It's a journey she's shared with her followers. Along the way, the jewelry style has come to be synonymous with "hope" and "something people can literally hold on to," she said. Electric Picks gives 10% from the sale of each necklace to Babyquest, a nonprofit that supports grants for people going through infertility. Beverlin and her husband match all of those donations. Since November 2021, over $80,000 has been donated.
Before the influencer collaborations started, Electric Picks was primarily a wholesale brand. It is still carried at Revolve, Nordstrom, Free People, Anthropologie and a number of small boutiques across the country. Now, based in large part on the massive growth in brand awareness from these collaborations, Carlson said, the brand is 90% direct-to-consumer.
Spate trend watch: Highlighters are holding on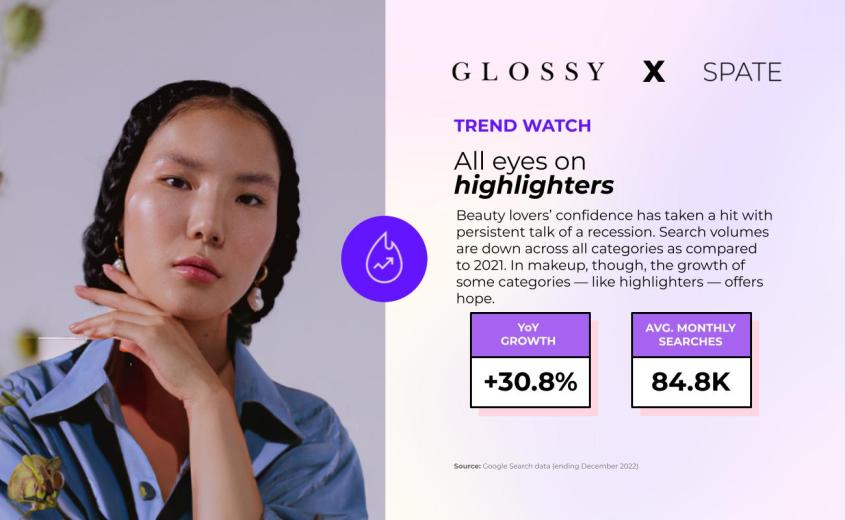 In 2022, Spate spent the last half of the year monitoring declining interest across many beauty categories — especially skin, hair and makeup — due to the turbulent economy. But not every beauty category is on the decline; bronzers, concealers and highlighters have continued to capture our collective beauty interest.
According to Spate, searches for liquid and stick highlighter are up 314.6% year-over-year and 94.7%, respectively. Liquid highlighter searches have primarily been driven by the E.l.f. Halo Glow Liquid Filter, launched in July and known across social media as the ultimate dupe for the Charlotte Tilbury Hollywood Flawless Filter. Stick highlighter searches have been driven by the NYX Wonder Stick Contour & Highlighter Stick. Both popular products are creamy, blendable and multi-functional.
"The rise of the all-purpose highlighter — including the E.l.f. Halo Glow and Charlotte Tilbury Flawless Filter — shows us there's a new type of highlighter user emerging. Both options are frequently applied as a full-face highlighting primer, giving users a super glowy, dewy look. That's not to say that spot highlighting is passé, either. It's just that highlighters now also play a bigger role in makeup routines," said Yarden Horwitz, co-founder of Spate.
Inside our coverage
Exclusive: After Sephora exit, Selfless by Hyram lands at Target
Health-care brand Welly joins the body-care boom
Models Josephine Skriver and Jasmine Tookes expand their fitness empire with a workout app
Reading list
Here's what happened with all the drama surrounding "Mascara Gate" on creator Mikayla Nogueira's TikTok
The big dissolve: They blew out their faces. Now they're melting them down.
Sephora responds to claim its clean beauty program is anything but