To receive the Glossy Pop newsletter in your inbox every Friday, click here.
All products featured on Glossy Pop are independently selected by our editorial team. However, when you buy something through our retail links, we may earn an affiliate commission.
The word "community" is so overused in brand worlds, it has nearly become devoid of meaning. Still, at Jones Road, founded by Bobbi Brown (now 65), and Trinny London, founded by Trinny Woodall (now 59), strong communities, numbering in the thousands, are powering a heartbeat that most brands simply don't have.
It's notable that both brands were founded by powerful older women. Brown, of course, is known for her first, eponymous brand, Bobbi Brown, which she sold to Estée Lauder in 1995. She's also a respected makeup artist and has written nine books. On her personal accounts, has over 750,000 Instagram followers and over 430,000 TikTok followers. Trinny Woodall rose to fame in the U.K. in the late '90s as a fashion expert, both as a columnist and then a TV host. It wasn't until 2017 that she launched her beauty brand, Trinny London. On Instagram, she now has 1.2 million followers. On TikTok, 89,000. Both women have a no-B.S., no-fuss attitude that is echoed by their brands. Incidentally, products from both are often contained in little pots, making them easy to apply on-the-go with one's fingers. Both women have many followers who have been with them for decades, pre-dating social media.
Perhaps also because of the older demographic of their followers, both brands' communities have most taken off on Facebook. As Woodall put it, Facebook is "a two-way communication tool," while Instagram is a one-way tool.
At Jones Road, this takes the form of the Roadies, the nearly 13,000 members of a Facebook Group that launched in August 2022. "We don't love doing discounts. And most loyalty programs are giving points to keep people shopping, but I don't know if they do anything to actually generate more value from customers. We wanted people to feel a connection to the brand that was about more than just the products," said Cody Plofker," Jones Road's CMO and Brown's son, speaking about how Roadies got started. Sixty percent of the Roadies are women ages 45-65, and most are based in the U.S., the U.K. and Canada.
The brand wasn't sure what its take on "community" would look like, so it turned to its potential members. It sent out a survey via email to customers who'd already purchased multiple times, asking them what they were looking for, in terms of a brand community, or take on a loyalty program, of sorts. Then, it got on the phone with eight of them, Plofker said, regarding the Roadies origin story. "It was somewhat surprising to see. But most of them didn't want coupons or points, like you'd get from a [typical] loyalty program. They wanted access to Bobbi."
The group took off faster than Plofker could have imagined, he said. "You would think people would be like, 'I want to buy this brand's product, but I don't really need to be in a Facebook group talking about it.' But for whatever reason, people had an appetite to share their experiences using Jones Road," he said.
Some of that reason came down to Brown, and her decades-long career supporting women's "confidence and empowerment," said Eli Weiss, Jones Road senior director of customer service and retention.
Jones Road opened its second brick-and-mortar location in the West Village on Tuesday, and around 80 of its Roadies showed up for opening day. On Wednesday, Glossy spoke with Brown in the store and asked her about her influence. "Over my entire career, I've connected to women. As a makeup artist, I connected to the models. I'm from Chicago. I'm very simple. I'm grounded. And I'm interested in people. I care about people. So that part of my personality has always come through in my businesses," she said. She referenced the "old days" when she'd get to know Bobbi Brown customers in department stores. "I care about people, because we're all dealing with something."
On a day-to-day basis, Sydney Friedman Slomovitz, Jones Road's customer experience lead and makeup artist, spends hours in the Roadies group. "The most impactful posts I've seen from Roadies is when they express how much Jones Road Beauty has influenced them in their day-to-day lives, and their willingness to be vulnerable and share their stories — like Roadies going through Chemo. There's one woman who posts a question every month about what makes us happy — it always changes. It's incredible to see how people pay it forward so effortlessly," she said. Brown herself is also in the group and comments occasionally, too.
Though some beauty consumers will always resonate with a hyper-glam aesthetic, Brown believes the inherent simplicity of Jones Road has led to its success. "I'm not about, like, fabulosity — and I think that's always hit a nerve. And that's the voice of Jones Road. Even if you don't feel good, you can at least [swipe] this on. … And you're going to look and feel better." (I can attest to her minimalist approach. No celebrity makeup artist who's done my makeup has used as little product as Brown.)
In the Roadies group, members exchange application tips and general beauty and skin-care advice. But they also talk about "normal things, [including] what they love and what they're struggling with," Brown said. "That's really important to people, and they don't get that from a lot of brands."
Moving forward, the Jones Road team plans to schedule Zoom sessions where Roadies can interact with Brown and ask her questions. There are other perks to being a Roadie, too. "We have a program [internally] called Surprise & Delight. When someone's getting married or someone's lost their dog, we like to surprise and delight with little curated gifts."
Though, at this point, it's unclear to what extent the Roadies drive sales, they are some of the brand's most loyal customers, based on repeat orders. During the hour they gathered at the new store on Tuesday, they spent over $5,000, Plofker said. They were also given a gift bag containing the brand's sole hair product and some corresponding merch.
For its last three launches, Jones Road has tested granting early access to the Roadies. For each, they've placed over 500 orders, Plofker said. The brand aims to grow the Roadies group to 75,000 members by the end of 2023.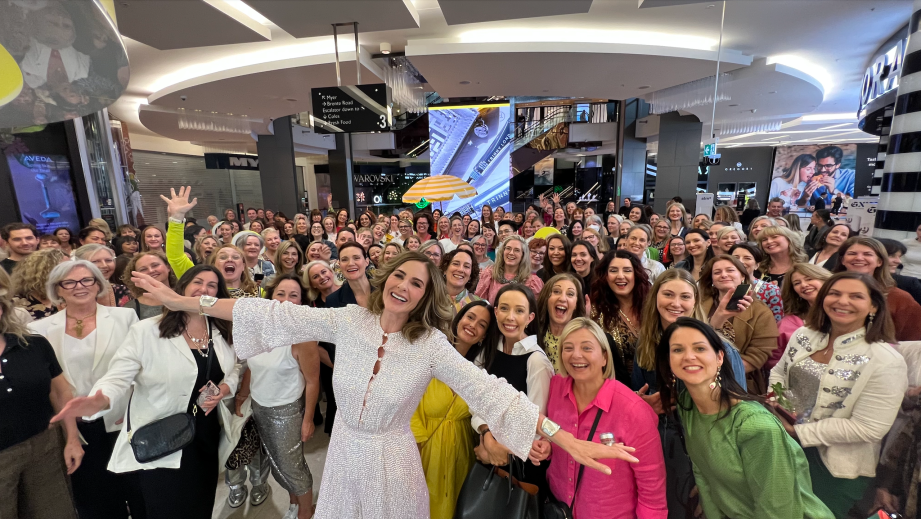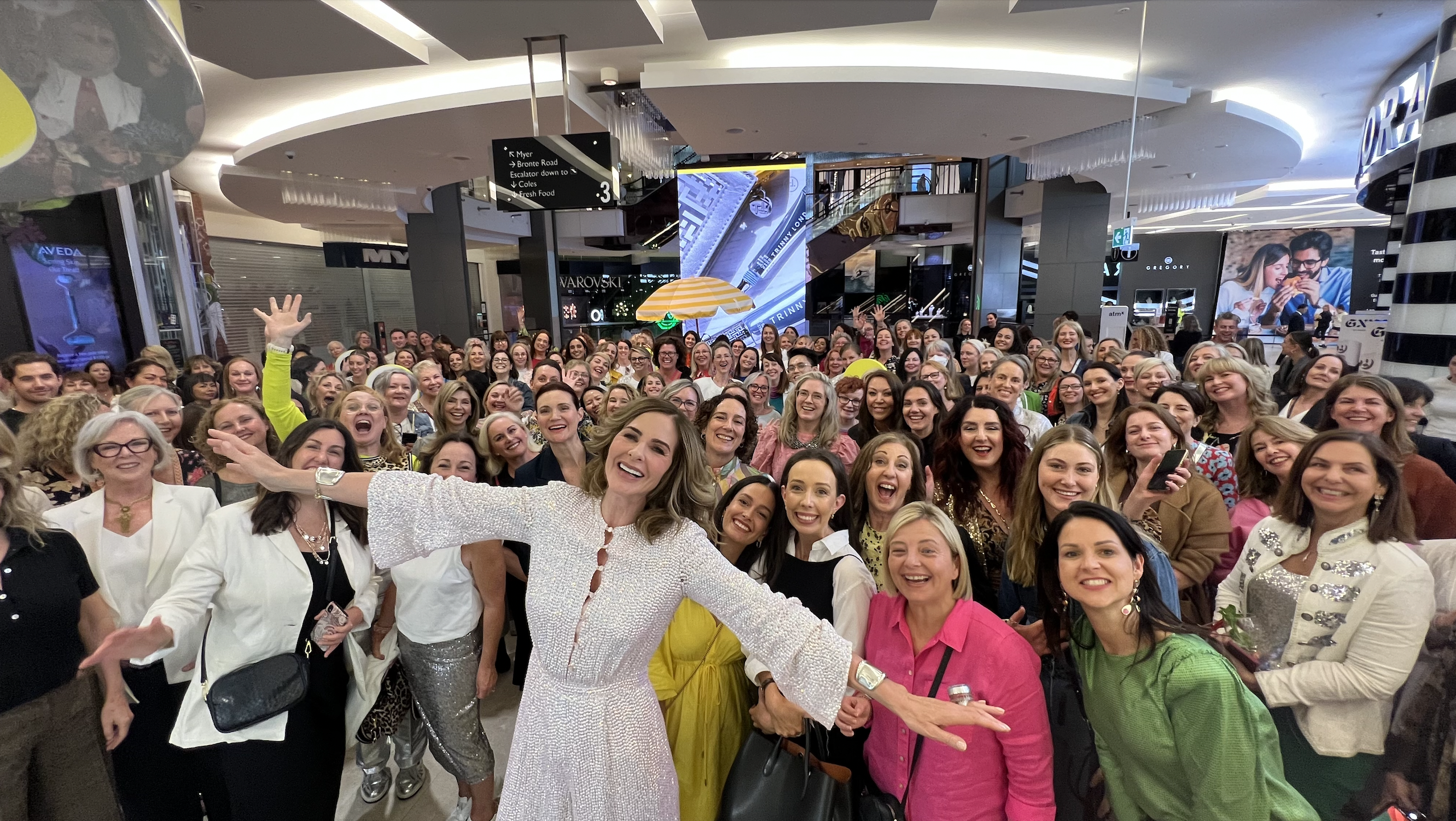 Trinny London's "Trinny Tribe," meanwhile, has a very different origin story. The "Tribe" actually pre-dated the launch of the brand, Woodall said. It was started by a woman in Northwest England, who put out a call, on Facebook, to others who followed Trinny (at the time, on her personal account).
"She said, 'Trinny is starting a beauty brand. I'm interested in what she's doing.' She collected this group of women on Facebook, and they started the fan page. And it grew out of there.'" Woodall said. It continues to grow, the brand said, primarily via word of mouth.
Ultimately, when the brand launched in October 2017, the brand reached out to the members. "By this stage, there were about eight different fan pages. And we said, 'It'd be great for you all to talk to each other.' There were admins of each of these pages, who would let people in as members. We decided to call them ambassadors and give them the logo, and bring them into the community," Woodall said. Today, there are 53 tribe ambassadors, and the "tribes" are broken into different groups based on geographical location. According to the brand, there are over 91,000 members, in regions spanning the U.K., Scandinavia, South Africa, Qatar, Israel, France and Tasmania.
The community has grown so much that Trinny London now employs nine people just to keep in constant communication with the Tribes. "Across our channels, we have about 11,000 comments a week, which we answer. … You'd think you could automate some of that, but this intimate relationship is the key to the foundation of a strong brand that lives for many, many years. They may ask, 'How do I use this?' Or, 'What were the shoes Trinny was wearing yesterday?'" That team, Woodall said, answers all of those questions.
Woodall also creates monthly content that is exclusively shared with Tribe members who have opted-in to an email list. In it, she shares more, more personal things than she shares with her larger social following. This came from asking, "If Facebook folded tomorrow, do we have our community?" Woodall said. About a third of the Tribe has signed up for the newsletter.
It was a "delicate balance" for the brand to insert itself into the Group that had started organically. "We didn't want to destroy the independence of what that is," she said.
Like Brown, Woodall noted that her brand's Group discussions extend far beyond the boundaries of beauty. People share poetry, experiences of grief and their birthdays, for example. "Charlotte Tilbury's fan pages are about getting closer to Amal Clooney,'" Woodall said, stressing that her brand's pages are instead about connecting members with each other, the brand, and of course, Trinny herself. Seventy percent of Trinny Tribe members are loyal customers, while another 30% have never made a purchase from the brand but enjoy the community, Woodall said. She acknowledged that the brand's price points, ranging from a $22 lip balm to a $96 retinol serum, may be out of reach for some.
Similar to Jones Road, Woodall stressed that the aim of the group is not to incentivize customers with discounts. "There should never, ever, ever be a monetary association with the community. It's a strict guideline [I've set]. When something like this becomes financially driven, you lose the heart of it." At the most, she said, Tribe members receive advanced notice of sales by an hour or two. Ambassadors, or the Facebook Group admins, receive new launches in advance, as their job "takes a lot of work," Woodall said. What's more, some products have been named after Tribe members. One shade of the brand's Lip2Cheek, Sherin, was named after a Tribe member going through breast cancer treatment — and 10% of its proceeds are given back to an organization of her choice.
The commonalities between Brown and Woodall continue in their approaches to makeup. "For me, it's that sort of Steve Jobs moment. He didn't sell you computers, he made your life easier. We want you to feel so much better about yourself as a woman, after you come in contact with us," Woodall said.
Shop the story:
Featured
Visit the Pop Shop to browse all products featured in Glossy Pop.
ICYMI: Pop launched a podcast
Subscribe: Apple Podcasts • Stitcher • Google Play • Spotify
Glossy Pop now has a monthly episode of the Glossy Beauty Podcast, hosted by me (Sara Spruch-Feiner, writer of this newsletter). The first episode debuted on Thursday with a very special guest, Vanessa Hudgens, who joined to discuss the relaunch of her beauty brand, Know Beauty.
'Cool girl' esthetician Sofie Pavitt launches a namesake brand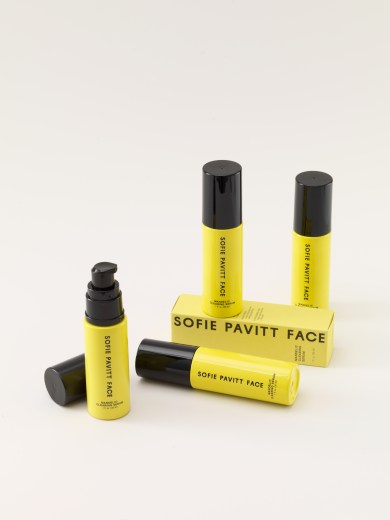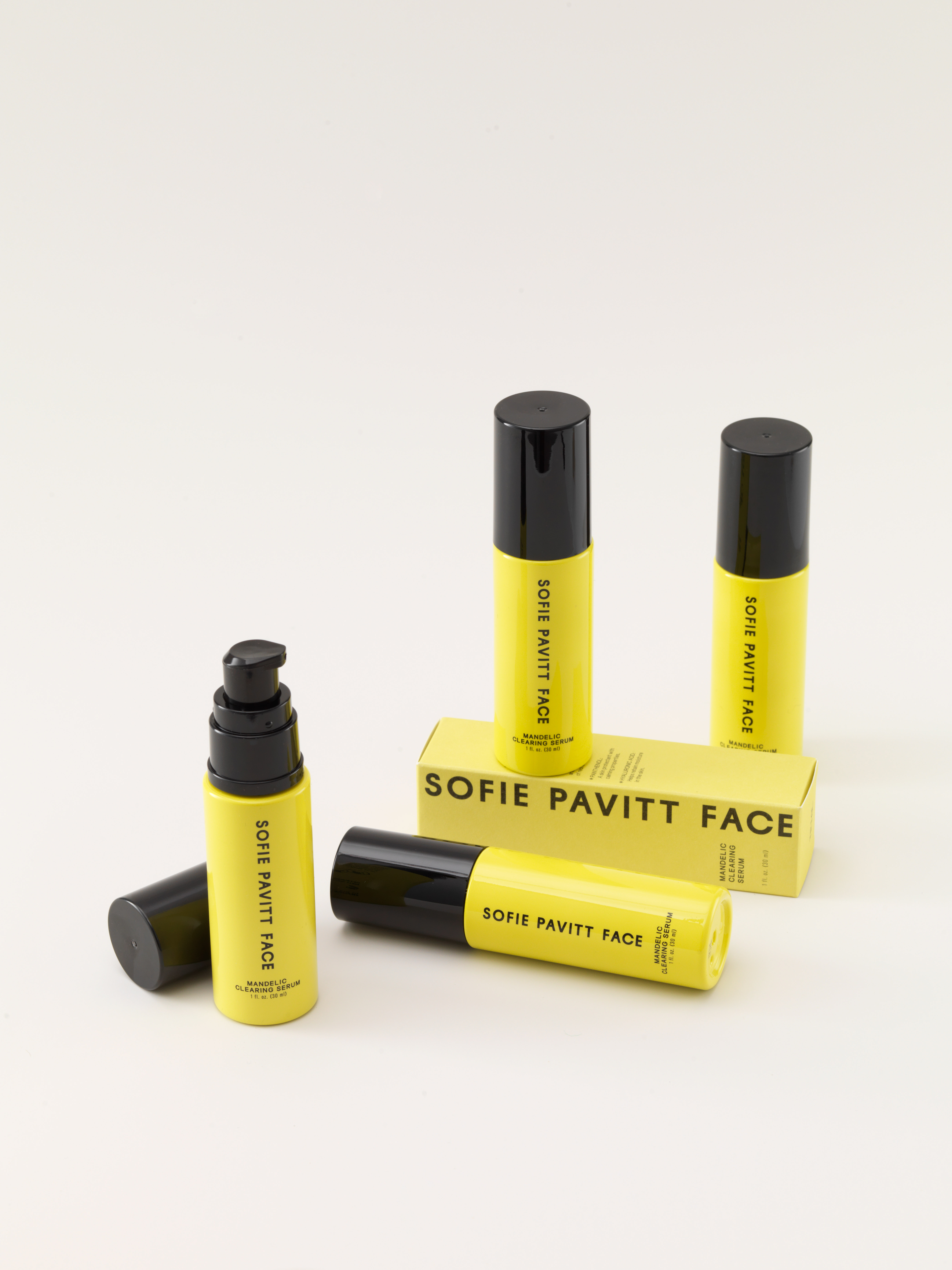 Sofie Pavitt's studio in Downtown New York has become a destination for "it" girls, editors, and those in-the-know on all things beauty — she counts Lorde, Zendaya, and Paloma Elsesser as clients. Earlier this week, she debuted her brand, Sofie Pavitt Face, with a single product, the Mandelic Clearing Serum ($54). It is sold via its own website.
Tell us a bit about your background and how you made a name for yourself as an esthetician?
"I worked in fashion for a long time but was always in love with skin care — I worked in Seoul a lot during my handbag design days for companies like Michael Kors and Tory Burch, and I fell in love with the innovation and joy surrounding beauty routines there. Nobody in New York even knew what a sheet mask was in those days.
I re-trained in skin care and started a tiny studio on Canal Street, which grew by word of mouth. I quit my job in fashion and started working for a dermatologist alongside my studio, where I really took interest in problematic skin conditions like acne or rosacea, and that's when I started to find my niche in the NYC skin scene. People come to my studio because they want to solve their skin situations. We don't offer a relaxing treatment; we're talking about your home care and your lifestyle triggers, and we get you real results. I have a team of seven estheticians who are all trained in our unique method and protocol."
Obviously, the skin-care industry is very crowded. Why launch a brand now?
"Nobody has any business starting a brand without intention and integrity, so I'm only launching products that I feel are missing from what I want to give to my personal clients. With the first product, for example, I couldn't find anything that checked all my requirements, so I made my own."
Tell us about your first product.
"The Mandelic Clearing Serum is a gentle exfoliator designed for everyday use. If you're blemish-prone, I'm a huge advocate for regular exfoliation to help your body rid of the dead cell build-up that can congest the skin and cause breakouts. I love mandelic acid because of its large molecule size — it doesn't penetrate the skin fast, which leads to irritation. It's also brightening and has anti-microbial properties. This serum plays well with other actives. For example, if you're using retinol, this is a great product to use in the morning alongside [the retinol] in the evening.
Mandelic acid is my hero ingredient. I put most of my clients on it, so it made sense to launch with it. I blended it with panthenol and hyaluronic acid for their skin soothing and hydrating properties, so it leaves the skin softer, smoother and brighter."
Shop the story:
Featured
Visit the Pop Shop to browse all products featured in Glossy Pop.
Inside our coverage:
Exclusive: Sephora and TikTok team up on new content program for emerging brands
Exclusive: Nudestix launches Nudebody with Sofia Richie as its face
With new launch, derm-influencer Dr. Whitney Bowe's skin-cycling trifecta is complete
Reading list:
It's not modest dressing. It's the Torah teacher aesthetic
Sulwhasoo names actress Tilda Swinton as global ambassador
Burberry, why do you have only 4 foundation shades for darker skin tones?