To receive the Glossy Pop newsletter in your inbox every Friday, click here.
Over the past few year, and particularly as back-to-school season has ramped up, beauty brands have been making their presence on college campuses known. While this is not an entirely new phenomenon, it's becoming more popular, and brands are experimenting with a variety of original formats to engage this valuable demographic. This month, Glossier created a carnival-inspired tour bus, Sunday Riley is also currently touring colleges with a branded bus. Emergency contraceptive brand Julie is advertising in Lyft cars during periods timed to college football games, and Bubble is building a two-tiered program that will arm it with a fleet of college reps and ambassadors.
Brands are continuing to think of creative ways to engage college students. This week, a look at three brands and their strategies. Hally Hair is engaging its existing student ambassadors around a philanthropic cause. Winky Lux enlisted brand friends to respond to a TikTok mention and hop on a plane to meet rushees at the University of Alabama. Finally, The Honey Pot seized the back-to-school season to provide sex education and menstrual care products to new college students.
Galvanizing students for a cause
Since Kathryn Winokur first launched Hally Hair, in 2020, she's spent countless hours on college campuses. In February, Hally became the first beauty brand to collaborate with college sports teams in an official capacity. And, starting in October 2022, it's taken a branded truck across the country to introduce students to its products. In August, Too Faced became a partner of the truck tour, which will make 29 stops before November with a focus on college football towns.
This week, on Wednesday, Hally helped 15 campuses take part in a fundraiser for suicide prevention by hosting events dubbed "Streak for a Cause." Students paid between $10-$20 for tickets, with proceeds being split between two nonprofits, Morgan's Message and the American Foundation of Suicide Prevention. The day's events drew over 1,000 attendees and raised almost $25,000.
The events were organized in partnership with Hally ambassadors, who sold tickets to their fellow students, getting the word out via social media, posters and sorority lists. At the events, students streaked their hair with Hally's Shade Stix in blue and purple, the designated colors for suicide awareness prevention. September is Suicide Prevention Month.
Hally's team was moved to put an "action-oriented" effort behind suicide prevention when one of its 3,000 college ambassadors died by suicide last year, Winokur said.
"Suicide is the No. 2 cause of death on college campuses, after accidents, and [we wanted to] take what is a heavy, upsetting reality and [create] a safe, positive environment where people can talk about [mental health]," she said. "There's a natural sentiment among these students that they care [about the cause]. Mental health issues have affected them."
At the events, students walked their campuses, raising awareness for the cause in their special event T-shirts. They then held receptions, where Hally provided food. Hally enlisted other like-minded brands to provide other products for the students. For example, Supergoop sent sunscreen and, at UT Austin, LoveShackFancy sent 100 purple and blue skirts for sorority girls. In addition to donating products, two brands, Spanx and lip balm brand Poppy & Pout, made donations to the nonprofits Hally was supporting.
#BamaRush remains a major opportunity for beauty brands
#RuskTok, which first took off on TikTok (see also: #BamaRush) in 2021, has become an annual phenomenon unto itself. The hashtag now has 4 billion views on TikTok.
So, when TikToker "Bama Morgan" (@on_thedaily_with_morgan; currently 175,000 followers) shared a GRWM during rush and mentioned that Winky Lux was not available at her local Target, Winky Lux founder Natalie Mackey considered it an opportunity that was too good to miss.
"My instinct was that we should be tapping into this, as this is a big part of the cultural zeitgeist. [Plus], we over-index on customers in the middle of the country and in the South, and we're a very girly brand," Mackey said. On August 18, two days after Morgan's original post, she announced that she was heading to Tuscaloosa to hand-deliver the Winky Lux products to all the girls rushing.
Before hopping on the plane to Tuscaloosa, Mackey invited team members from other brands that target college women, including skin-care brand Bubble and RobeCurls, which makes a heatless curling headband.
The brands set up a gifting suite in a hotel room and, via DM, invited students they'd seen tagging #bamarush. "None of this was expensive," Mackey said, adding that it all came together in 24 hours. Winky Lux later handed out mascara samples on Tuscaloosa's Sorority Row.
When Mackey returned to New York, she found out that "Bama Morgan" had not received an offer from a sorority. In response, she made another TikTok, offering her sympathy and a Winky Lux internship.
Though it's hard to measure to success of such an activation, Mackey said Winky Lux saw a spike in followers during the college visit. In addition, many students posted about the products they'd been given and created content using them. It helped that Mackey was on-site, she said, as she has a knack for shade-matching products, which is often a challenge when sampling products.
"You could do a huge sampling campaign and only get about 50% of the shades [right], even if people self-select their shades," she said. But, once you find your shade of the brand's concealer, "you're going to be using it for a really long time," she said, explaining that it has a high repeat purchase rate.
Sex Ed: College Edition
Brands have various reasons that their messages and products align with college students, and for The Honey Pot, that reason is quite simple: sex.
"When we think about college marketing and the younger human who is starting to learn more about their body, we want to make sure that we're there with education and empowerment so that they have the knowledge they need to make whatever choice they want and the products that can support them along that journey," said Jazmyn Williams, The Honey Pot's director of brand marketing.
Like other marketers and brands, The Honey Pot's approach was to "meet them where they are," aka, on campus. "During back-to-school, there's this energy of openness, acceptance, seeking products, information, knowledge, connections, community, … and we want to be a part of that."
To do so, this year, it set up mock dorm room installations where visiting students could engage with the brand and its mascot, Miss Coochie, an animated vulva. "[Miss Coochie] embodies the brand by being in-your-face in a very real way. We use the word vagina. We don't shy away from what a vagina looks like, what a vulva looks like. We are very intentional about that, because if we hide behind it and skirt around it, then our humans will not feel comfortable or open to talk about their own vagina, vulva or challenges. She is always giving education, but it's wrapped with a little bit of humor and a cheeky wink," Williams said, of the mascot.
To program its tour, The Honey Pot partnered with Impressions of Beauty, a college marketing agency focused on HBCUs. The tour made stops at Clark Atlanta University, Alabama A&M University, Jackson State University, Xavier University of Louisiana and Hampton University in August and early September. At each school, the brand handed out 600 samples each of three of its products: its intimate wash, its packs of feminine wipes and its heavy flow liners.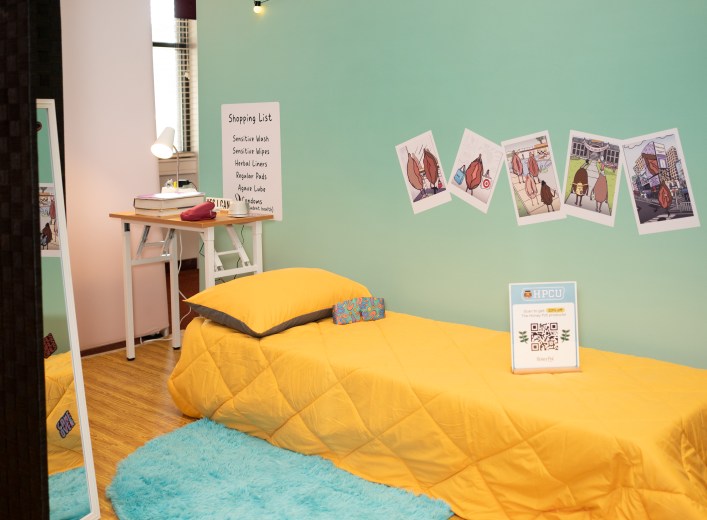 The Honey Pot prides itself on providing free education via these activations, but it also captures potential new customers. To receive free products, students scan a QR code, which takes them to The Honey Pot's website. Rather than a product page, students land on a blog post by a youth sexpert about hookup culture, which is such a relevant topic for the demo, Williams said. And, as for Winky Lux, the sampling opportunity at the schools is a huge win for the Honey Pot, she said.
College marketing is unlikely to slow down, given the opportunity. As Mackey put it, it provides a moment "where you can get a critical mass of your core target audience."
Inside our coverage
Neutrogena is tackling gamified social content
YSL Beauty taps 5 Gen-Z stars for Myslf men's fragrance campaign
Ulta Beauty launches The Joy Project to help shoppers silence their inner critics
Reading List
How far would you travel for a leather purse?
Why Hermès is betting bigger on beauty