With acquisition of Stadium Goods, Farfetch solidifies streetwear and luxury's relationship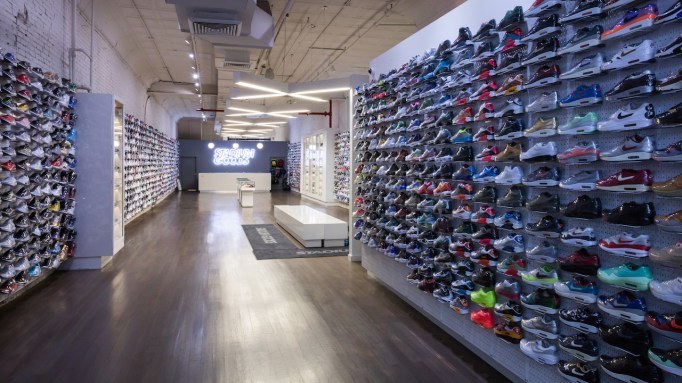 Stadium Goods, the cooler-than-cool sneaker resale store that has been a mainstay of Soho streetwear for the past three years, was acquired by luxury e-commerce platform for $250 million, announced Wednesday.
The move comes at a time when the worlds of streetwear and luxury are increasingly coming together, and Stadium Goods has been at the center of this convergence. The reseller previously received significant funding from LVMH's investment arm. Both companies stand to gain from the move, each offering access to an audience that the other lacks.
You have read the maximum number of free articles.
Glossy
+

Membership

Subscribe now for access to unlimited Glossy content, premium research reports, exclusive newsletters, invitations to member-only events and more.
This content is available exclusively to Glossy+ members.
Glossy
+

Membership

Subscribe now for access to unlimited Glossy content, premium research reports, exclusive newsletters, invitations to member-only events and more.
"Now, more than ever, streetwear and luxury have collided," said Stadium Goods co-founder and co-CEO John McPheters. "There's an incredible overlap between our two audiences. At the same time, we've been driven by a lot of niche enthusiasts. On Farfetch's side, they've built a huge international audience. We've done business internationally, but not to the extent that Farfetch has."
Luxury brands are increasingly interested in going after the streetwear customer, yet despite their long years of experience, many of these brands do not have the knowledge or confidence needed to properly target the streetwear crowd. This has led to luxury brands seeking out partnerships with streetwear retailers or resellers to learn from them. Versace, for example, released a sneaker through GOAT in April, relying on GOAT's built-in streetwear audience to get eyes on the sneaker.
Advertisement
"Streetwear and sneakers have been an awesome category for us," said José Neves, founder and CEO of Farfetch. "We have had great partnerships with Off-White and others, but what we did not have was access to the secondary buyer resale market, which is huge for sneakers."
By acquiring Stadium Goods, Farfetch will have access to a whole new world of customers they would have had a much more difficult time attracting without Stadium Goods' pedigree in the sneaker world.
"The name of the game in retail is building a relationship with customers," said Corey Pierson, co-founder and CEO of customer intelligence platform Custora. "You want to build high-value lifetime customers. It is very hard for retailers to attract customers today. Online advertising is becoming more pricey, and your margins are smaller because you're spending so much on advertising. Retailers want these super-loyal customers and these types of marketplaces. Stadium Goods, GOAT — they just get it."
The same can be said in reverse for Stadium Goods, which may have an easier time attracting the more traditional luxury customer, particularly overseas. Stadium Goods currently only stocks sneakers from more traditional sneaker brands like Nike and Adidas, and does not traffic in crossover sneakers from Gucci or Balenciaga. When asked whether the acquisition will change that, McPheters said the company has no specific plans currently, but that there is "a lot of opportunity, a lot of potential there for us in the future."
Advertisement
The amount of money Farfetch has put into this acquisition speaks to the ongoing debate over whether the crossover between streetwear and luxury is anything more than a passing flirtation. In Neves's mind, the two are not parting anytime soon — not only due to the strong desire from consumers for more luxury and streetwear apparel, but also due to the creative fulfillment brands and designers have gotten from collaborating between the categories.
"You see that [demand] from a consumer perspective, but also from the perspective of the designers and the brands," Neves said. "A lot of high-fashion brands want to collaborate with sneaker brands now, and sneaker brands are relying increasingly on high-end shops. The luxury designers want it to happen, and the sneaker brands want it to happen, and the consumers have expressed a lot of interest. Everyone wants it to happen."
Get news and analysis about fashion, beauty and culture delivered to your inbox every morning.