Featuring employees in brand marketing is resonating with consumers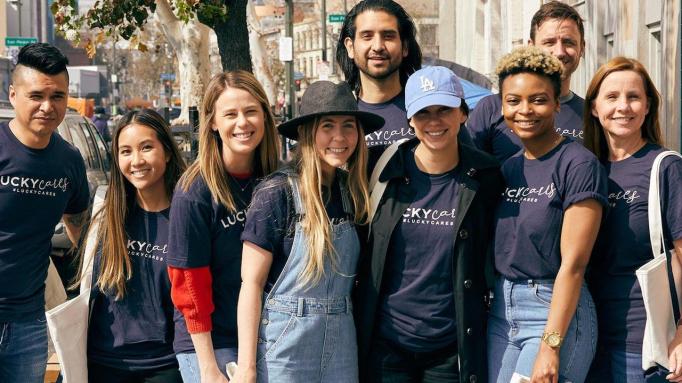 Coronavirus has had a big impact on brands' marketing and advertising budgets, creating problems for both influencers and brands who rely on standard influencer partnerships through platforms like Instagram to drive sales. Instead, a growing number of brands are using their own employees as models and subjects of marketing campaigns.
It's partly out of pragmatism — neither agencies nor studios are facilitating in-person photoshoots right now, and reduced ad budgets across the industry mean regular paid campaigns with influencers are shrinking. But brands have also found that these lo-fi campaigns — which are usually shot in employee's homes using phone cameras, and distributed on social media — can be just as effective at a fraction of the cost. In fact, some are questioning why regular campaigns needed to be so expensive in the first place. 
You have read the maximum number of free articles.
Glossy
+

Membership

Subscribe now for access to unlimited Glossy content, premium research reports, exclusive newsletters, invitations to member-only events and more.
This content is available exclusively to Glossy+ members.
Glossy
+

Membership

Subscribe now for access to unlimited Glossy content, premium research reports, exclusive newsletters, invitations to member-only events and more.
"We allocate quite a bit of budget to our photoshoots," said Melanie Travis, founder of DTC swimwear brand Andie. She said a typical high-quality photoshoot can easily cost over $100,000. "As a DTC brand, we live on the internet, so we need to have strong images. But now, our product campaigns cost the price of FedEx-ing the product to our employees, and they shoot the images on their iPhones. Everyone is changing their marketing strategy, and this is making me realize that maybe it doesn't make sense to spend hundreds of thousands of dollars on photoshoots all the time. That's not to say we won't go back to more polished campaigns, but we will be more creative about lowering costs."
Travis pointed to the to the relatability of showing employees at home as a reason for the success. In the brand's first attempt, on April 14, it posted a TikTok video of stitched-together clips of Andie employees dancing while wearing spring 2020 styles. It was directed remotely by the brand's creative director Alda Leung.
Advertisement
For an upcoming May collection, Leung is planning on directing the lookbook remotely and having employees take photos themselves on their phones in their homes. Leung has even been taking Zoom tours of employees' homes as a sort of location scouting, looking for the most ideal rooms to shoot. Even non-campaign imagery, like product detail images used on the brand's e-commerce site have been shot at home by employees.
"There's something charming to our customers about seeing our marketing director wearing one of our styles, and they engage with that," Travis said. "A channel we've been growing recently is SMS, so we sent out a picture of our fit team, which said, 'This is the team behind this. If you text this number, these are the people who will see it and respond." And we got over 800 replies to that. Intentional or not, this strategy is adding up to some increased engagement."
Lucky Brand is seeing similar results when featuring employees. Deanna Bedoy, Lucky Brand's senior director of brand marketing and creative services, said the informal, relatable nature of showing regular employees at home — rather than models — is something customers were asking for.
"Early on, we started sharing work-from-home tips that we gathered from our employees, and that naturally turned into a work-from-home campaign," said Deanna Bedoya, Lucky Brand's senior director of brand marketing and creative services. "We did a survey on Instagram asking people what they wanted to see from us, and the No. 1 things requested was for us to be real and raw. Then we created Lucky Together, which is an online hub of tutorials on how to make masks, tips on working from home and pictures of our staff. It's now one of the top-ten most-visited pages on our site."
Advertisement
And while the brand's typical campaigns can cost 10-times what the more recent employee campaigns have, their replacements have seen more engagement. Bedoya said the brand typically counts any engagement on social media — including comments, likes and views — above 2-3% as a success, but the employee campaigns have all seen engagement rates of more than 5%. One facet of engagement, comments, increased by two to three times. Notably, Bedoya said her team is still working with influencers in addition to their employee-focused marketing.
These types of campaigns are increasingly common. Jenni Kayne team members are stepping in as brand ambassadors, taking photos of themselves for social posts wearing new styles that CEO Julia Hunter has shipped to their homes. Marc Jacobs is documenting his employees' @WFHFits on the brand's Instagram. Vogue is featuring its editors' work-from-home looks in online stories that link out to shoppable product and corresponding Instagram posts tagged #thisweekonzoom.
Last week, Glossier sent out an email with the subject line, "Meet our team." It featured photos of two members on the customer experience team, and Q&As about their Glossier "spirit products" and product hacks.
"That works better than mega-influencers at the moment because consumers still see the [products] but in a way that's relatable to their own dire situation," said Ana Andjelic, a brand and marketing strategist. She pointed to brands' influence, thanks to their expertise, and how they're currently leaning on their communities to keep customers inspired. That includes photographers and stylists, but also in-house folks with a creative eye to pull off a postable image.
Advertisement
Get news and analysis about fashion, beauty and culture delivered to your inbox every morning.