Thinx taps Pamela Adlon for 'How a new generation Thinx' commercial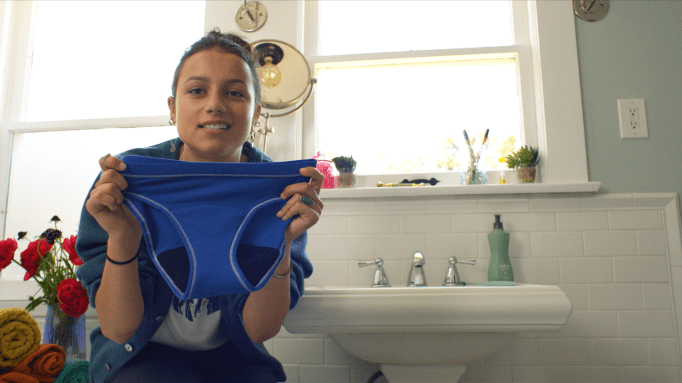 Thinx, known for popularizing leakproof underwear, introduced its most comprehensive brand campaign, which launched with two TV commercials, but will also include activations across earned media, influencer partnerships and social media.
The campaign, "How a new generation Thinx," speaks to the ways that leakproof underwear can revolutionize and democratize the period care industry. Actor, director and creator of the hit series "Better Things," Pamela Adlon directed the TV commercials. The campaign was conceived of by Lisa Topol at the agency Oberland, who is a fan of Adlon's work.
You have read the maximum number of free articles.
Glossy
+

Membership

Subscribe now for access to unlimited Glossy content, premium research reports, exclusive newsletters, invitations to member-only events and more.

SUBSCRIBE

Already a member?

Already a member?

Login

Logout
This content is available exclusively to Glossy+ members.
Glossy
+

Membership

Subscribe now for access to unlimited Glossy content, premium research reports, exclusive newsletters, invitations to member-only events and more.
The two television spots, "Saved By the Sister," and "Moon Landing," share the kinds of conversations that people who get their periods have — with their mothers, sisters and friends — about period care in their daily lives. They began airing on July 18.
In the former, an older sister intervenes during a mom's awkward demonstration of how to insert a tampon and introduces the younger sister to Thinx Teens, the brand's reintroduced, lower-priced collection for those new to menstruation. In "Moon Landing," an older mom laments having not grown up with options like Thinx.
Advertisement
Thinx will roll out four more Adlon-directed commercials over the next 12 months. Those ads will speak to the different life phases and use cases for Thinx. For example, the underwear can also be used by older women struggling with incontinence.
Adlon was introduced to Thinx through her fashion stylist, Stephanie Liner, who recommended them for red carpet appearances. Adlon then introduced the product to her three daughters, ages 19-25. "When I told my daughters that I was being considered [for the job], they were all like, 'Mom!' My oldest pulled her pants down and goes, 'Look at these, they're torn. I need new Thinx.' They're obsessed," Adlon said.
Advertisement
During her first call with the Thinx team, Adlon said she cried. "It's very moving to me, to think about women and girls, how special they are and what warriors we all are," she said.
And in working with Thinx, she also learned about some of the unfortunate realities of global period poverty and the inequities women face when on their periods. "Period poverty," or the fact that period products are not always financially accessible to those who need them, remains a problem in the United States and beyond. According to Thinx, in the states, one in five students struggles to afford period products or is unable to afford them at all, and 84% of young people have either missed class or know someone who has missed class due to a lack of access to period products. The campaign also marks the relaunch of Thinx Teens styles, which retail for $16 a pair and will soon be available online at both Target and Walmart, making them more easily accessible.
Thinx has donated more than 40,000 pairs of Thinx underwear to Alliance for Period Supplies, a non-profit organization that works to end to period poverty in the United States.
Right now, Adlon said, wearing Thinx is like "belonging to a secret club." The goal of this campaign, of course, is to broaden that club's membership. "Why doesn't everybody else know about [this]? It's like it's a fundamental staple that everybody should have," she said.
Advertisement
Even in the U.S., airing commercials about period care — even ones in which no blood is shown — remains "taboo," said Crystal Zerrenner, Thinx's chief growth officer. On many networks, Thinx cannot run its new ads before 9 p.m., as they were deemed inappropriate. Networks review ads on a case-by-case basis, and for some, Thinx's ads were deemed unfit to run before late-night hours.
"[We wanted to take] that really formative storytelling that happens between generations and bring that to the forefront," said Zerrenner. "These are conversations that millions are having but that society has, quite frankly, ignored. Many of the networks would like me to stop telling [these stories]. We have to fight, still, to get our TV ads on the air. All we're saying is that this is what moms, sisters and daughters have talked about for decades."
Get news and analysis about fashion, beauty and culture delivered to your inbox every morning.