Old Navy tackles the tween market in a very different back-to-school season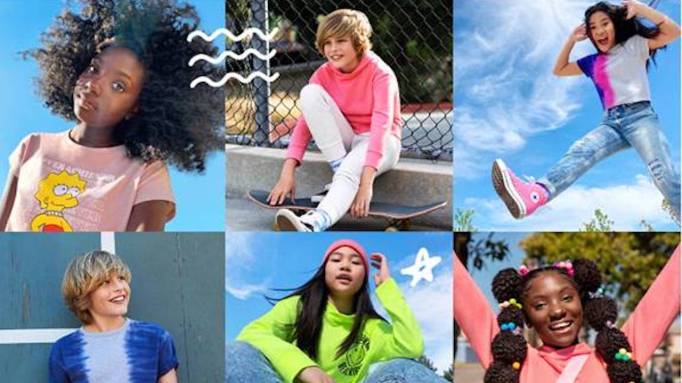 A few months ago, Andres Dorronsoro, svp and gm of merchandising at Old Navy, realized that the brand had plenty of options for young kids, teens and adults, but the pre-teen or "tween" market — ages 10-13 — had been underserved. To that end, on Monday the company launched its first tween-focused collection in collaboration with media company Popsugar.
"Over the years, we had customers tell us that their tween children weren't satisfied with the stuff in our kids' section," said Dorronsoro. "They'd say they don't want to dress like their little brother or sister, and they don't want to dress like their mom. We've heard it for years, and we started think there's a bigger opportunity here."
The 25-piece collections ranges from $10-$40 and was developed with insight provided by tween influencers including Alizé Lee (147,000 Instagram followers) and Kheris Rogers (250,000 Instagram followers), who participated in a series of focus groups about what clothing factors kids in their age group prefer, with questions around comfort, materials, color combinations and styles. Notably, Instagram has an age requirement of 13, so these influencers are as young as they come. As part of the launch, Old Navy is also donating $25,000 to the Boys & Girls Clubs of America. Popsugar's design team contributed to the design of the collection and facilitated the focus groups with the tween advisors.
The collection is launching in back-to-school season, which is normally among the biggest sales periods of the year for Old Navy. Dorronsoro declined to share typical sales numbers. But this year's back-to-school moment looks much different than previous years. Old Navy had finished design and was in the midst of production by the time the pandemic hit. With uncertainty about whether kids would be physically going back to schools, Old Navy focused its efforts on the marketing aspect of the collection, which includes a big social media push on Instagram with the tween ambassadors, addressing the challenge of education from home. 
Advertisement
"We leaned in on marketing with lessons from post-Covid," Dorronsoro said. "For example, we've seen that comfort categories have done really well during the pandemic, so we've been thoughtful about that success and are making sure that we position this collection accordingly. It does have a lot of comfortable clothes that are great for working or learning from home."
Available data in how back-to-school shopping will be impacted is still inconclusive. Some data points, even from the same research, are contradictory. Edited found that, compared to last year, retailers are dropping 46% fewer new apparel pieces for kids from May-July, and that parents are focusing their spending on technology over apparel, to ensure that kids can effectively learn from home. Pointing to the limited supply, the rate that children's apparel has been selling out in the same period has increased by 36%, indicating there is still some appetite for newness in kidswear.
Dorronsoro said he's confident that the collection will sell, even if it doesn't hit the same numbers that a typical back-to-school season would. 
"All retail sectors have felt a sting from the pandemic, and the back-to-school business is a notoriously tricky event for brands to nail even without the hangover of Covid-19," said Kayla Marci, retail analyst at Edited. Periods like Black Friday and back-to-school season represent a high volume of sales, so the stakes are high for retailers to maximize profits via their marketing and merchandising. "With online learning becoming the new norm and uncertainty surrounding schools reopening in September, retailers have been cautious to deliver newness at the same level as last year."

Advertisement
The tween market, in particular, comes with its own challenges. It's around this time that kids are starting to dress themselves and have more control over what their parents purchase for them. More than in younger age groups, tween clothes need to appeal to two customers at the same time: kids and parents. There are approximately 21 million tweens in America, accounting for nearly $43 billion in spending power on apparel each year, according to research from Cotton Inc. Dorronsoro said the Old Navy team surveyed which of its competitors were serving that segment and determined there weren't any clear leaders, leaving an open space for the company.
You have read the maximum number of free articles.
Glossy
+

Membership

Subscribe now for access to unlimited Glossy content, premium research reports, exclusive newsletters, invitations to member-only events and more.
This content is available exclusively to Glossy+ members.
Glossy
+

Membership

Subscribe now for access to unlimited Glossy content, premium research reports, exclusive newsletters, invitations to member-only events and more.
"An important mantra for us was 'designed by tweens, approved by moms,'" Dorronsoro said. "That's where Popsugar was really helpful. Since they have a big audience of parents, they could offer us a lot of helpful analytics about what moms were looking for."
Get news and analysis about fashion, beauty and culture delivered to your inbox every morning.