Instead of frolicking in fields in flowing dresses, the Madewell girl is heading back downtown.
Following an aborted IPO attempt in March 2020, J.Crew's younger sister, Madewell, is in the process of revamping its image with new store designs, creative direction, styling and marketing imagery.
"It was an exciting time for us to come together, not only in terms of product offering, but also in refining our styling lens and the way we're showing up. [That's] through our creative and our marketing, and through our store environment and our experience," said the brand's head designer, Joyce Lee.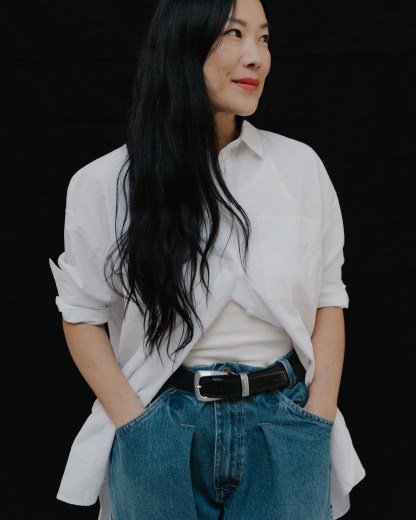 In terms of the fashion, that first means "leaning into solid colors" following years of floral printed skirts and dresses, said Lee. "We really want to pull back on how much print we have. Bringing in the right amount of emotion or novelty in the assortment that excites our customer feels really fresh and modern."
Popular styles now include oversized silhouettes, including baggy pants and jeans, as well as relaxed blazers and an oversized poplin shirt.
"Right now, there's just a moment of loose, baggy, wide, low-slung and mid-rise," said Lee. For inspiration, "We're looking at the '90s. We're looking at Y2K," with combinations such as slip dresses with T-shirts, and crop tops with leather blazers and baggy jeans.
Madewell was first created by Mickey Drexler in 2004 after J.Crew purchased the logo and trademark of a former workwear brand that had been founded in 1937. It grew over the past two decades by tapping into millennials' obsession with vintage aesthetics and a devotion to heritage-focused branding. After the preppy style embraced by J.Crew began to decline, Madewell served as the company's source of growth. For the 2019 fiscal year, Madewell sales grew by 14% to $602.4 million, while J.Crew's declined by 4%. In 2020, J.Crew Group attempted to take Madewell public, before suspending the IPO efforts after the pandemic hit and filing for bankruptcy in May of that year.
Madewell is now in the process of expanding its store count as it redesigns the retail spaces and experiences. In February, the brand opened a new multi-floor, dual-gendered store in Philadelphia with its new concept, offering a wider assortment of products beyond Madewell including local brands and locally sourced vintage items.
Still popular with mostly millennials, Madewell has been working to maintain relevance with a new generation of twentysomethings via Gen Z-focused TikTok campaigns. The brand has recently been tapping into an edgier group of celebrities and influencers, such as "White Lotus" and "Euphoria" actor Lukas Gage for its menswear launched in 2018 and "Bodies Bodies Bodies" actress Chase Sui Wonders. They've appeared in campaigns, while Gage appeared at a recent art-themed party in Los Angeles heralding the brand's new aesthetic along with fashion it-girl guests such as actress and model Ava Capri.
According to Lee, "the muse" that the brand speaks to has not changed since its inception, however. ​
"The way that we describe her is: She cares about fashion, but she's not led by trends. She wants to be stylish, but at the end of the day, she just wants to be authentic to herself. … She really is immersed in culture. She knows what's going on out there, in terms of the best restaurants. She has a downtown mindset." Although "she doesn't necessarily live in New York City," Lee said that "she's drawn to the cool things that are going on. Her friends are in the know, and they know what art galleries to go to or what show is happening."
The Madewell girl in this season's lookbook and imagery does seem to be spending more time downtown than those in the past. While the brand's social feed for this season's collection features many city and sidewalk scenes with the new minimalist looks, 2022 campaigns feature many more models in fields or on the beach wearing flowery and puff-sleeve dresses, with comparatively boho or "Christian Girl Autumn"-esque looks.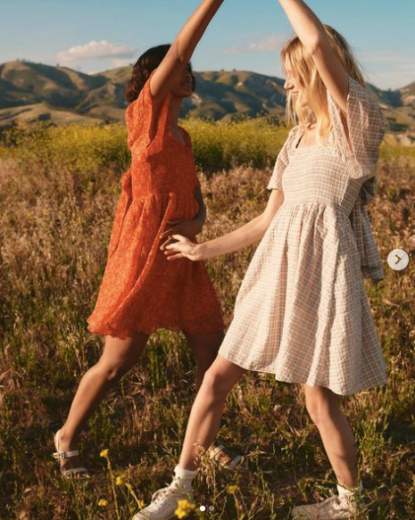 "With this brand refresh, the thing we're really thinking about is: How do we continue to appeal to our core customer and existing customer, and then how do we continue to bring in a new audience?" said Lee.
This has especially played out in denim shapes, with the skinny versus baggy generation wars between millennials and Gen Z. Lee said that, despite the rise of baggy, "skinny has been a huge part of the business for so long, and it still is." The stovepipe shape is also something people are still buying.
"I don't think there's ever going to be something that's like, 'OK, this is completely out,'" she said of denim styles.
But to court the younger generation, one thing Madewell won't be leaning into is micro-trends. Lee is leaning into the backlash against the sped-up trend culture driven by social media. "There's definitely a fatigue," when it comes to short-lived TikTok fashion trends. "People are like, 'Ok, this is a lot.' So we're into this whole minimalist era, for sure," she said.