Jumping off of the launch of J.Crew Passport, the brand's loyalty program that came out in August 2022, J. Crew is now tackling mobile commerce with a new shopping app.
The J.Crew app, launched on Monday, was inspired by the shopping behavior of the retailer's customers, said CMO Derek Yarbrough. More than two-thirds of J.Crew's online store traffic in the last fiscal year came from mobile devices.
In addition to faster checkout and personalized product recommendations, one of the main features of the app is a 48-hour advance window for new launches and collaborations. Two upcoming collections launching in July will be the first to be sold through the app ahead of their launch on the website and in stores.
Yarbrough said integration with J.Crew's loyalty programs is key to the brand's mobile strategy.
"We launched our J.Crew Passport loyalty program in the last couple of years, and we have seen a lot of success there," Yarbrough said. "This app is an extension of that program to drive adoption from our most loyal customers, while also appealing to a new customer doing the majority of their shopping online."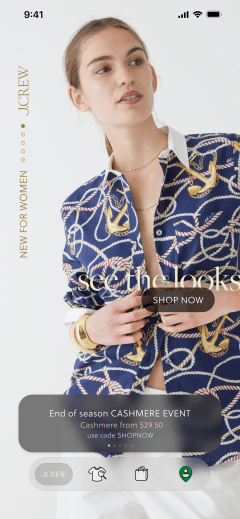 J.Crew is promoting the app through all of its main marketing channels, including email, social, SMS and in-store signage. Mobile commerce is becoming a bigger part of the retail landscape, on track to account for more than 40% of all U.S. transactions in the U.S. In Glossy's own research, from April 2023, 40% of survey respondents said they primarily shop on mobile apps or mobile websites.
The new app is the latest in a variety of changes that J.Crew has made under the leadership of CEO Libby Wadle, who took on the role just over two years ago. Others include rolling out loyalty programs across J.Crew and Madewell, bringing in new designers Brendon Babenzien and Olympia Gayot, and launching a virtual store on Friday. Some of these efforts contributed to the company's 2022 revenue, which was 30% higher than pre-pandemic. That hasn't prevented J.Crew from following the path of many other companies in the industry and laying off 3% of its staff in March.