Fashion retailers are re-opening, but fitting rooms are off-limits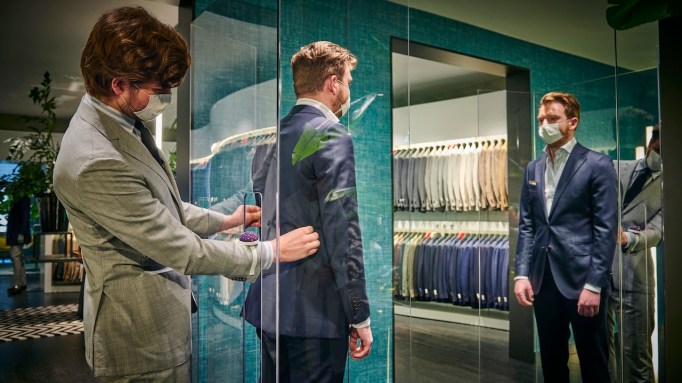 Kohl's became the latest major retailer to reopen stores this week, with four stores opening on May 4 and 10 more opening on May 11, all with additional safety precautions. One such precaution: The fitting rooms will be closed.
Eliminating the use of fitting rooms is becoming a common part of the reopening blueprint for retailers, which are aiming to get back some of the foot traffic and revenue they've lost while making customers feel safe. Some retailers are keeping all fitting rooms off-limits, while other retailers are finding alternative ways to let customers try-on clothes. But fitting rooms are a key part of brick-and-mortar retail, according to brands like Rebecca Minkoff, and it's unclear if a retail world without them will be appealing to customers.
You have read the maximum number of free articles.
Glossy
+

Membership

Subscribe now for access to unlimited Glossy content, premium research reports, exclusive newsletters, invitations to member-only events and more.

SUBSCRIBE

Already a member?

Already a member?

Login

Logout
This content is available exclusively to Glossy+ members.
Glossy
+

Membership

Subscribe now for access to unlimited Glossy content, premium research reports, exclusive newsletters, invitations to member-only events and more.
Aside from Kohl's, Gap will also be closing all fitting rooms and restrooms when it reopens more than 800 stores this month, as will Urban Outfitters and Target. Nordstrom will close most fitting rooms, but will leave a few open — two or three, depending on the store. For the retailers who are keeping fitting rooms open, like Saks Fifth Avenue, clothes that are tried on are being cleaned and taken off the sales floor for 24 hours before being put back on display. The variance in how brands are treating fitting rooms comes from the fact that, while most states in the U.S. have guidelines on whether stores can reopen and how they should clean, there are few guidelines on how brands should deal with the handling of product by so many people.
"We are taking an informed, measured approach based on a number of factors to reopen our stores on a phased timeline, with about 25% of our stores opening by next week," said Kohl's CEO Michelle Gass in an emailed statement.
Advertisement
It's a stopgap measure, but one that removes one of the biggest benefits of shopping in a store. For some retailers, closing fitting rooms isn't an option. Suitsupply, which has more than 100 stores, relies on a high-touch experience for its custom suit fittings. In place of fitting rooms, founder Fokke de Jong said the company has set up a transparent plexiglass wall in its fitting rooms where sales associates can reach through to take measurements while having minimal contact with customers.
"The occupancy you can have in a store is a lot lower than before," said de Jong. "We are lucky because our stores are pretty big, but it's still a reduced capacity. Something we've been doing is offering co-browsing, where customers can video chat with sales associates before they come in and pick out clothes they want to try, and we can get the clothes prepared so they're ready when the customer comes in. Our business is high-touch so we're looking for any ways to make it safer and easier, and to minimize contact."
Suitsupply has been steadily reopening stores over the past two months, beginning with stores in Shanghai and other parts of China. Over the weekend, it reopened stores in Atlanta, Houston, Dallas and other parts of Texas. 
De Jong said that the reopened stores have seen severely reduced foot traffic in the first few weeks, which was expected, but that customers who do come in are buying about 30% more than they were before stores closed. He also said the company did not do any data gathering to see if customers would actually come into the store if it reopened. 
Advertisement
"Online has never been a big part of our business, only around 30%, and it did not shoot up when our stores closed," de Jong said. "So we needed our stores open and, from what I've seen in the places where our stores are reopened, people want to come in and shop. They want a return to normalcy. We just have to do it in a safe way."
Get news and analysis about fashion, beauty and culture delivered to your inbox every morning.