Dorsey founder Meg Strachan on the perks of running a 'very lean, profitable business'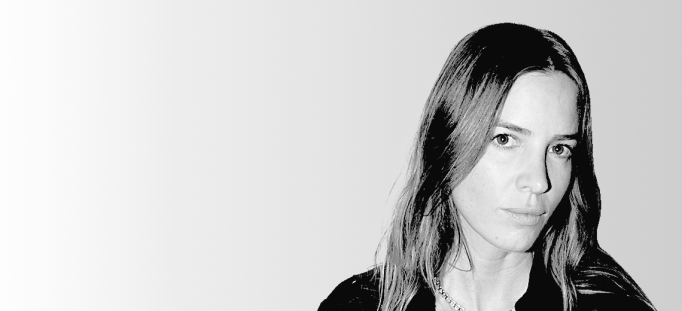 Meg Strachan launched jewelry brand Dorsey in November 2019 as a side project. Though she knew she eventually wanted to launch her own company, financially, it didn't seem possible.
You have read the maximum number of free articles.
Glossy
+

Membership

Subscribe now for access to unlimited Glossy content, premium research reports, exclusive newsletters, invitations to member-only events and more.

SUBSCRIBE

Already a member?

Already a member?

Login

Logout
This content is available exclusively to Glossy+ members.
Glossy
+

Membership

Subscribe now for access to unlimited Glossy content, premium research reports, exclusive newsletters, invitations to member-only events and more.
"My path to founder was not a leap, it was gradual. I call it a parallel path," Strachan said on the latest episode of the Glossy Podcast.
Strachan had over 15 years of experience as a growth marketer at brands like Anine Bing, Carbon38 and Bandier. But when it came time to fundraise for Dorsey, she faced roadblocks.
"I wasn't able to raise money prior to the brand having traction, which was fascinating for me, because I met with a lot of incredible VCs," Strachan said. "I was told, 'You have the exact resume of a founder we would invest into,' but all of them really told me, 'We don't really know the jewelry market.'"
In September of 2019, Strachan joined sustainable activewear company Girlfriend Collective as the vp of growth across all channels. "I took on the role on a full-time consulting basis. I was [working] 9-to-5 with Girlfriend … and I started to moonlight Dorsey at night and on weekends, essentially running the company when I wasn't doing my full-time job," Strachan said.
Advertisement
Strachan's growth marketing and e-commerce experience helped Dorsey scale to become a seven-figure business in less than three years. Simultaneously, Girlfriend Collective saw 350% year-over-year growth during her tenure at the company. As Strachan transitioned into running her company full-time, growth and expansion through creative marketing and wholesale have been some of the most exciting areas of focus for her.
"How I'm growing the business is certainly very different than most of the companies that I've worked for before," Strachan said.
Below are additional highlights from the conversation, which have been lightly edited for clarity.
Startup roadblocks
"It's difficult to start a company, and it financially feels impossible. We started the company with $600, then I put in another $1,000, and we just grew slowly over time. I created the business by working other jobs at the same time. I felt that I was the only founder that was out there doing that. I didn't talk about it much through my Instagram because, when you go out to raise money and you can't raise money, you feel there's something wrong with your company. [However], I always say it's the best thing that ever happened to me because I ended up with a profitable business that I could run very lean. We had such an incredible response from our customers, stylists and celebrities before I could afford to pay for publicity or really any type of support. That helped me realize that this can be a substantial business. But, it was incredibly lonely."
Advertisement
Evolution of the marketer
"A lot of companies at this point are pulling back from paid [marketing] because they're not seeing the return they used to see. I would argue that, in actuality, the numbers we're seeing now from a paid perspective are probably what they always were. … Without going into those details, the role of a marketer [has changed]. You have to understand how creative drives revenue and how revenue is impacted by creative. That is the key to a lot of success behind brands today because marketing moves so quickly. It's changing so fast, and creative is the battlefield."
Letting go of the day-to-day
"The first hire I brought on was my brand director. She was really critical because … I sit across every single part of the business. I wanted to bring somebody on who understood my vision so that I could hand off to her different campaign strategies … and we could get things done as a team. We brought in graphic designers, customer service and then operations — the biggest piece that you want in place to scale a business. We are scaling much faster than I even thought we would this year, so our deep focus right now is within operations and supply chain. We have a substantial waitlist for our pieces … so my focus is what our operations over the next couple of years [looks like] and fine-tuning everything that sits underneath that headline."
Get news and analysis about fashion, beauty and culture delivered to your inbox every morning.