Known for its viral fluffy, pastel, confection-style Puff Dress, fashion brand Selkie is growing its fangs.
In a set of Victorian mansions in Los Angeles on May 8, models with scarlet lips and piercing gazes hissed and bared vampire teeth while showcasing the brand's Dracula-inspired fall-winter 2023 collection. Founded by former Wildfox designer Kimberley Gordon in 2018, Selkie rose to fame in 2020 when its Puff Dress became an unlikely pandemic cult item. Now, the brand is focused on cultivating its newfound fans into repeat customers.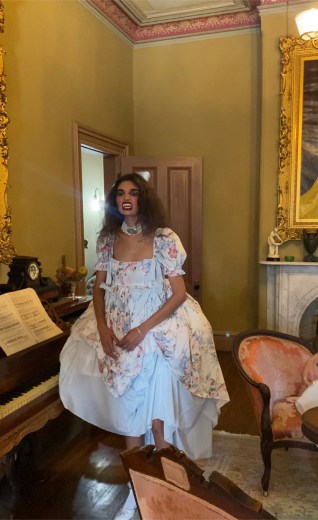 "I've pulled back a bit on the classic Puff, just because I'm trying to introduce other types of big, beautiful dresses," said Gordon of the new collection, which was inspired by Dracula's first victim. The new collection still has its share of girly ruffles and puffy sleeves, but pastel colors are joined by solid black looks with an edge.
Although it may fit in most at a party, the brand's whimsical organza and tulle Puff Dress took off on TikTok during the lockdown in 2020. At the time, consumers looked for escapist fantasy clothing, and took inspiration from "cottagecore" and its more aristocratic, "Bridgerton"-inspired counterpart, "regencycore."
"I've been realizing that the customer and my fans love when we go all-out and have these magical trips through time," said Gordon.
During the height of the supply chain crisis, Puff Dress orders would take months to arrive, adding to the elation customers felt when they finally ripped open their packages and shared photos of the coveted items online. Now stocked at Revolve and Free People, the brand has seen a wide range of cheaper dupes of the dress style pop up on platforms like Amazon and Shein.
The TikTok fame of the dress took Gordon by surprise, she said.
"I didn't know if anyone else would love it because it looks like when you blow a bubble gum piece," she said of the dress. "But I saw that a lot of people wanted it and a lot of people were tagging it. I actually didn't know much about TikTok at the time, so I didn't even know we were getting a lot of videos on there. I remember when someone said I had a 'viral TikTok brand,' and I was like, 'What are they talking about?' I went on TikTok and I was like, 'Oh wow, there are millions of views on here.'"
Now, as with many fashion and beauty labels that saw their viral moment on TikTok, the goal is to expand from having a cult product to reaching cult brand status.
That means sticking to the concepts of the Puff Dress while creating "variations" on the dress that stick to the brand's main ethos, said Gordon. "We're talking about women taking up space, and we're always talking about that," she said, explaining that the collection is "exploring crazy volume" with wide hoop skirts and even crinoline cage skirts.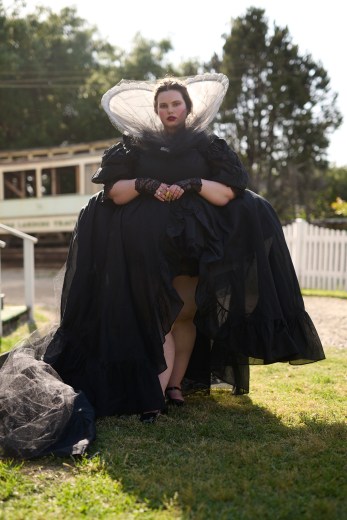 The pivot to goth — one of the latest trends to take off on TikTok, thanks to the popularity of the Netflix show "Wednesday" — may be surprising for such a pastel and rainbow-heavy brand that rose on the cottagecore trend. But Gordon said she sees the concepts as linked. "Cottagecore itself is, kind of, a form of goth, because it's looking into the past, the 18th and 19th centuries."
The hair and makeup looks at the new collection's debut event included a combination of historical and pop-culture inspirations.
Elyse Reneau, the global beauty director of Too Faced, was on hand doing makeup, describing the vampire-style looks as "bitten baddies." She said the beauty concept was "a little bit of 'Bridgerton' meets 'Interview with a Vampire' or 'Dracula,'" with inspiration from Renaissance paintings.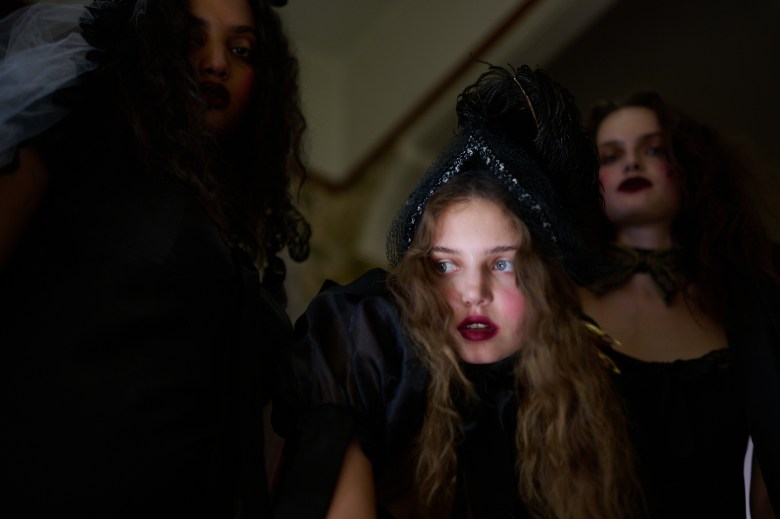 The vampire theme and experiments with bold skirt shapes are part of the statement about size inclusivity that has contributed to the brand's popularity.
"Throughout history, [women] have been told to be demure and in the shadows," said Gordon. "But there's something about a vicious, blood-sucking, big dress-wearing, bold girl that is really inspiring."
Hair stylist Nick Stenson, svp of services and trend at Ulta Beauty and the founder of Nick Stenson Beauty, conceptualized the hair looks for the show with both the Renaissance and modern social media platforms in mind.
The goal was to create looks that will "stop people if they're scrolling on Instagram or on TikTok," said Stenson. "It's going to be more important that there's always an element of theatrics to everything we do."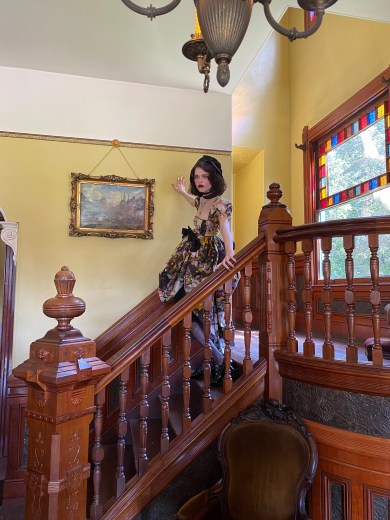 With the vampire-teeth models giving fang-baring performances, and causing at least one pastel-clad influencer to shriek in surprise, the presentation offered a prime opportunity for social content of both the still photo and video variety. But Gordon said that an emphasis on clothing design, rather than virality, is part of the brand's long-term plan for success.
"I don't think about the viral moment, per se. But I do think about what is going to be loved so much that people want to share it — and I guess, in a way, that is viral. But I'm more interested in what you're going to love than what you're going to share," she said.
Gordon said the plan is also to ensure that the brand grows sustainably and sticks to its dedication to size inclusivity.
"There's this temptation for people to grow as big as you can, but there is something to be said about maintaining and being steady, and not becoming so enormous that you need 1,000 employees," she said. "Some part of me is like, 'Yes, I'd love a really large brand.' But also, that sounds really terrifying, especially under such a public eye; there's a lot of scrutiny these days. It's really hard to always do the right thing or make the right choices, especially since the brand is forward-thinking about sizing. And honestly, that's hard."
Despite the brand's organic success on TikTok, Gordon said the presentation was mainly designed with Instagram Stories in mind and that Stories would be the brand's main social focus for marketing.
"I'll probably do TikTok, too, but I have a hard time with TikTok," she said. "It's just such a vicious place. But maybe I'll take my vicious vampires to a vicious platform."