Despite the backlash against celebrity beauty brands, the OG celeb category of fragrance still attracts both praise and interest.
In the latest version of Launchmetrics and Glossy data, the top 5 fragrances in March based on MIV were Eilish by Billie Eilish, JLO Glow, Ariana Grande Cloud, Fenty eau de parfum and Borner Dreamer from influencer Charli d'Amelio. Eilish by Billie Eilish topped the list at $1.6 million in MIV, followed by JLO Glow with $571,000 in MIV, Ariana Grande Cloud with $520,000 in MIV, Fenty eau de parfum with $387,000 in MIV and, lastly, Charli d'Amelio's Born Dreamer with $160,000 in MIV. MIV is a proprietary Launchmetrics metric standing for media impact value. MIV tracks the impact of influencers, print media, celebrities, official third-party partners and a brand's own media channels.
Eilish by Billie Eilish first launched in Oct. 2021, at the peak of Eilish's busyness. That same year, in June, she graced the cover of Vogue, dropped her second studio album "Happier Than Ever" and even used a stage moment during Austin City Limits to speak out about Texas's abortion ban. So, although the release of the now wildly popular fragrance was a surprise, it was also in step with Eilish's public momentum. The fragrance is heavy on vanilla but also includes notes of amber and cocoa. Its bottle is rendered in the shape of the human body, akin to Jean Paul Gaultier's and Kim Kardashian's own iconic fragrances. Eilish has since followed up with a second fragrance, Eilish No. 2, in 2022. However, the original gourmand still captures the No. 1 spot, per Launchmetrics data.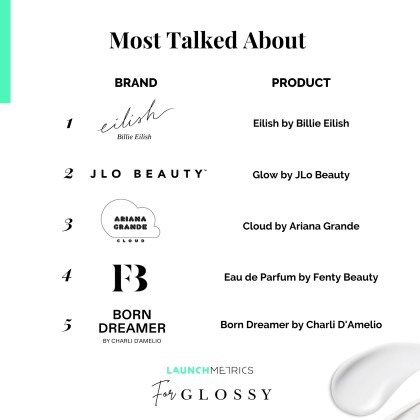 That JLO Glow is in the No. 2 spot is a testament to both the enduring career of its creator, Jennifer Lopez, and the ongoing strength of original celebrity-led fragrances. Lopez launched Glow, which was her first fragrance, in 2002 via a partnership with Coty Inc. — she wanted it to reflect her own soap-on-skin, clean skin scent. At the time it was regarded as a notable departure from the "fruity gourmands" for young women, with In Style calling it more grown-up yet still floral. According to Time magazine, the fragrance, along with Lopez's fashion and other beauty lines, brought in revenue of over $300 million in 2004, two years after its launch. The scent later went on to inspire many Glow spinoffs. Lopez released her 25th fragrance, called Promise, in 2019. Lopez's fragrance franchise has done more than $2 billion in retail sales since its launch in 2002, according to WWD. Sixty-five percent of those sales are said to have come from Glow itself.
"In line with the rise of celebrity-owned beauty brands, celebrity voice continues to be one of the key driving forces for the industry, thus sustaining its relevance within the fragrance market," said Alison Bringé, CMO at Launchmetrics. "That being said, having large, dedicated fan bases allows celebrities to differentiate their product within a highly saturated beauty market."
While Lopez herself has 243 million Instagram followers, singer Ariana Grande counts 368 million, which has surely aided in pushing her Cloud fragrance to the No. 3 spot. Grande first launched fragrances in 2015, but Cloud is her fourth fragrance, debuting in 2018. According to The Hollywood Reporter, Grand's fragrances have achieved $1 billion in global retail sales. Cloud has a distinct bottle, with its light blue tint, its positioning atop a billowing cloud base and its lid featuring another small cloud. Its fragrance notes include lavender blossom, pear and praline. At the time of its launch, Cloud was expected to earn $50 million in sales in the first year, according to WWD. Harper's Bazaar dubbed Grande the "last great celebrity perfumer" whose A-list contemporaries like Katy Perry and Taylor Swift failed to capture the spirit of young consumers. Young people, who love smelling sweet, enjoy the "enveloping, cozy quality" Cloud delivers, it reported. Cloud's picked up industry awards, too, winning the Fragrance Foundation's Fragrance of the Year in 2019. Since the launch of Cloud, Grande has continued to create new fragrances, including Thank U Next in 2019 and God Is A Woman in 2022, the latter of which is a "clean" fragrance with 91% naturally derived ingredients.
Rihanna's previously embarked on unsuccessful ventures into celeb-fragrance territory, with at least three fragrances launched between 2014-2016. But the launch of a Fenty fragrance brought her into the fold. Fenty eau de parfum is a decidedly more sophisticated product based on the packaging alone, with an opaque amber-colored bottle. The perfume is billed as having a warm floral scent with notes of magnolia, musk, tangerine and Bulgarian rose.
And lastly, Charli d'Amelio's Born Dreamer rounded out the No. 5 spot, a somewhat surprising inclusion given the TikTok influencer is a relative newcomer to both the celeb and fragrance space. D'Amelio, however, does have the backing of 150 million TikTok followers and a partnership with Forma Brands, the owner of Morphe Cosmetics. Born Dreamer, launched in June 2022, features notes of Anjou pear, pink sugar and orange zest essential oil. Given d'Amelio's preferred platform of TikTok, it is worth noting how impactful PerfumeTok has been in the digital fragrance landscape where purchases are inspired by influencers and not smells.
"With Gen Z generating the most buzz as they continue to grow their purchasing power, it's no surprise that we increasingly see the new generation of celebrities' names — such as Billie Eilish, Ariana Grande or Charli D'Amelio — taking the lead in the fragrance industry," said Bringé.
Want to discuss this with our editors and members? Join here, or log in here if you're already a member.