If you're looking for PaintLab founder and CEO Karina Sulzer on the weekend, there's a good chance you can find her at her nearest Walmart.
"I go to Walmart every weekend, and I really study what the consumer habits are like," she said. With a brand known primarily for its press-on nails in trendy, colorful designs, she's focused on what nail products customers are buying.
On one recent weekend, "I stood there for maybe eight hours, to the point where I told the [worker], 'I swear, I'm doing research. I'm not just a creepy person,'" she said.
Sulzer began gearing up for PaintLab's Walmart debut after the brand was selected in August to be one of five members of the big-box retailer's Walmart Start beauty accelerator program. It is the third brand in the program to enter Walmart stores so far, following custom hair-care brand The Hair Lab and accessible fragrance startup Dossier. Hair-care brand Pardon My Fro will launch around Valentine's Day, and Undefined Beauty is still working with the retailer to set a date.
Indie beauty startups are "a big priority" for Walmart, said Creighton Kiper, Walmart's beauty merchandising vice president, who noted that trendy startup brands are especially important for the younger millennial and Gen-Z demographic.
"We know that our younger customers are some of the top beauty enthusiasts. They love to discover and spend more, and they're really engaged in this category," he said.
While Target has long been considered a go-to for finding up-and-coming new brands, Walmart is aiming for that status among Gen Z. According to a 2022 Morning Consult survey of more than 2,000 Gen Zers, Walmart ranked as the sixth-most-favorite brand, with 80% favorability, beating Target, Nike and Apple.
Diversity is also key for appealing to the younger generation, said Kiper. "New hair types and new skin types are being born every day. We know that over 50% of Gen Z customers identify as multicultural. When you look at Walmart, the next big brands sit in that domain," he said.
The Walmart Start brands join 100 new beauty labels that were added to Walmart's selection last year, following 69 that launched at the retailer in 2021. Strong performers that debuted in 2022 include influencers Brooklyn and Bailey's Maesa-created skin-care brand, ITK; AF94, the diffusion line for Halsey's About-Face; and Dossier.
As for the growth of Walmart's brand roster this year, "We don't see [it] slowing down," said Kiper.
Walmart's big bet on beauty includes the development of its brand lineup across all fronts. Price points range from accessible to luxury: Under the retailer's SpaceNK partnership, launched last year, it sells luxury brands Goldfaden MD, Philip B, Slip and Lancer, among others.
For PaintLab, meanwhile, all products will be under $10. The brand's press-on nail designs, eye decals and colorful lashes will be featured in full display cases at just under 1,000 physical stores. Designs will include several Walmart exclusives.

"When you're walking by, you won't be able to not notice us," said Sulzer. "It's going to be a scene."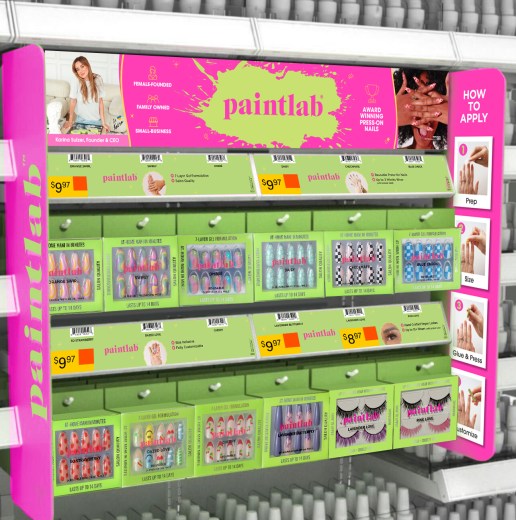 Prominent display cases are one way Walmart supports the accelerator brands. It also offers educational and networking opportunities for participants, including talks and classes. The retailer focuses on topics crucial for startups that are scaling their distribution to a big-box store for the first time, such as supply chain, quantities, forecasts and pack sizes.
Mega conglomerates that are already well-versed on these topics have also worked with Walmart to launch new brands. But indie beauty brands have distinct points of appeal to the retailer.
They have the advantage of "nimbleness and agility," said Kiper.
For example, PaintLab's team of five people is "able to turn around a collection within weeks" of spotting a trend online, said Sulzer. Gen-Z members of her staff monitor nail trends on TikTok and Instagram. The brand created a shimmery pink set of press-ons, in response to the Hailey Bieber "glazed donut" nail craze of the summer, for example. They're also quick to spot when the brand's own products go viral. Sulzer said a set of checkered nails saw an "insane week" for sales in August 2022, when a TikTok post about them by influencer Ché March (42,300 followers) earned 4.7 million views and over half a million likes.
Kiper added that indie brands are also "usually really close with the customer," thanks to their extensive research, such as Sulzer's on-the-ground observations. Skin-care brand Bubble, for example, conducts extensive surveys of thousands of Gen-Z consumers.
Walmart plans to continue the accelerator program for another year, with details on applications opening soon and more details to come, said Kiper.