The 'memeification' of Depp v. Heard now involves multiple beauty brands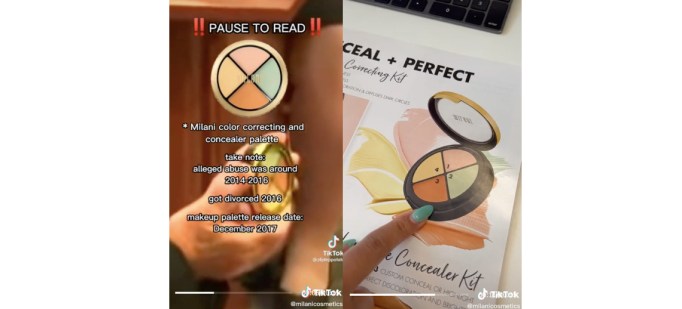 While celebrity trial sensationalism used to happen on cable news, obsession over the Johnny Depp-Amber Heard lawsuit has been playing out on TikTok. In addition to a flood of posts by influencers and regular users making light of domestic violence claims, beauty brands are also getting dragged into the mix … and some are willingly joining it. 
Over the past several weeks, TikTok has been inundated with videos about the ongoing trial, which began on April 11, between the divorced actors Depp and Heard. The subject matter is serious. Depp is suing Heard, seeking $50 million for defamation regarding Heard's claim of being a victim of domestic abuse in a 2018 Washington Post op-ed. Heard is countersuing for $100 million in a lawsuit that will be decided in a separate trial. 
You have read the maximum number of free articles.
Glossy
+

Membership

Subscribe now for access to unlimited Glossy content, premium research reports, exclusive newsletters, invitations to member-only events and more.
This content is available exclusively to Glossy+ members.
Glossy
+

Membership

Subscribe now for access to unlimited Glossy content, premium research reports, exclusive newsletters, invitations to member-only events and more.
On TikTok, the celebrities' public legal battle is being treated as entertainment, a phenomenon a recent Vice article described as the "meme-ification" of the trial. The social media app has been flooded with mostly pro-Depp videos "acting out" snippets of audio in Heard's testimony, in which she makes claims of domestic violence. Oddly, these videos appear comical and paint the accusations as absurd. 
Beauty brands have been part of the conversation in multiple instances. Makeup brand Milani Cosmetics joined the fray, posting a TikTok about the brand's concealer palette that Heard's lawyer held up at the trial and said Heard used to cover bruises from Depp. The lawyer had claimed Heard used the palette throughout the "entire relationship with Johnny Depp," which began in 2012 and ended in divorce in 2017.
Advertisement
The brand posted a TikTok using the lighthearted "International Super-spy" audio track from the children's show "Backyardigans" to show that the palette hit the market in 2017, essentially debasing Heard's lawyer's claim. It has generated 5.5 million views and over 1 million likes since it was posted on April 21, with overwhelmingly positive comments comparing the brand to Elle Woods from "Legally Blonde." On Twitter, however, users criticized the brand for appearing to make light of a domestic violence case. 
When asked about the video, Milani Cosmetics released the following statement: "Milani Cosmetics can confirm the palette in question — the Milani Cosmetics Conceal + Perfect All-in-One Correcting Kit — did not launch until December 2017. Our video was to verify the claim that our eagle-eyed and loyal fanbase made about the product named in the trial. Milani Cosmetics is not taking a formal stance on the trial, evidence or future outcome of the case." 
Another brand being brought into the online frenzy is L'Oréal, which named Heard a brand ambassador in 2018. Since the trial began, the brand's Instagram posts have been flooded with anti-Heard comments demanding the brand remove her as ambassador, using hashtags #amberout and #outamber.
The online vitriol over Heard as L'Oréal brand ambassador goes back to at least 2019, when users took to the brand's Twitter account with comments asking for her to be removed. At the time, L'Oréal issued responses to the comments saying "We will share your comments with the appropriate individuals in our company." 
Advertisement
According to an analysis by Charlotte Colombo at Vice, the current swarm on social media appears to be Depp fans using the organized mass-posting techniques common among K-pop stans. In addition to criticizing L'Oréal, they have been praising Dior, posting pro-Depp comments and the hashtag #justiceforjohnnydepp on Dior's Instagram page. Depp is the face of Dior's Sauvage fragrance and starred in a campaign for the perfume in 2021. Depp stans have been especially supportive of Dior, as the campaign was launched after film franchises such as "Pirates of the Caribbean" dropped him over the domestic violence claims and controversy. Neither Dior nor L'Oréal have released statements about this situation so far.
The online pile-on against Heard has not been without its critics. On Twitter, users have criticized actress Gemma Chan for allegedly liking a pro-Depp comment on L'Oréal's page. 
Writer Kate Lindsay, meanwhile, wrote in the Embedded newsletter that, as pro-Depp "content has grown more and more disengaged from the tragic reality of the case, the less I'm able to avoid jokes about domestic violence on my FYP." She added, "Watching people be so callous in real-time has got me thinking about how all this is going to look months and years from now."
Get news and analysis about fashion, beauty and culture delivered to your inbox every morning.