Beauty review video app Supergreat is the latest social app to get in on generative AI.
Known for its short videos and livestreams featuring beauty product reviews and recommendations, as well as livestreams, Supergreat has incorporated ChatGPT to create its GRWM.ai chatbot on desktop. Called an "AI-powered beauty assistant" by the platform, the feature allows users to ask personal beauty product recommendation questions in order to receive product recommendations and be served relevant Supergreat videos. 
"One of the strengths of the large language models is that they are really good at navigating complex or nuanced questions," said Tyler Faux, co-founder and CEO of Supergreat.  "With any new technology, there are always caveats and risks to it. What's important for us is just being as diligent as possible."
Short for "Get Ready With Me," the GRWM.ai platform utilizes OpenAI's GPT4 technology combined with Supergreat's dataset of beauty influencer content to provide detailed, personalized answers to users' questions. An answer to a request for sunscreens that are unscented and possibly not greasy is a selection of unscented and non-greasy products by Neutrogena, EltaMD and Aveeno. A question asking for advice on a full minimalist makeup look results in recommendations including Bobbi Brown foundation, NARS concealer, Tarte eyeshadow and Glossier brow gel. 
According to Faux, the company made adjustments to the algorithm to prevent the types of inaccurate information that ChatGPT has been known to spit out.
"We have tried to put significant guardrails around the way that it'll answer questions. We don't want it to ever fabricate information; we don't ever want it to guess if it's not totally sure," said Faux.
Supergreat isn't the first social app to get into AI chatbots. Snapchat launched a virtual avatar chatbot in April 2023, while TikTok is reported to be testing an AI chatbot called Tako. Meta announced in August last year that it was releasing an AI chatbot research project called BlenderBot3. Beauty-related tech startups are also incorporating AI. And RTRO — an app launched by experiential marketing firm TH Experiential, which counts Sephora as a client — has added a ChatGPT Chatbot to its newly launched app.
According to Supergreat, its dataset of content contains over 40 million words extracted from more than 350,000 product review videos. Providing credit to the influencers making the content, who receive affiliate commissions on recommended products, is also important to preserve, said Faux. 
"Every single answer is sourcing content from our community and is attributing the creators directly on Get Ready With Me. That's really powerful. Their search experiences, the actual sources of the information, will be more prevalent and obvious, because that will build trust and also help with attributing credit properly," said Faux.
The recommended product links in the app give affiliate commission directly to Supergreat. Meanwhile, the influencer videos linked below would still allow the featured creator to receive the commission if purchased through those.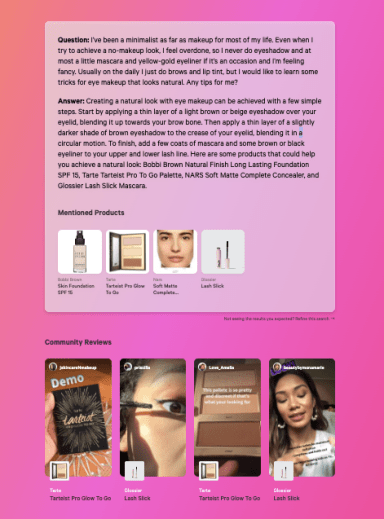 Founded in 2018 by Faux and Dan Blackman and headquartered in New York City, Supergreat has featured videos by Gabrielle Union, Ariana Grande, Hailey Bieber and Kate Hudson, among other celebrities, promoting their brands. Investors include Benchmark, Thrive Capital, Greenoaks and Shopify.
The company is "planning on adding more AI-powered features into the app over time," said Faux.