Welcome to the Glossy+ Research Briefing, your weekly curation of fashion and beauty research insights. Glossy+ members have full access to the research below.
In this edition, we share focal points from Glossy's annual report on beauty brands' distribution strategies, including selling on third-party platforms like retail giant Amazon, which just wrapped up its annual Prime Day sale.
Interested in sharing your perspectives on the future of fashion, luxury and beauty?
Apply to join the Glossy research panel.
More than half of beauty brands sell through marketplaces like Amazon
This was the first report of a two-part annual series on the state and future of fashion and beauty brands. Read more about fashion distribution strategies and keep an eye out for the updated 2023 annual reports coming later this year.
Amazon concluded its annual Prime Day sales event yesterday, but despite the massive amount of transactions conducted, many of the platform's sellers are experiencing anxiety as they scramble to verify their accounts under the Inform Act. The legislation, which takes effect July 27, aims to crack down on counterfeit products by requiring high-volume sellers — companies that make more than 200 transactions and bring in more than $5,000 in gross revenue each year — to verify their identity with platforms. But numerous sellers say the process has been riddled with confusion and vagaries.

Timely verification is important for beauty brands as they are increasingly selling on marketplace channels, such as Amazon or Walmart's Marketplace. Fifty-eight percent of respondents to Glossy's 2022 survey of beauty brands and retailers said they sell through a marketplace. In particular, marketplace offerings have inched past brand partnerships with retailer websites, signaling a major shift in traditional retailer-brand relationships.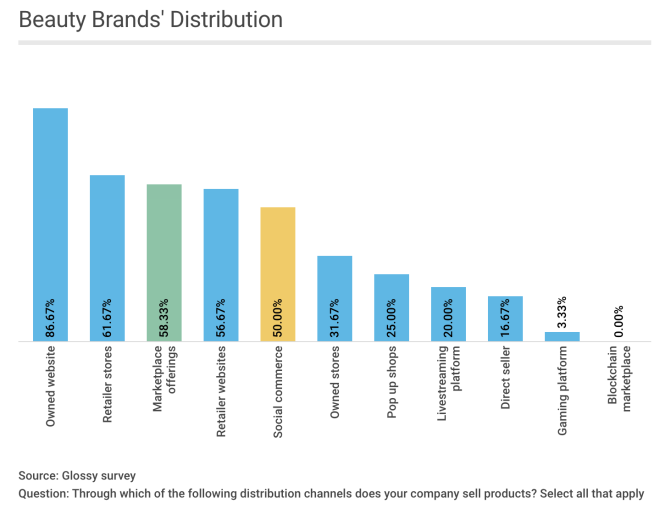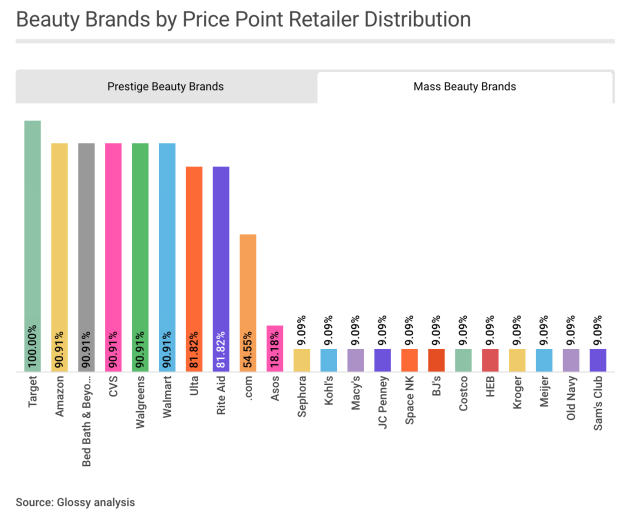 Key findings:
Within the mass beauty price point — brands with products at an affordable or entry-level price point that primarily target consumers of any income level — Amazon, along with more standard mass retailers like big box and drug store chains, make up the top retailer partnerships, indicating that consumers still prefer to purchase mass beauty products in accessible settings like Walgreens, Walmart or on Amazon.

Within prestige beauty — brands with products at a higher price point that primarily target consumers with above-average expendable income — Sephora is the most-common retailer distribution channel, closely followed by Ulta. Both retailers offer shop-in-shop partnership programs, and brands participating in the partnership programs at Sephora and Ulta have been able to reach new audiences.
Research Rewind: Mega-influencers are best partners for bringing widespread attention to a brand
This is the first installment of Glossy's two-part Influencer Index series that looks at YouTube brand partnerships and the types of influencers that best fit various marketing objectives. Keep an eye out for the second installment about what brands should keep in mind when developing a YouTube partnership strategy.
With millions subscribed to their channels, mega-influencers like Jeffree Star, Alisha Marie, Hyram Yarbro and Tati Westbrook, are optimal partners for brands looking to increase awareness and build a more broad-based and mainstream reputation. That is according to Glossy+ Research's YouTube Influencer Index, released last month, which placed mega-influencers in the widespread brand attention group. Partnerships with these mega-influencers bring wider social awareness to a product or brand, especially for small or new brands, though cost can be higher. As seen by the large volume of average views, comments and likes these creators earn on their videos, they bring a lot of attention to a product or brand name.
Key findings:
Looking at the engagement scores as compared to smaller channels, larger swaths of mega-influencers' larger audiences are more passive when it comes to engagement. But when viewing their total engagement count compared to the smaller channels, they far outpace other influencer groups in raw results – earning four times more views and comments, and nearly three times the amount of likes on average.

The widespread brand attention group's strength lies in its pure numbers and reach as compared to other groups, even if that engagement ends up coming from a smaller proportion of their gigantic subscribed audiences.
See research from all Digiday Media Brands: