All products featured on Glossy Pop are independently selected by our editorial team. However, when you buy something through our retail links, we may earn an affiliate commission.
Last week, Mob Beauty introduced a collection with Rose Siard, better known by her handle @Roseandben. The Houston-based influencer has 1.1 million followers on Instagram and 1.3 million on TikTok. In spite of having created content for 10 years, it is Siard's first collaboration. Together with her husband, Ben, Siard owns a 3-year-old makeup brush brand, also called Rose and Ben. Based on Siard's following, it's Mob's biggest influencer collaboration to date.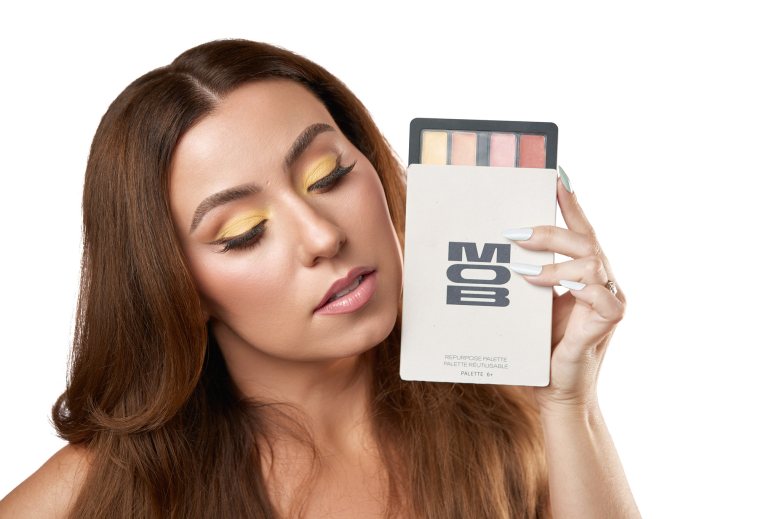 "I have definitely been approached [by brands], and I've had some lovely offers [to collaborate]," Siard said. "But with Mob, I feel that we just aligned. They're very artistry-driven, and they have some of the most quality formulas I have I've ever encountered."
The "clean" vegan makeup brand was co-founded by Alisha Gallagher and Vic Casale in 2021. Gallagher previously worked for brands including Laura Mercier, CoverFX and Briogeo, while Casale was formerly the chief chemist and managing director of MAC Cosmetics. It has its own labs in Palm Springs where it works on product formulation.
"It was always our plan [to invite people into the labs]. We're called 'Mob' because it's all about the people — mobs of people and the community being together, celebrating and creating. But we launched during a pandemic, so it wasn't [always] an option for us," Gallagher said.
In the spirit of the times, Mob has forged community digitally. For example, Gallagher and Casale have hosted webinars about the brand. Through one of the webinars, it connected with vegan makeup artist Jessica Haze, an attendee, who teamed with the brand on its first product collaboration, which launched in December 2022, followed by a second, which launched in May.
The brand has collaborated with community members, not all of whom have been influencers, in the traditional, full-time content creator sense of the term, on its lipsticks, such as Zoë Edwards, who modeled in the brand's launch campaign and has 2,700 followers on Instagram. Other examples include Trulee (67,000 followers) and Sara Rosie (9,800 followers). "We invite members of our community, who have organically supported us, to visit our labs and create products with us. Every shade of our Soft Matte Lipstick collection, except for one, was made by our community alongside us in our lab," Gallagher said.
For her part, Siard was introduced to Mob via Credo Beauty's PR team. The retailer sent her the brand's Cream Clay Eyeshadows last year. "They blew me away," she said. "I was like, 'Who is this brand?' 'What is going on here?' I looked into the brand [to find out more]."
Siard posted about her newfound love for the brand, and Mob eventually reached out. "We had never seeded to her, but we'd been fans of hers. She's such an incredible artist, and she just loves products. … She [became] a champion of the brand and an organic, authentic supporter of Mob."
Mob brought Siard to its labs and allowed her to get creative. "She had a vision. When people come to the lab, we don't tell them what to make. We are there to help them bring to life [whatever] their vision is," Gallagher said. "Rose had an idea to create these multipurpose shades — shades that could be used to brighten the eyes, for monochromatic looks or as color corrects. She also had an idea for a very sparkly, very unique shimmer product that you can top the shades with, if you want."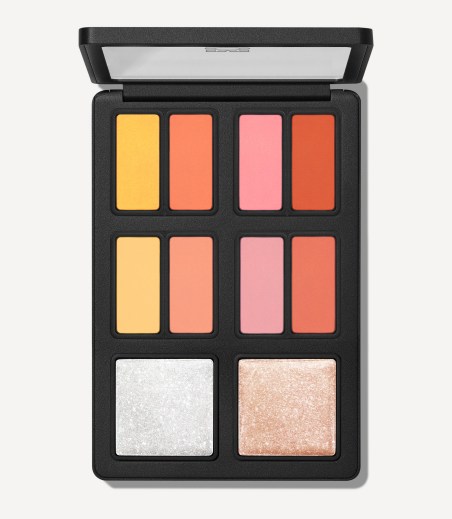 The resulting collection, dubbed the "Trust The Process" collection, includes four powder eyeshadows, four Cream Clay eyeshadows and two shades of an altogether new product, the Suspended Sparkle Balm. The balm can be used on top of the eyeshadows or on the face. The collection is sold as a palette for $145. Sold separately, prices range from $16-$32. Of the name, Siard said, "I want people to understand that even the most complicated ideas in makeup are not complicated. [These ideas are there for people] to just have fun. And [this collection] is about stepping out of your comfort zone and using color in a way you normally wouldn't."