Yet another celebrity-founded beauty brand entered the chat last week — this time, it was OAM, short for "On a mission," by Ciara. Celebrity brands are increasingly eliciting eye rolls from consumers, as discussed on Friday's Week In Review episode of the Glossy Podcast. But, whether people love or hate celebrity brands, they're clearly talking about them.
According to the latest Glossy-exclusive Launchmetrics data, the five most-talked-about celebrity-founded beauty brands in 2022 have been, in order, Rihanna's Fenty Beauty, Kylie Jenner's Kylie Cosmetics, Selena Gomez's Rare Beauty, Millie Bobby Brown's Florence by Mills and Ariana Grande's R.E.M. beauty. These brands are ranked by MIV, standing for media impact value. The proprietary Launchmetrics measurement tracks the impact of influencers, print media, celebrities, official third-party partners and brands' own media channels.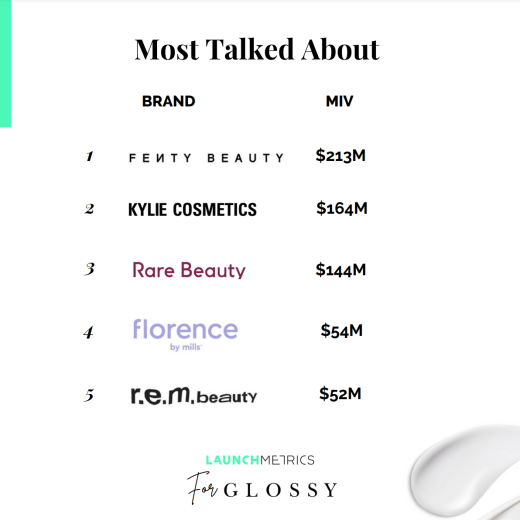 "Influencers and celebrities are the driving force behind beauty today," said Alison Bringé, Launchmetric's CMO. "While VIPs have always had a long-standing relationship with the industry, the past few years have brought along a rising trend of celebrity-owned beauty brands, benefiting greatly from their large social followings."
For Glossy, Launchmetrics provided insight into each of these five brands and who and what has driven the conversation around them.
Since the beginning of the year, Fenty Beauty has amassed $213 million in MIV. Media and influencer voices drive the most value for the brand, by contributing to the total MIV by 37% and 36%, respectively. Unsurprisingly, Rihanna is the top-performing voice for her own brand; her social posts this year have earned Fenty Beauty a total of $4.8 million in MIV. The Instagram post in which Rihanna announced the brand's expansion to Africa alone generated $1.5 million in MIV, according to Launchmetrics. Mikayla Nogueira's social posts earned the brand yet another $3.4 million in MIV, when she filmed TikTok content with a very-pregnant Rihanna at the Los Angeles celebration of Fenty Beauty's launch at Ulta Beauty.
A single sponsored post by Madison Beer earned the brand $1 million in MIV. It featured a simple selfie, posted in promotion of Fenty Beauty's Pro Filtr Foundation.
"[Along with celebrity founders,] beauty influencers drive significant MIV for these brands, thanks to their highly engaged audiences interested in the beauty market," Bringé said. "For celebrity-owned brands looking to generate an even greater media impact value, it's key to not only leverage the founder but also the influencer community to build a strong relationship with the consumer."
Finally, Launchmetrics noted that $10.6M out of Fenty Beauty's total MIV originated from Chinese media placements, with 93% of the MIV generated coming from social placements alone.
Kylie Cosmetics landed in second place, generating $164 million in MIV across 18,000 placements. Influencers led the charge, accounting for 44% of the brand's MIV. Kylie Jenner herself contributed $44 million of the brand's MIV, while her mother Kris Jenner and sister Kendall Jenner came in second and third place, earning the brand $5 million and $3.4 million in MIV, respectively. The Instagram post by Kylie Jenner announcing the launch of six nude matte lip glosses generated $1.7 million in MIV, while a post by Kendall promoting a brand collaboration between the two sisters garnered $1.5 million in MIV.
Similar to Fenty Beauty and Kylie Cosmetics, Rare Beauty's top voice has been founder Selena Gomez herself. The brand generated a total of $144 million in MIV, with $60 million coming from influencers — Gomez generated $10 million alone. "Interestingly, the top performing post for the brand was the Coldplay x Selena Gomez 'Let Somebody Go' video clip, which was posted on Coldplay's YouTube channel mentioning the Rare Beauty brand. The placement earned $1.7 million in MIV for Rare Beauty. Moreover, clips for different versions of the song raised the MIV to $2.2 million," Launchmetrics insights indicated. The top-performing influencer for the brand was Mariale Marrero — aka @mariale, with 6 million followers on Instagram. She garnered the brand $2 million in MIV across six placements.
Florence by Mills has generated $54 million in MIV this year. According to Launchmetrics insights, the brand relies heavily on its owned media channels and celebrity voice, which have contributed to overall MIV by 44% and 39%, respectively. Millie Bobby Brown has generated $8 million in MIV for the brand, so far, as the top voice for the brand. The top placement by the actress was an Instagram post, in which the caption detailed how to get her "quick and fresh" look using the brand's products; it garnered the brand $1.6 million in MIV. The top influencer talking about Florence by Mills is Christxiee, a YouTuber with 411,000 followers, who has earned the brand $613,000 in MIV across three placements. The top-performing post is a short YouTube video, in which she demonstrates how to use the brand's See You Never Concealer. The post has over 1.4 million views.
Finally, Ariana Grande's R.E.M. beauty, which launched in November 2021, has garnered $52 million in MIV, so far. Like the other brands on this list, Ariana Grande is the brand's top voice. According to Launchmetrics insights, Grande "overtakes brand-owned media channels." The star has garnered the brand $19 million in MIV, while R.E.M Beauty-owned media channels have earned $9.8 million in MIV. Grande's top-performing post, an Instagram announcing the brand's "Chapter 2" launches, was worth $1.6 million in MIV. Like for Fenty Beauty, R.E.M.'s top-performing influencer posts came from Mikayla Nogueira, whose social placements amounted to $892,000 in MIV across four posts.