LaMaria is the latest skin-care brand to launch in the 'anti-anti-aging' movement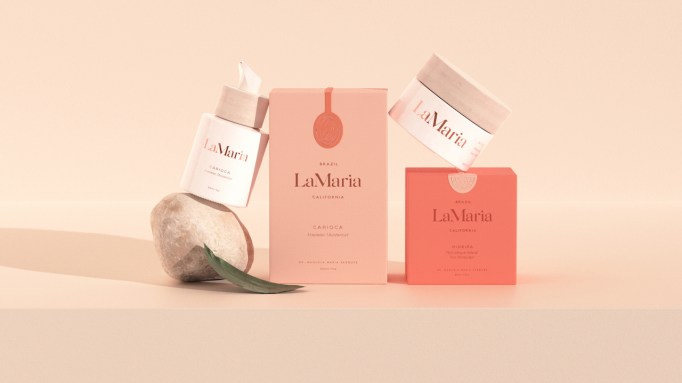 A growing number of startups focused on menopausal women are coming to market, and a new doctor-founded skin-care label is joining the fray.
Launching today exclusively on its DTC site, luxury wellness and skin-care brand LaMaria was created by ob-gyn Dr. Manuela Maria Vazquez for women undergoing hormonal changes. The brand's initial two products are its Carioca feminine moisturizer for $68 and Mineira phytoestrogen-infused facial moisturizer for $158.
You have read the maximum number of free articles.
Glossy
+

Membership

Subscribe now for access to unlimited Glossy content, premium research reports, exclusive newsletters, invitations to member-only events and more.
This content is available exclusively to Glossy+ members.
Glossy
+

Membership

Subscribe now for access to unlimited Glossy content, premium research reports, exclusive newsletters, invitations to member-only events and more.
An estimated 1.1 billion women are predicted to be postmenopausal by 2025, representing a $600 billion market, according to the Female Founders Fund. Other beauty brands entering this market include skin-care label Caire, hair-care brand Better Not Younger, P&G's skin-care and wellness brand Kindra, and Arfa's personal care brand State Of. 
"Beauty is trending away from anti-aging, which is amazing; it's a long time coming," said Dr. Vazquez. "There are [now] more products that are specific to women with hormonal changes and making sure that they feel like they are aging gracefully." 
Advertisement
Both the brand's feminine and facial moisturizers contain phytoestrogens, which Dr. Vazquez said helps increase collagen, hyaluronic acid and elastin when applied topically. She formulated the products based on what she was hearing from her patients.
The products are targeted toward anyone over age 30 who is experiencing hormonal changes. According to Dr. Vazquez, this largely encompasses those going through menopause, as 50% of women over the age of 50 will complain of vaginal dryness. She also noted that 20% of women under the age of 50 have similar issues due to hormonal changes from other causes, such as breastfeeding or certain medications. 
But she found it a challenge to find products to recommend to address the issue of feminine dryness. "I didn't believe in the ingredients," of current products on the market, she said. She noticed that the only place to purchase them were in the feminine care aisle of the drugstore, much like the fate of the sexual wellness category before its own renaissance. "I wanted it to feel less medicinal and more like a pampering experience."
While the products are selling via DTC for now, Dr. Vazquez said the brand is open to selling in upscale retail environments. 
Advertisement
The process of entering the beauty industry as an ob-gyn has meant "using a side of my brain that I'm not used to using," said Dr. Vazquez. "I am definitely very science-based, and everything I do is evidence-based. My husband is a fashion designer, so I kind of relied on him to bring me more into the beauty space, to bring out my creative energy. As a physician, you don't really get a lot of opportunity to do that."
To reach its audience, the brand will focus on Facebook and Instagram for social marketing, and will launch a blog offering information about feminine wellness and beauty on its site. "I definitely don't think there is enough information in this area," said Dr. Vazquez. "Most women turn to their gynecologist, which is a 20-minute visit once a year, and that just isn't enough time to address everything that needs to be addressed. There is definitely an opportunity for for more education to get out there on these platforms."
Despite the massive size of the market, she said that limited awareness and social taboos have kept the number of products available to address the issue limited. "There's been such a taboo and shame around aging," she said. "The beauty industry is shifting. Instead of trying to change the aging process, it's more complementing the aging process. And it's paralleling and supporting, as opposed to trying to turn back the hands of time." 
Get news and analysis about fashion, beauty and culture delivered to your inbox every morning.