Once used to build WWII warplanes, a 108,000-square-foot converted aerospace plant is now a hub for beauty as L'Oréal Group's newly opened headquarters in Los Angeles, California.
"We found out after we signed the lease that, in fact, it was one of the first places in the U.S. where women worked because they built the planes when men were at war," said Carol Hamilton, L'Oréal Group's president of acquisitions, on its August 23 grand opening. "It's a source of pride for us that this is one of the places where women's emancipation really started," she said.
The Douglas dive bombers produced at the circa-1930s facility are long gone, now replaced by makeup, skin care and hair products. The new building serves as the base for L'Oréal Group's Los Angeles-based brands such as Urban Decay, NYX Professional Makeup, Pulp Riot, Youth to the People and an upcoming acquisition that is "about to be voted on by our board," said Hamilton, who was assigned with overseeing the conversion of the space in October 2020 before it was announced in May 2021. The opening by the world's largest beauty company marks a milestone in L.A.'s emergence as a global beauty capital as it has become a hub for beauty startups that have found success in symbiosis with the entertainment and influencer industries.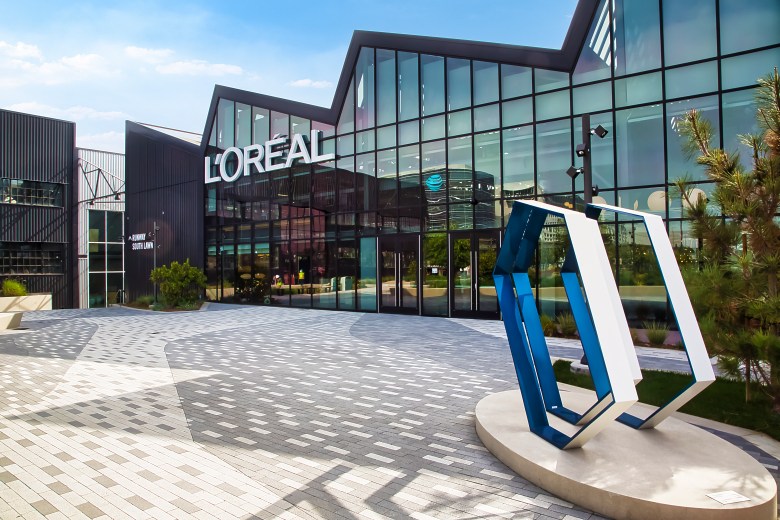 "California, in and of itself, is a country in so many ways. It's an enormous place of business for us," said David Greenberg, L'Oréal USA CEO and president. Greenberg led the ribbon-cutting ceremony that Los Angeles mayor Eric Garcetti attended. "One of the reasons we did this was to inspire the company. It's not just for the people who reside here, but it's for all of L'Oréal USA and, in fact, the L'Oréal Group."
Los Angeles has emerged as its own Silicon Valley for beauty startups in recent years.
"We have been very acquisitive and adding brands to L'Oréal for a long time. It was strategic that the brands we were acquiring were here," said Greenberg.
Located at 888 North Douglas in El Segundo, California, the property was redeveloped by Hackman Capital Partners, which purchased it from defense company Northrop Grumman.
Designed by San Francisco-based architecture and interior design firm Studio Blitz, the facility is in the process of becoming both LEED Platinum and WELL certified, with elements such as tropical plants and solar-panel skylights. Each brand has its own section in an open floor plan, with one empty space showcasing an anticipatory "Our Next Acquisition" sign painted prominently on the wall. Staff is already moved in for all brands except for Youth to the People, which will be relocating from its downtown L.A.-based headquarters in the next few months. The building also features a Professional Academy for hair care and a classroom area. Amenities include a cafe and natural juice bar, food from Wolfgang Puck, a gym, a dog area, an event space, and a vegetable garden.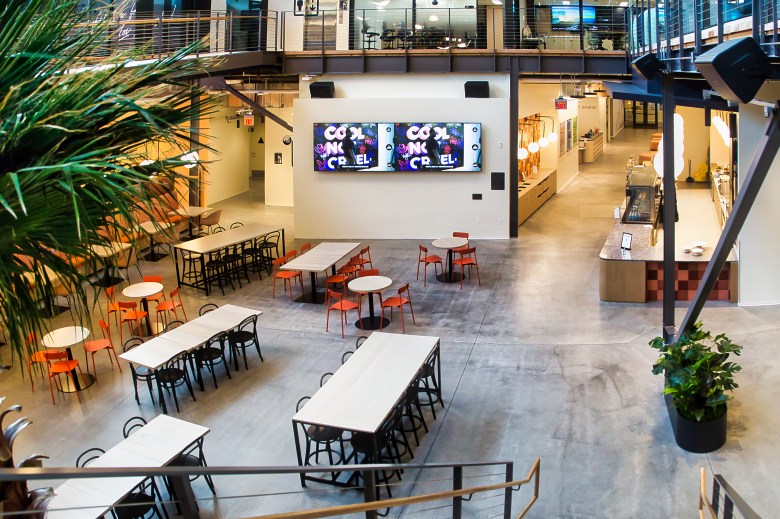 While the space clearly takes inspiration from California's lifestyle-focused tech campuses — Studio Blitz also designed YouTube's headquarters — its identity as a beauty company was also important to recognize.
"We didn't want it to feel masculine or sterile at all," said Hamilton.

"We really felt that we wanted to find an environment that was conducive to the kind of creativity and collaboration that L'Oréal is all about," said Greenberg. Incorporated into brand spaces are "unstructured play" areas with toys inspired by the Montessori learning system.
Developed over the past two years during the pandemic, the changing role of the physical office in corporate America also played into the concept. Per L'Oréal Group's global policy, employees are required to come in three days a week with flex hours to avoid traffic. There are "no plans to make any changes" to that policy, said Greenberg, who added that the company is "100% committed" to physical workspaces.
"We believe in the importance of people. We also believe that in a creative and innovation-driven business like beauty — a very, by the way, tangible and concrete business — being together matters; collaboration matters; open discussion matters; communication, connection matters," he said.
"We had to envision, 'What [amenities] would our colleagues want to come back to work [for]?' At the time that we started designing it, no one ever thought they would be coming back to work," said Hamilton. The outsized role of the video conference is obvious, with Google Campfire stations set up throughout the space featuring large screens for team members to join virtually.
Another major pandemic design goal was to make sure the space "never felt empty because we didn't know how many employees were going to come back," said Hamilton.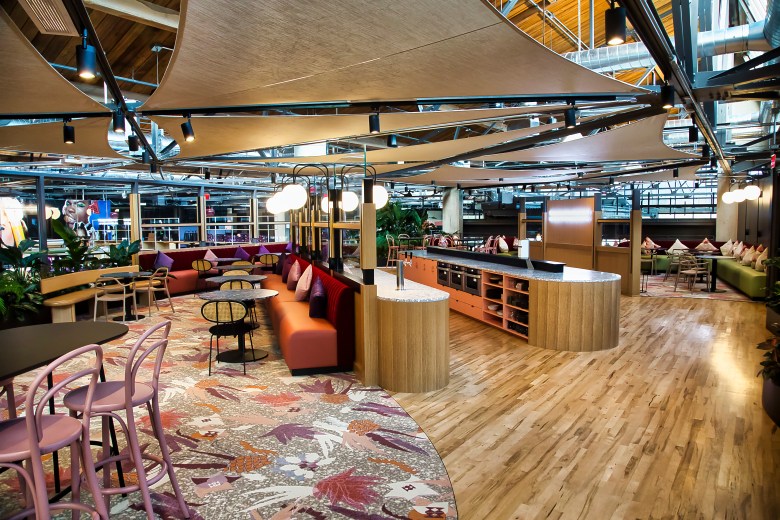 The prominent role of the content creation industry in L.A. is also on full display at the new headquarters. Creators and celebrities can get ready in a green room with a makeup studio, and film in content studios located in the Urban Decay, NYX Cosmetics, Pulp Riot and Pro Academy areas.
As "an inspiring place for culture, art, pop culture, production, film, influencers and artists, L.A. is a place [where] we needed to be," said Greenberg. "Here in L.A., this is where these folks create. And to be near them and accessible to them is really wonderful."
While the company is not disclosing any details yet about the possible future acquisition, Greenberg shared that, when evaluating possible acquisitions, "what matters less is the size and what matters more is the relationship that [the brand] built with their consumers."
The company's latest acquisition, Youth to the People, "bolstered" L'Oréal's performance in skin care for the North American market, according to its half-year 2022 financial report. Overall, North American sales grew by 11.6% year-over-year during the time period.
"Skin care is a category of strategic interest to us as a company," said Greenberg. Youth to the People was an appealing acquisition because it "brought in a very new and diverse consumer. It was very modern, and its thinking is very diverse, egalitarian, accessible, honest, and transparent in its ingredients and how it projects itself and speaks to its consumer."
Following the new L.A. headquarters opening, Greenberg said a revamp of the company's New York location in Hudson Yards is in the works, with 2024 as a possible start date for the project. While New York will take inspiration from California, it won't be identical, given the high-rise format and stricter building regulations. No dogs are allowed, for example.
"New York and Paris are so much more corporate, so much more formal; hierarchical," said Hamilton, who is now bi-coastal between the two locations. "If you think about geography, New York is halfway between Paris and California. And I would say that the cultural distinctions are equally as vast," she said. "People don't like corporate when it becomes too formal and too imposing."