An influx of beauty brands celebrated Juneteenth, which became a federal holiday in 2021, over the weekend.
Beauty was a prominent theme at several Atlanta-based Juneteenth celebrations. Ulta Beauty, Dove, Target and The Body Shop were among sponsors of the "The Glow Up" event held by Refinery29's vertical Unbothered on June 18 and 19, while hair-care brand Camille Rose held its first-ever Beauté Noir Festival for the holiday from June 16 to 18.
"Atlanta has always been a cultural nexus for our community, always bringing the culture and energy," said Chelsea Sanders, vp of multicultural brand strategy and development for Refinery 29's Unbothered and Latinx community-focused Somos brands. According to Sanders, Unbothered, which produces content for Black millennial and Gen-Z readers, "has a very engaged audience in this city that we want to nurture and grow."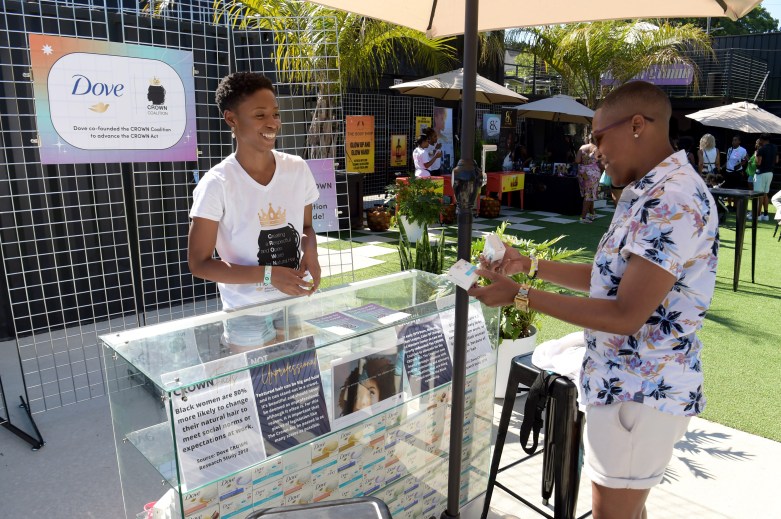 With nearly 3,000 attendees, The Glow Up prominently featured beauty alongside its programming of performances, talks, food and brand activations. At the event, Ulta Beauty sponsored a "Glow Up Bar," showcasing Black-owned brands including Black Girl Sunscreen, Buttah Skin, Urban Hydration, BeautyStat, Homebody, Nude Sugar, Fenty, Juvia's Place, BLK OPL, Mented, Pattern Beauty, Briogeo and Mielle, while offering makeup applications and beauty consultations. The beauty retailer also hosted a Black hair-care demo with beauty expert Kahh Spence and actress Serayah, as well as a "Black Beauty Beyond the Binary" talk with Asia O'Hara from "RuPaul's Drag Race" and makeup artist Princess Ali.
As a holiday that commemorates the proclamation of the end of slavery in the U.S. following the Civil War, Juneteenth's growing commercialization over the past two years has been met with criticism. Some consumer brands creating special-edition Juneteenth products have seen backlash for capitalizing on the holiday. Last month, Walmart apologized for selling a Juneteenth ice cream that was criticized online as tone-deaf.
"While Juneteenth has always been an important moment for intra-community celebration, it hasn't been recognized outside of our community, at a national scale, until very recently," said Sanders. Along with much of corporate America, major beauty companies began giving the day off to employees in 2020 as a part of the changes sparked by the Black Lives Matter movement.
Sanders noted that the Unbothered team "has always been very intentional about who we partner with and how," when it comes to brand sponsorships. For the Juneteenth event, "a prerequisite for all of our collaborations" was working with brands that "understand that historical legacy before it was trending, appreciate the present moment and our power, and know that this audience will continue to define culture," she said.
Target sponsored a multimedia content hub on-site at the Unbothered event, as well as programming on fashion, beauty and design. Dove, meanwhile, hosted a CROWN Act booth to showcase its three years of advocacy for the legislation to prohibit race-based hair discrimination. The CROWN Act has been signed into law in 16 states so far. The Body Shop was also present to hand out product samples.
Camille Rose's Beauté Noir Festival had 1,000 attendees. It included an "Influencer Brunch," an "Influencer Soiree," and a music festival and summit event with performers, DJs, and hair and fashion shows.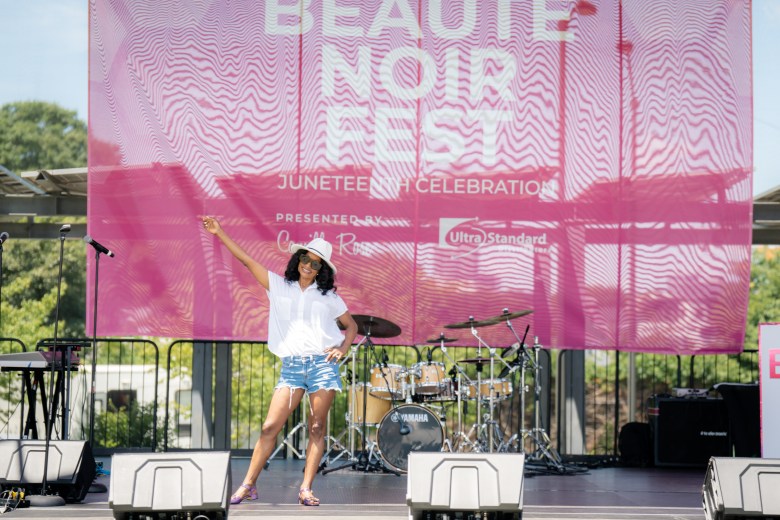 "As a Black-owned beauty brand, it's important to recognize that our community would not be where it is now without our ancestors paving the way," said Janell Stephens, CEO and founder of Camille Rose. "While there is still much more to be done, certifying Juneteenth as a federal holiday is a step in the right direction, and we are celebrating the beauty of Black culture and its influence on the world."
"Beauty is incredibly important and sacred to our audience, and the Black community at large," said Sanders. While the Unbothered event was "much more than a beauty pop-up," she said, "conversations around beauty and wellness and the connective tissue it holds for our audience [were] central to much of our programming."