While there are plenty of wellness brands founded by female celebrities, the last two years have seen an influx of male celebrity-founded beauty and wellness brands. From Harry Styles to Brad Pitt to Michael Strahan, dozens of celebs have brought new brands to market since Pharrell launched Humanrace in late 2020.
However, not all of these brands are catching on. For Glossy, Launchmetrics looked at the most-talked-about male celebrity beauty and wellness brands in January 2023, based on MIV. A proprietary Launchmetrics metric standing for media impact value, MIV tracks the impact of influencers, print media, celebrities, official third-party partners and a brand's own media channels.
In the top spot, and fresh off his Grammy wins on February 5, is Harry Styles' brand Pleasing, barely a year after it was founded. That was followed by Jared Leto's Twentynine Palms, Travis Barker's Barker Wellness, Pharrell's Humanrace and Machine Gun Kelly's UNDN Laqr.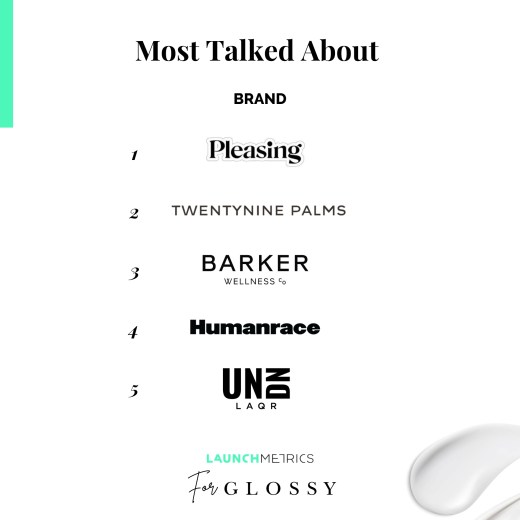 Notably, the oldest brand on the list, Humanrace, is just over two years old. The newest, Twentynine Palms, is only four months old, showing just how much movement there's been in male celebrity beauty and wellness brands. Others not in the top five, like Brad Pitt's Le Demaine and Idris Elba's S'able Labs, also launched within the last six months.
It might seem intuitive that these brands would use their famous founders to boost their profile. But according to Launchmetrics CMO Alison Bringé, the most successful brands in this category are the ones that have a strong enough product to stand on their own without a famous face boosting their profile.
"Unlike other celebrity-founded brands, Pleasing's brand performance is not driven by its founder," Bringé said. "Instead, it builds a clear distinction between the founder and the brand, giving it a competitive advantage while differentiating itself in the (increasingly) saturated celebrity beauty market. The product offering is designed to express eccentricity, which is unique to Harry Styles' persona, and so by keeping the product at its core, it successfully drives both interest and fascination from its audiences."