All products featured on Glossy Pop are independently selected by our editorial team. However, when you buy something through our retail links, we may earn an affiliate commission.
In the last few years, the at-home beauty tech category has seen significant growth. That's partly due to Covid forcing the adoption of at-home treatments and the launch of innovative devices providing comparable results to in-office services.
According to Statista, in 2021, the global beauty tech market was valued at $3.77 billion. It's now expected to be valued at $8.93 billion by 2026.
Thanks to the surge of consumer interest in at-home beauty devices, many brands have introduced competitive devices to the market. The objective for most of the products is to lift, tone, firm or contour the problem areas of the face through the use of technologies such as microcurrents and red light therapy.
"In the era of evolving beauty standards influenced by pop culture and the social media frenzy, facial treatments have become the epitome of desire," said Alison Bringé, CMO of Launchmetrics. "As beauty rituals break free from the traditional salon setting, we're witnessing a surge in innovative devices, offering the allure of salon-like results in the comfort of one's home."
For Glossy, Launchmetrics ranked the top five buzziest facial devices in August, based on media impact value (MIV). A proprietary Launchmetrics metric, MIV tracks the impact of influencers, print media, celebrities, official third-party partners and a brand's own media channels.
Launchmetrics found that Droplette's Microinfusion Device claimed the No. 1 spot, with NuFace's Trinity+ Starter Kit sitting at No. 2 on the list. Solawave's 4-in-1 Radiant Renewal Skincare Wand followed, with Ziip's Halo and Foreo's Luna 4 rounding out the list.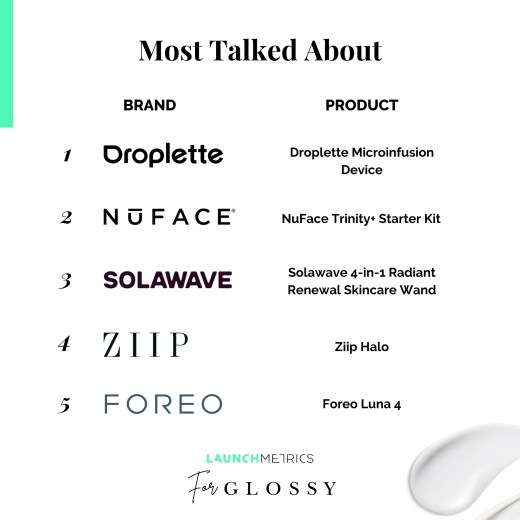 "Convenience is paramount, [and] these devices empower consumers to embrace salon-grade treatments on their terms, seamlessly integrating self-care into their busy and nomadic lifestyles," said Bringé.
Launched in March 2022 by two MIT-trained Ph.D. scientists, Droplette's Microinfusion Device quickly caught on among the beauty community. When it was less than a year old, the product was named one of Time's Best Inventions of 2022. The selling point of the needle-free device, according to the brand, is that it ensures a product's ingredients go deeper than the surface layer of the skin. In 2023, the brand released a 2.0 version of the product, the Droplette 2, which currently retails for $199.
Similar to Droplette, the other brands on the list have all had their moment of virality, thanks to their cutting-edge technology and promises to deliver professional results.