In August, Glossy reported that lipstick was dead, as it had been replaced by lip gloss and oils. Glosses and oils saw significant sales growth in 2023. And, according to data from consumer behavior company Circana, in the first half of the year, nearly 70% of Gen-Z makeup wearers said they use gloss.
The transition from lipstick to lip oil didn't happen overnight. Viral beauty trends such as the "clean girl," "strawberry girl" and "latte girl" aesthetics, certainly played a part. On TikTok, the hashtag #lipoil currently has 2.4 billion views, with brands like Dior, Rare Beauty and E.l.f. Cosmetics mentioned in some of the top videos.
"Lip oils have surged in popularity, fueled by social media endorsements and users sharing their diverse brand experiences," said Alison Bringé, CMO of Launchmetrics.
For Glossy, Launchmetrics ranked the top five buzziest lip oils in October, based on media impact value (MIV). A proprietary Launchmetrics metric, MIV tracks the impact of influencers, print media, celebrities, official third-party partners and a brand's own media channels.
Based on research, Launchmetrics found that Dior's Addict Lip Glow Oil claimed the No. 1 spot, with Rare Beauty's Soft Pinch Tinted Lip Oil sitting at No. 2 on the list. E.l.f. Cosmetic's Glow Reviver Lip Oil followed, with Clarins Lip Comfort Oil and Gisou's Honey Infused Lip Oil rounding out the list.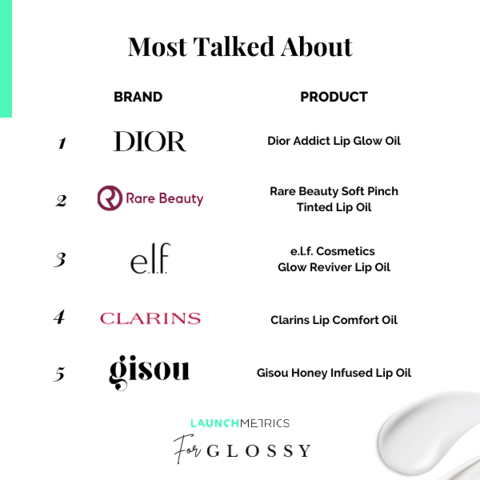 "With Dior emerging as the most sought-after brand, the popular product is loved by consumers for its versatile benefits and elevated aesthetic, making it a top choice among beauty enthusiasts," Bringé said.
Though Dior's lip oil is the highest-priced lip oil on the list, at $40, its luxury allure paired with the high-quality formulation earned it instant praise when it debuted in 2020. The non-sticky formula features ingredients such as cherry oil, which is rich in vitamin A and is also known to help boost hydration. And overall, the product provides a custom-like color when applied. Since its inception, Dior's lip oil has remained a must-have beauty item with many mass brands releasing their own takes on the viral lip oil.