To receive the Glossy Pop newsletter in your inbox every Friday, click here.
All products featured on Glossy Pop are independently selected by our editorial team. However, when you buy something through our retail links, we may earn an affiliate commission.
Ulta Beauty's marketing team can sit back and relax for a moment. On TikTok, customers and fans have taken to educating one another on how to make the most of the retailer's famous Ultamate Rewards program.
"Here's how you can hack the Ulta rewards system and earn a free Dyson hairdryer," said TikToker @freebiesandmore (727,000 followers) on a January post. It's been viewed over 170,000 times and saved 551 times. She breaks down the program in her post.
"[Ulta has a] great rewards program that gives you one point for every dollar you spend — but it actually gets even better," she says. "Ulta frequently send out emails where you can earn five times the points for certain things. Everyone gets different offers, but this is one of my favorites. A lot of Ulta [locations] have awesome salons. It's actually where I always get my hair done. And they always have offers for 2x, 3x, 5x points. That means, for every dollar you spend, you're actually getting $5 worth of rewards. You also get 2x the points during your birthday month, and they send you tons of other offers throughout the year." Conversely, Sephora's rewards points mostly convert to sample-sized products.
The rewards program allows Ulta Beauty to garner a loyalty most retailers can only dream of. And it's obvious what's in it for customers: Just scroll through TikTok to witness the dedicated shoppers who've scored Dyson Supersonics ($430) and Airwraps ($600) for mere cents. Videos on TikTok have essentially "tutorial-ized" the experience of being an Ultamate Rewards member, teaching other users how to stack coupons and maximize points.
The Ultamate Rewards program first launched in 2014. Initially, there were two tiers: member and platinum. But, given the enthusiastic response, a third tier — diamond — was added in 2018. When a new member joins, Ulta Beauty prioritizes education and helping them understand the points system, Kelly Mahoney, vp of customer marketing at Ulta Beauty. The next step is to help the customer understand the mobile app and to inform them that the store carries skin and hair products. "Typically, they come in for cosmetics, at least initially," Mahoney said.
Now, though, customers might first learn about the program on social media, where it has received shoutouts across platforms. Just this week, mega-influencer Mikayla Nogueira mentioned in a TikTok that she'd purchased the new Airwrap using her own Ulta Beauty points.
To get a sense of just how popular the program is, consider the fact that it has 37.7 million members — or, as Mahoney put it, "around 10% of [the population of] the United States, or the size of Canada." These are people who have purchased in the past twelve months, too, she said. Another "staggering statistic" that Mahoney is proud of: Ninety-five percent of Ulta Beauty sales come from its members. As a result, "We know their names and what they like to buy," she said.
She added, "That allows us to use that data. We're not just offering them the program and the benefits, but [we're] taking it up a notch and offering them recommendations [that are] tailored and specific."
When people post about Ultamate rewards on social, there's a fervor involved. The beauty industry, with its rapid-fire launches and diehard fanbase, is pretty good at maintaining this kind of fervor to begin with, and when you add in the gamified drive to earn your way to free products, it inspires a bit of madness. The reactions elicited as customers redeem points are noises, enthusiastic shrieks of awe, and surprise and delight at what they've been able to purchase with their accumulated points.
TikTok, in particular, has been a "really great format for [fans] to do some really creative things to show that they really love this [program]," Mahoney said.
Hardcore fans level up from Ultamate rewards to one of the retailer's two credit cards: One is a MasterCard that can be used anywhere MasterCard is accepted, and the other can only be used at Ulta Beauty.
Ulta Beauty keeps the momentum going for its members with different incentives, too. When I checked Ulta Beauty's mobile app on my phone while writing this story, I was offered "5x points on all makeup and nail products, plus brow services from June 5-11."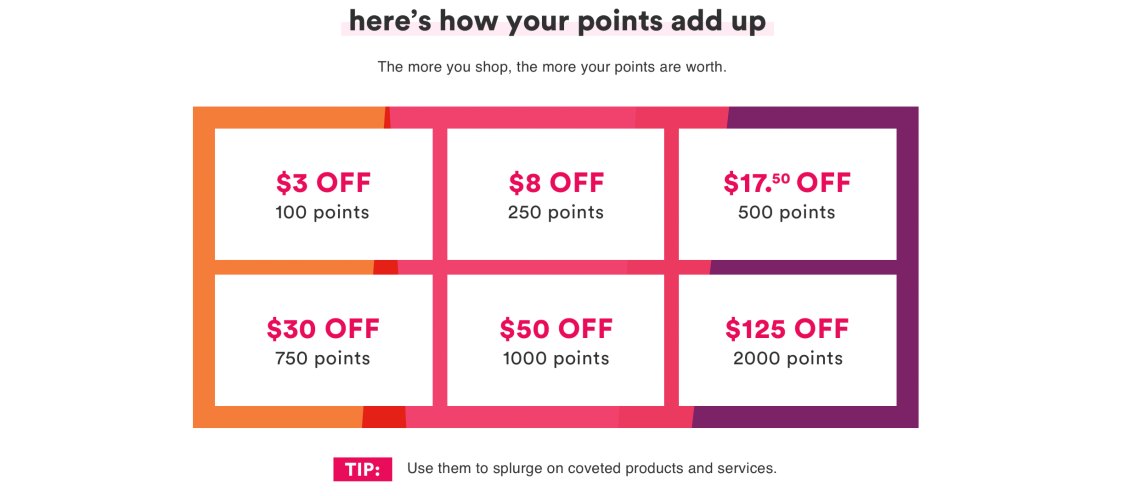 Essentially, the program has inspired such loyalty, it's created unpaid brand ambassadors. "They're like, 'Nope, you're doing it all wrong. This is how you've got to do it,'" she said.
She added, "Our ultimate objective is that you are a lifelong Ulta Beauty fan forever. But we realize that it takes a little getting to know each other in order to make that happen."
Add to cart
Guide Beauty taps Selma Blair as its chief creative officer — and introduces co-designed new products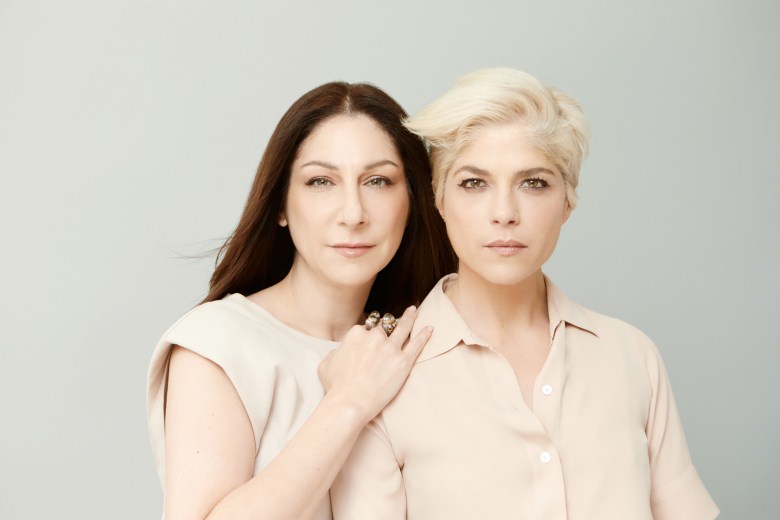 Guide Beauty, the direct-to-consumer makeup brand founded by makeup artist Terri Bryant, who has Parkinson's Disease, has appointed Selma Blair as its new chief creative officer. The actor, who was diagnosed with multiple sclerosis in 2018, worked with Bryant on a new collection of brushes that were created, like Guide's initial products, to be easier for people of all abilities to use. The new offerings also include a six-pan palette, which was designed to be fairly mistake-proof. "We wanted to have a universal palette that can go through [all the] seasons, to start, because if someone's buying it, they want to use it when they want to use it. Also, it's not a super high-pigment palette; it's really light and forgiving," said Blair on a Zoom call with press. She noted that she applies the shades without looking in a mirror. "I have to be careful, because my vision isn't great anyhow. It had to be something that wouldn't make too big a mistake, if you were heavy handed or just not really on your game." Shop it here.
Inside Our Coverage
'Super-fresh' ingredients are skin care's latest selling point
'Derminfluencer' Dr. Whitney Bowe launches namesake brand
Glossy's top marketers of 2022
Reading List
Why would a beauty brand drop its prices in 2022?

Lady Gaga's Haus Labs is back and better than ever
This $12 drugstore concealer is taking over TikTok: 'It blends out like a dream'