All products featured on Glossy Pop are independently selected by our editorial team. However, when you buy something through our retail links, we may earn an affiliate commission.
Glossier has reignited its partnership with the WNBA for a new launch: its new Stretch Fluid Foundation ($34), which went on sale on August 22.
For the campaign, the brand tapped players from the league to appear in advertisements, as well as content across social media. In addition, Glossier enlisted Izzy Harrison, a forward for the Chicago Sky, to curate a product set ($68), It includes the new foundation, plus Glossier's bestselling Cloud Paint blush and G Suit Lip Crème. Harrison also appears in a 14-minute "Get Ready With Me" video on the brand's YouTube channel. The campaign can be seen in wild postings in Manhattan, Brooklyn and Los Angeles; on a billboard in Times Square; and courtside at WNBA arenas. Imagery is true to Glossier's skin-first aesthetic, showing close-ups of the players' faces.
In 2020, timed with the launch of an exfoliating bar soap and a dry body oil spray, Glossier started a partnership with the WNBA around its Body Hero collection. Since then, the partnership has expanded, becoming so fundamental to Glossier that it's mentioned in its Instagram bio. To its 2.8 million followers, Glossier describes itself as "a people-powered beauty ecosystem ✨Skin first, makeup second 😀👋 " And it calls out that it's the "Official Beauty Partner of the @wnba 🏀"
The partnership, as a whole, is in service of the brand's mission to "change how the world sees beauty," said Kyle Leahy, Glossier CEO. She added, "It's a very symbiotic partnership, where Glossier can help the WNBA be successful and vice versa. In doing so, together, we can help lift up women." As part of the collaboration, the two brands have also partnered on non-beauty-specific initiatives, including one in support of voter registration.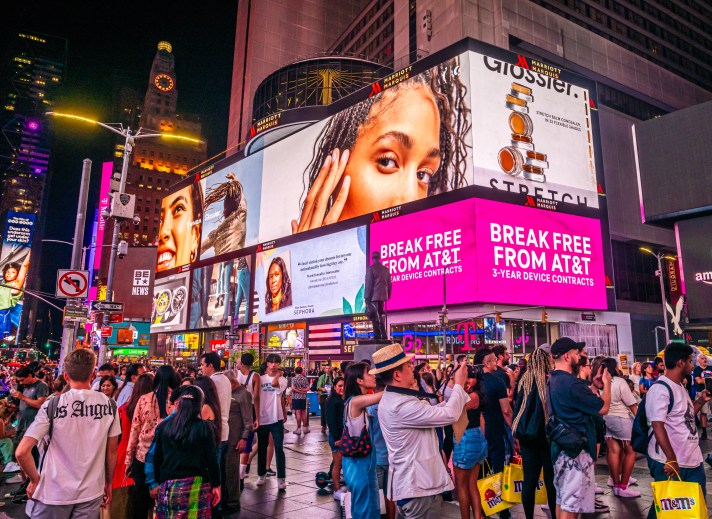 The partnership reflects Glossier's typical approach to partnerships — specifically in asking, "How do we use our platform? And how do we use our partner's platform to amplify the voices and the stories that we're telling?" Leahy said. She added, "[In this case], the stories are those of the amazing players who are featured in the campaign." The images for the campaign were shot outside in natural light and were not retouched.
To support the campaign, Glossier sponsored an episode of the Naked Beauty podcast, hosted by marketer and podcast host Brooke DeVard. On Monday, DeVard aired an episode in which she interviewed WNBA players Ariel Atkins and Natalie Achonwa, the latter of whom was featured in the original Body Hero campaign in 2020.
In addition, Glossier released a free zine, distributed at its brick-and-mortar locations. It details the benefits of the Stretch Fluid Foundation and its predecessor, the Stretch Balm Concealer ($22), a Glossier hero. "This is a new launch, but it's building upon [a concealer] that our community knows and loves. The idea of Stretch is that it stretches with you — it lasts all day and can kind of stretch to all the different aspects of your life," Leahy said.
The new, buildable Stretch Fluid Foundation comes in 32 shades. According to Leahy, it's true to Glossier's famous "skin first, makeup second" ethos. She claimed that it's 89% skin care.
"The formulation and the product itself are [designed] to amplify the best qualities of you," she said. "That product positioning, paired with our values [which align with the WNBA's], made it seem very simpatico to launch this product with these women. And we wanted to bring their stories to the forefront."
In the campaign's zine, WNBA commissioner Cathy Englebert is quoted as saying, "The WNBA is full of mothers, mentors, entrepreneurs, business owners and coaches of all backgrounds, skin tones and aspirations. …The campaign speaks to the foundation of our league and the impact the WNBA is making."
Leahy added, "These women wear many different hats. They embody the idea of stretch, and of beauty in real life."