With its new virtual store, Elizabeth Arden is getting in on the world of generative AI for marketing images.
Launching on Tuesday, the immersive VR store created by experiential e-commerce firm Obsess allows users to click through a virtual space based on Elizabeth Arden's historic Fifth Avenue salon with its iconic red door. It features product information alongside a mini online museum on the history of the brand. The launch makes Elizabeth Arden one of the early beauty adopters of AI-generated imagery.
The brand's first VR store, the experience features multiple spa "rooms" with products on display that users can click on to receive more information and purchase. To encourage participation and highlight the brand's Advanced Light Ceramide Capsules, it features a gamification component in which users who find and click five different ceramide products win a prize.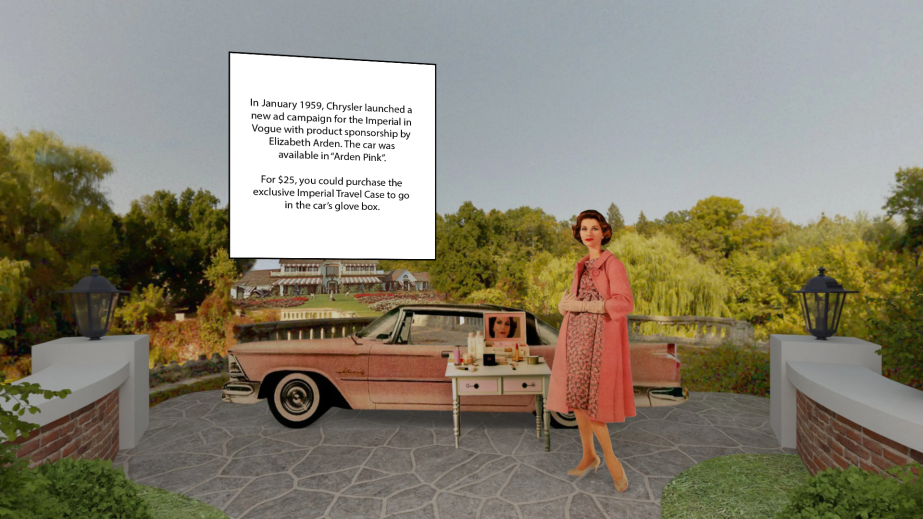 "We drill down on the history of the brand, and it manifests itself in the creative," said Ronald Rolleston, global gm of Elizabeth Arden. "We have this rich legacy, but I would argue there's a lot of modernity in who we are and what we do, and we're very focused on science."
The AI-generated component is in a virtual museum feature in the space featuring images depicting the 120-year history of the brand and its founder, including her support of the suffragettes and the introduction of the "Victory Red" lipstick during WWII.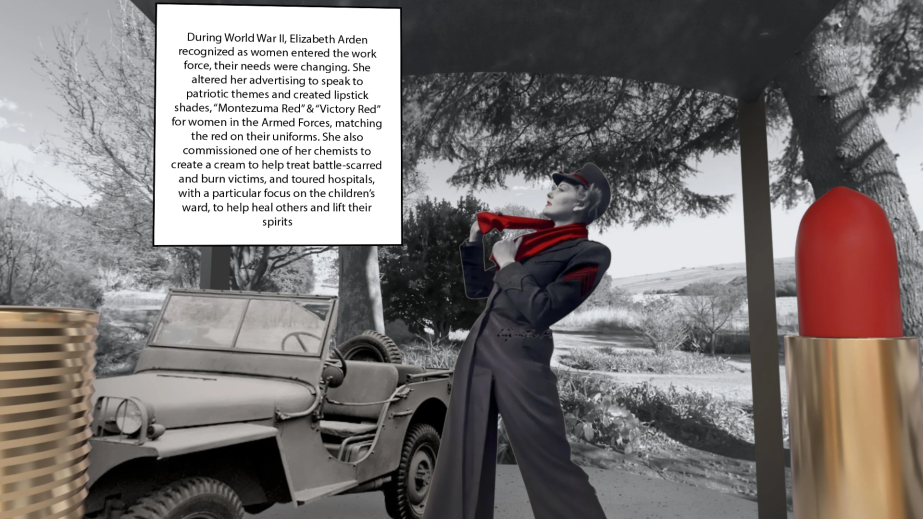 To develop the images, Obsess used AI to enhance and edit archived historical brand images using generative AI image platform DALL-E 2.
"We used AI to fill in any gaps that were in the original images and to create new visual assets in the same style as the archived images from Elizabeth Arden. For instance, we used AI to fill in the legs and feet of certain women in the heritage imagery and to correct or complete components of imagery of older items like cars, tables and rocking chairs," said Neha Singh, founder and CEO of Obsess.
"It's important for us to bring younger consumers into our franchise," said Rolleston. "People have a different approach to shopping than they had 5-10 years ago. We want to make sure that we're on the front end of that." He estimated that the general age range of customers for the brand is 35-plus in the United States and 25-plus in markets in Asia.
The platform is first launching in the U.S., and will eventually expand to France, Germany, the U.K., Australia and China.
In its work with brands, Obsess is incorporating AI "to expedite efficiencies across the board," including in design, gamification flows and personalization, said Singh. She sees additional potential for AI in the future, she said.
"AI not only unlocks possibilities for completing old or unfinished imagery, but it also allows for increased visualization of surreal or fantastical visuals that brands or consumers may not otherwise expect," she said. "For example, if a brand is going to market with a new collection that is inspired by outer space, it can market that collection using ad imagery and virtual store rooms that actually showcase that collection in the realistic context of outer space."
"From a creative point of view, this is a whole new world for us that we have to take full advantage of to be successful going forward, and I think it's going to be fun," said Rolleston.