Dyson enters Oculus store with VR shopping experience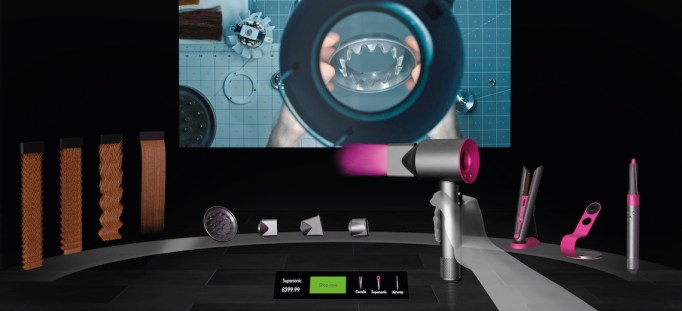 As brands create more immersive virtual shopping experiences, Dyson is betting on Oculus as a new shopping space. 
On Friday, the brand launched a virtual store available through the Oculus store on the VR headset by Meta, formerly known as Facebook. Called the Dyson Demo VR, the store allows users to walk through a virtual space, examine 3-D images of beauty tools and other products, and test them out virtually.  
"Covid-19 has presented the digital world with unprecedented opportunities, and we're seeing a heightened focus on how companies are bringing their products to life for consumers virtually," said Sean Newmarch, Dyson's e-commerce director.
In the new experience, Oculus users enter a virtual showroom to find displays of products including the brand's Supersonic hairdryer, Corrale straightener and Airwrap styler. Other products, such as the brand's vacuum cleaner, are also included. Like in a video game, users can virtually pick up the items, examine them in 3D and test them out on virtual hair. According to the brand's founder James Dyson, the brand has "been harnessing powerful virtual reality technologies to engineer new products in our labs for many years. Now we are applying those same technologies to re-invent how people explore our products."
Advertisement
Oculus, which will also be rebranded to Meta next year, has reportedly sold 10 million of its Quest 2 headsets, according to the company's chip provider Qualcomm. Dyson's new VR store launch comes soon after Mark Zuckerberg's announcement of Facebook's name change to focus heavily on VR and the metaverse. Other retailers that have launched virtual shopping experiences through Oculus include Target, JCPenney and Macy's.
Newmarch said that Oculus offers "an incredible opportunity for growth as VR [catches on] as a shopping platform. We feel Dyson Demo VR is the next best thing to being able to physically pick up, hold and interact with a product."
Dyson has been prioritizing DTC e-commerce and its standalone physical store presence, with 318 brick-and-mortar stores worldwide. The brand opened 30 stores during the pandemic, and it has 19 more stores in the works. 
Currently, the experience does not allow users to purchase through Oculus, but Dyson plans to add checkout in the future. It is also planning to add more products to the virtual store, as well as virtual live conversations with store employees. 
Advertisement
For customers who don't have Oculus, the brand has also been upping its VR capabilities on its DTC site. During the pandemic, it added virtual store tours of its Los Angeles, Paris and Guangzhou stores and live video consultations to its DTC site.
You have read the maximum number of free articles.
Glossy
+

Membership

Subscribe now for access to unlimited Glossy content, premium research reports, exclusive newsletters, invitations to member-only events and more.
This content is available exclusively to Glossy+ members.
Glossy
+

Membership

Subscribe now for access to unlimited Glossy content, premium research reports, exclusive newsletters, invitations to member-only events and more.
"There are clear links between what we do in the physical world and what we're starting to do in the virtual world," said Newmarch. He added that the brand's "stores are designed to be temples of demonstration." 
"We've always known demonstration is key for shoppers and key for Dyson," he said. "When we were faced with the challenge of our demonstration stores and our demonstration temples being unavailable, we moved quickly to embrace virtual reality. We had already been embracing it for many years as part of our development process."
Get news and analysis about fashion, beauty and culture delivered to your inbox every morning.