In search of new social marketing opportunities beyond Instagram, beauty has found its way onto mobile messaging app WhatsApp.
On May 6, Dior Beauty launched a four-day messaging-based campaign on WhatsApp featuring Blackpink member and the brand's global ambassador Jisoo. For the release of its new Dior Addict lipstick, the luxury label allowed users to talk with a chatbot representing the K-pop superstar, attracting enthusiasm from her devoted fan base. While brands' marketing efforts have already become widespread on other international messaging apps, they are just beginning to adopt WhatsApp promotions as the platform taps into commercial activities.
"WhatsApp marketing, or messenger app marketing, is going to be part of the normal marketing mix in the midterm, as it regroups the best of tech, the best of conversational marketing and the best of community-driven approaches," said Arthur Poulain, Dior's digital innovation and strategic planning manager.
Dior's first WhatsApp campaign was accessible to consumers via the brand's Instagram Stories, where Jisoo invited users to join her "exclusive WhatsApp group." The WhatsApp group reached capacity on the first day, and users interacted with the chatbot an average of 18 times each. While typical WhatsApp groups are capped at 512 members, Dior's brand campaign had a higher limit because it was created through WhatsApp for Business. Participation was in the tens of thousands, according to the brand, although the exact number was not released.
Presented in English along with videos by Jisoo in Korean with English subtitles, the campaign was aimed at a global audience and geared toward the ages of 13-34, representing the main age group among Jisoo fans.
WhatsApp has an estimated 2 billion users worldwide and functions as a utility for people in many parts of the world that utilize it as a main form of communication. Recently, WhatsApp owner Meta, formerly Facebook, has been on a marketing push to increase adoption in the U.S.
In addition, commercial activities have also increased on WhatsApp, as Meta added e-commerce capabilities last year after launching its WhatsApp for Business platform in 2019. This has been to the chagrin of WhatsApp founder Neeraj Arora, who has complained publicly on Twitter that when Facebook purchased the app for $22 billion, it had promised "no ads" on the platform. Similar messaging apps in Asia such as WeChat, Line and KakaoTalk, have already seen widespread adoption by brands.
WhatsApp has been used in the past by fashion brands, including Net-a-Porter, Diesel, Kenneth Cole, Burberry, Clark's and Agent Provocateur, for customer service.
Dior's chatbot developed by tech company Infobip included the ability to answer questions sent by users as well as daily messages sent out by "Jisoo." For example, users were able to select various phrases from the chatbot, receiving videos, a link to the brand's new Instagram filter and a link to purchase the lipstick in response.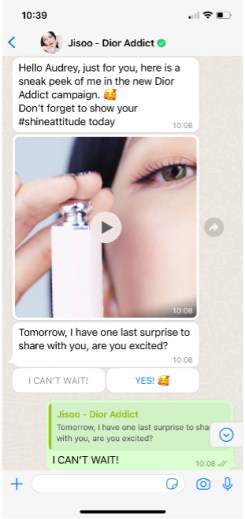 "The WhatsApp platform offers a tremendous opportunity to build the next storytelling frontier," said Laurent François, managing partner at 180 Luxe, the digital marketing firm that worked with Dior on the campaign. While public-facing social media platforms like Instagram have become "overcrowded" with brands, the 1:1 messaging experiences provide "a narrowed-down perspective, around one key affinity, for one kind of community of interest," François said.
Enthusiastic fans shared news of the Dior Jisoo campaign on social media. The brand "observed thousands of memes, screen records and conversations" featuring the campaign beyond WhatsApp, said François. According to Poulain, word of mouth for the campaign was strong, as 20% of the registered users entered the group through a link shared with them by a friend rather than through the official promotion.
"This first experience will also guide us through what users want and create a solid ground for more cutting-edge campaigns," said Poulain.