Clinique is teaming up with Kate Spade for a lip gloss collab, tapping into TikTok's Black Honey lip color obsession and early 2000s nostalgia.
On June 1, the limited-edition Clinique x Kate Spade New York Pop Plush Creamy Lip Gloss collection will hit Clinique counters globally with four shades and Kate Spade design patterns.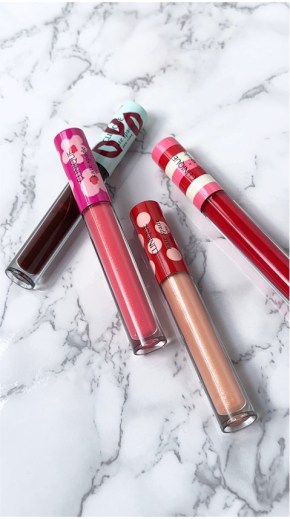 The shade that the brands produced the most of was Clinique's iconic Black Honey, which first went viral on TikTok in 2021. Its viral moment "lasted two years now and continues to keep going," said Mindy Troutman, vp of global product marketing at Clinique, who added that the shade still "consistently sells out."
With the collab, the brands are tapping into both Gen-Z and millennial nostalgia.
"One of the unique things about Kate Spade is everyone I speak to is always like, 'I remember my first Kate Spade bag,' or 'I remember my first Kate Spade wallet,' and there's this incredible story to it," said Charlotte Warshaw, vp of Americas for wholesale, travel retail and global licensing at Kate Spade New York. "When we started talking about beauty, Clinique was that for us. Everyone was like, 'I remember I got Dramatically Different moisturizer, and it was the first face cream I had when I was 16 years old,' or the Chubby Stick. It was the same thing, where you remember that first product."
"I see everyone, from [ages] 13-45 and above, being excited about this because you're going to have that nostalgic customer, but also the person who's bringing their daughter for maybe their first lip product," said Troutman.
TikTok and Instagram will be the main marketing channels for the collab by both Clinique and Kate Spade. Kate Spade has also seen multiple viral TikTok moments with its novelty handbags including its Boxxy crossbody bag, a heart-shaped bag and its Y2K-style butterfly bag.
To start, the collection will be available exclusively through Clinique's channels in 27 countries, including Clinique counters in the U.S., Canada, the U.K., Singapore, Australia, New Zealand and Japan, as well as on Clinique's website globally. Throughout the summer, it will roll out with gifts with purchase in all countries where Clinique is distributed. Lip glosses will be available in a limited number through the summer and gifts with purchase will be offered through the end of the year.
For Clinique, partnering with a fashion brand known for a bright and colorful aesthetic fits with its brand DNA, said Troutman. The brand previously launched a collab with the whimsical Finnish label Marimekko. 
Kate Spade previously collaborated on a lipstick collection in 2011 and nail polish line in 2012 with Poppy King, the founder of Australian cosmetics brands Poppy Industries and lipstick brand Lipstick Queen.
A growing number of fashion brands are branching from fragrance into color cosmetics. Kate Spade, which already operates a fragrance business, could have more color cosmetics in the future.
"There are certain brands where beauty really makes sense, and I happen to think that's the case for Kate Spade and certainly for us long-term. Just seeing how our beautiful product came out with Clinique solidifies the feeling that Kate Spade could very much play in color cosmetics," said Warshaw.