All products featured on Glossy Pop are independently selected by our editorial team. However, when you buy something through our retail links, we may earn an affiliate commission.
Chelsea Leyland, known for her work as a DJ in the fashion and beauty space, is turning her experiences suffering with epilepsy and endometriosis into a new business venture. The hope is that she'll help other women and improve female "body literacy." Along with Tatiana Steel, a former banker at Goldman Sachs, she's created Looni. It just debuted its first product, a supplement dubbed the Balance Beam Mood Complex, priced at $40 for a one-month supply.
The journey to Looni stemmed from Leyland's frustrations as a patient. Endometriosis, she pointed out, impacts one in 9 women, but has been extremely under-researched. Heavy periods, infertility and extreme menstrual cramps are just some of the side effects Leyland pointed to.
"It was over 10 years of repeatedly going to my physician, explaining that my periods were not normal, [and saying] that I was passing out and vomiting," she said. "I ended up in the emergency room a number of times. I was just told again and again that these were period pains and that period pains are painful and normal."
Leyland was advised to take a birth control pill. But because she was already taking many medications to treat her epilepsy, she chose not to, instead taking "hardcore" painkillers that wreaked havoc on her gut, she said. She turned to cannabinoids, acupuncture and botanical herbs to manage her chronic pain conditions. While they helped, she felt confused and unclear about how to ensure what she was taking was safe and well-vetted.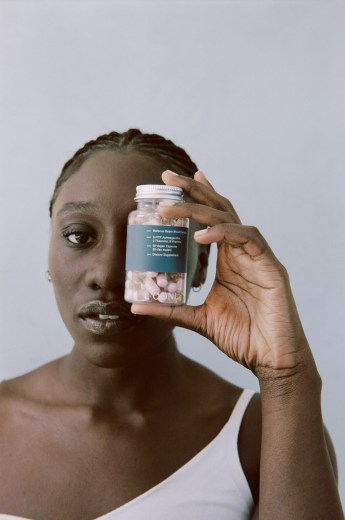 Steel does not have endometriosis, but has also been a long-time sufferer of debilitating, painful periods, as well. She and Leyland conducted consumer research to find out what the main pain point was for their potential customer base and found mood to be the most common answer.
"We decided to develop a product, and launch and lead with that product first because we also felt that there was nothing effective on the market. Balance Beam Mood Complex supplement is designed to support neurotransmitter balance and the cravings and low mood that pertain to the menstrual cycle," Leyland said. The products made to serve these needs were also not being created by women, according to Steele.
Beyond product though, Leyland and Steel sought to create a community that could provide women with trusted information and a place to connect with one another.
"[Community] has become such a cringeworthy buzzword brands throw around, said Leyland. "But we can safely say that, for us, it has been really authentic."
After a miscarriage and an ectopic pregnancy, Leyland started a WhatsApp group for women also going through this "lonely and isolating" experience, which has since continued to grow and grow. Through it, "we've learned the power of vulnerability and identification and how much we as women need that," she said.
As Looni takes off, the brand will be moving that WhatsApp over to Geneva where it will host chats on period sex, for example. "We're just trying to tackle taboos, opening up the conversation [based on] where we as women need support or what we wish we'd had," Leyland said.