Celery juice makes its way to the wellness-to-skin-care pipeline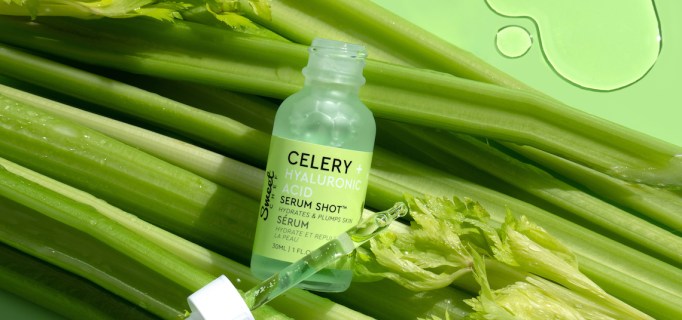 From kale to mushrooms, Instagram-worthy food trends have become a wellspring of inspiration for the next big skin-care ingredient. The latest fad to make its way from the juice bar into serums and moisturizers: celery juice.
On October 3, Glow Recipe's Sweet Chef unveiled its celery and hyaluronic acid serum, which is available in all Target stores for $20. The brand is the latest to feature celery as a hero ingredient, joining Volition Beauty, Cocokind and Starskin. Popularized on Instagram thanks to a combination of celebrities, wellness influencers and Goop, celery juice has popped up in a growing number of skin-care items over the past two years. 
You have read the maximum number of free articles.
Glossy
+

Membership

Subscribe now for access to unlimited Glossy content, premium research reports, exclusive newsletters, invitations to member-only events and more.

SUBSCRIBE

Already a member?

Already a member?

Login

Logout
This content is available exclusively to Glossy+ members.
Glossy
+

Membership

Subscribe now for access to unlimited Glossy content, premium research reports, exclusive newsletters, invitations to member-only events and more.
"Celery is a trend that we saw all over Instagram the past few years — people drinking celery every morning as they start their day," said Mallory Goldberg, director of innovation and product development at Sweet Chef. "Celery was always an idea that we had, a new veggie that we wanted to bring within the skin-care range."
Volition Beauty also took inspiration from the celery juice wellness trend when it introduced its celery moisturizer in 2019 using its crowdsourcing business model. The brand worked with Olympic gold medalist Nastia Liukin to develop the product after she submitted the idea in the fourth quarter of 2018 based on her habit of drinking celery juice. 
Advertisement
"We were just seeing that it was trending in nutrition and wellness, not in beauty," said Volition Beauty CMO Paul Deacon. "We were looking at it and then we were hearing as well, that anecdotally that ingredients like celery were beginning to move over into beauty." 
Celery was lab tested by Volition for skincare before a formulation for the product was created. According to Deacon, benefits found by the lab included hydration and minimization of the appearance of pores. Sweet Chef, meanwhile, states benefits of celery include the "antioxidant Luteolin, Vitamin A, K & C to hydrate and balance." 
Celery is just one of wellness trend ingredients Volition is betting on. In order for products to make it into Volition's main lineup, it places items for pre-order on its site ahead of time and only produces those that meet a threshold for number of orders. Deacon estimates that more than half of Volition's product submissions include natural or wellness-related ingredients. The brand also sells products with mushrooms and turmeric in its main lineup. Items currently being tested for pre-orders feature ingredients including mustard seed and cactus water.
Advertisement
Similarly, Sweet Chef's business model centers around identifying key trending wellness food products and creating skincare out of them — other products in the lineup feature kale, turmeric, beets, ginger and kombucha. The brand takes its inspiration from social media wellness trends, juice bars and health recipes, said Goldberg.
The celery juice trend rose in popularity over the past few years thanks to celebrities including Kim Kardashian, Miranda Kerr, Pharrell Williams, Gwyneth Paltrow, Elle Macpherson and Calvin Harris. But the origins of the celebrity celery juice craze stem from an online wellness guru named Anthony William, who goes by the moniker "Medical Medium" and evangelizes about the health benefits of celery juice to his 3.6 million Instagram and 3.5 million Facebook followers. A New York Times best-selling author and Goop contributor with a book on celery juice, he describes himself as a "medium" due to his claim that he began receiving medical information from a "spirit" beginning when he was four years old. 
"I think the origins of the celery specific trend comes from the Medical Medium," said Amanda Chantal Bacon, the founder of Moon Juice, which stocks five juices containing celery combined with a mix of ingredients. "I don't know if everybody who's now drinking celery juice knows that."
William, who does not have formal medical training, claims that celery juice is a "miracle tonic," stating that it is "highly beneficial for people who suffer from chronic and mystery illnesses, including conditions labeled 'autoimmune.'" He lists dozens of medical conditions, ranging from acne to rheumatoid arthritis. In order to receive benefits, he claims that celery juice is "most powerful" when people drink it first thing in the morning mixed with nothing else.
Advertisement
While many celebrities have jumped on the juice-drinking trend and endorsed William, his medical claims have been called into question. His regular Goop columns are prefaced with an editor's note stating, "We trust that you'll quickly understand that this medical medium is operating well outside the bounds of medicine and science," and a wide range of media outlets such the New York Times, BBC, and Washington Post have published articles debunking his health claims. His own site has a disclaimer saying his statements are not "a promise of benefits, a claim of cures, a legal warranty or a guarantee of results to be achieved."
Given these questions, not all members of the wellness industry are sold on his claims. Avalon Lukacs, the founder of beauty supplement brand Aura Inner Beauty, includes organic celery as one ingredient in the brand's Inner Balance supplement that includes a wide range of fruit and vegetable ingredients and markets the product as an alternative to straight celery juice. 
"I know that there's other vegetables that also support your body the same way that celery juice does. But for a lot of people, it's really nice to latch on to a single ingredient," said Lukacs. "I'm on the other side, where I think that it's such a great habit, but it's also not the be-all, end-all that some people make it out to be."
"I don't subscribe" to the rule that "drinking celery juice only has to be alone," said Bacon. "And you don't have to do it every morning." 
Advertisement
And while Moon Juice was one of the pioneers in making the move from consumable wellness to skincare, she doesn't plan to create skin-care products with celery. 
"In general, what is a lot stronger than celery for us is adaptogens and ashwaganda," said Bacon. "We're seeing sales really rocket there." 
With the rise of "skintellectuals" and interest in cosmeceutical skincare growing, trendy fruits or vegetables are often paired with buzzy chemistry ingredients such as hyaluronic acid and vitamin C. Like Sweet Chef, Volition Beauty also includes hyaluronic acid on the front label of its Celery Green Cream.
"We see the demand for both" wellness-based and cosmeceutical skin-care ingredients "continue to ramp up," said Deacon. Vitamin C, retinol, and salicylic acid "are incredibly present in the ideas that we get submitted, and regularly combined with a natural ingredient." 
Advertisement
Get news and analysis about fashion, beauty and culture delivered to your inbox every morning.