In the wake of the horrific mass shooting in Atlanta on Tuesday, the beauty industry has been vocal in its support of the AAPI community.
Over the past few weeks and especially in the last five days, a wave of beauty brands, founders and retailers have spoken out on social media against the rising number of anti-Asian hate crimes that have taken place in the U.S. and globally over the past year. Since beauty brands came out in support of Black Lives Matter this summer, they have become more willing to address social issues, racism and violence. For Asian-American brand founders and artists, this issue is especially personal. 
Companies addressing the news have ranged from the world's largest beauty corporations to dozens of indie beauty labels. On Thursday, Estée Lauder Companies announced that it will be donating $450,000 to organizations including Asian-Americans for Equality, Stop AAPI Hate and Asian Americans Advancing Justice. Other beauty brands that have addressed the issue on Instagram include Sephora, Tatcha, Hero Cosmetics, Milk Makeup, Fenty Beauty, Morphe and Tula.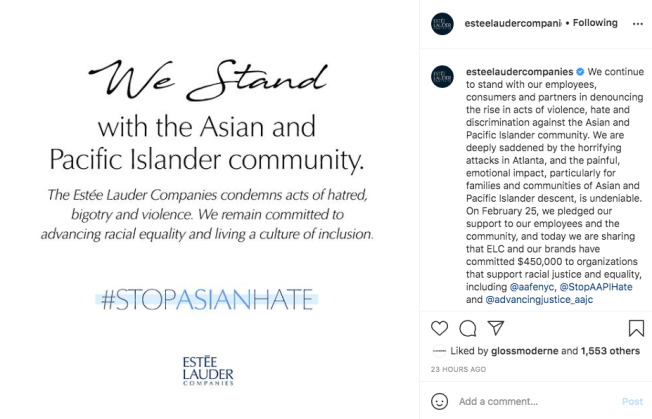 Asian-American beauty industry leaders have been outspoken about the violence over the past month prior to the shooting.
"Personally, I found my courage after BLM and George Floyd last summer that enabled me to feel confident enough to speak out on social media, because that was not a platform that I would share that on," said celebrity makeup artist Daniel Martin, the global director of artistry and education at Tatcha. In the wake of the shooting, Tatcha posted a note by founder Vicky Tsai announcing that it would be donating to anti-hate organizations. 
Brands speaking up about the violence have been called to make donations to relevant organizations. Consumers expected the same for Black Lives Matter. Prior to the events of this week, Unilever pledged $285,000 to support Stop AAPI Hate on March 2. As of the 18th, it has increased the total amount pledged to $350,000. This followed Shiseido Americas, which announced on February 23 that it would be donating to Stop AAPI Hate and Advancing Justice.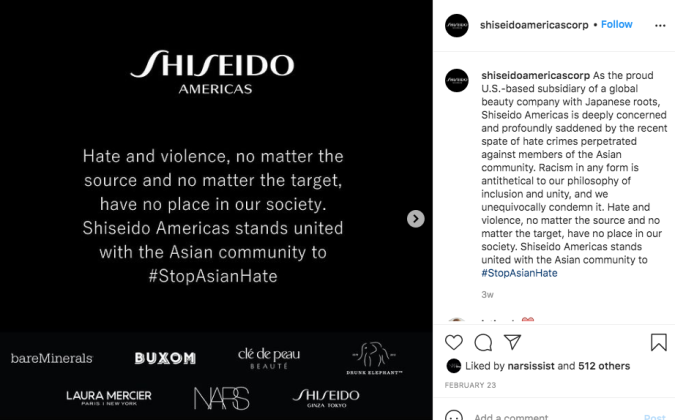 "The bare minimum could be a post, because people are looking for reassurance. But I also don't think that a post really does much," said David Yi, the founder of Very Good Light, who had been vocal about the topic of anti-Asian racism prior to last week's event. "A post is just hitting two buttons and re-sharing a meme, so it is empty. It's very performative."
Charlotte Cho, the co-founder of Soko Glam and skin-care brands Then I Met You and Good Skin Days, decided to donate 100% of profits from Good Skin Days purchases from February 23 to March 2 to Stop AAPI Hate and Hate Is A Virus. Last month, she shared her own personal story of being harassed on the street in New York, which received over 40,000 likes. 
"I've been very vocal about certain topics and things that I'm passionate about. I know that I have the unique privilege of having this platform and a voice, and I can influence people," said Cho. "Many people, especially the Asian-American community, were thanking me for speaking out, because they feel like they couldn't. They couldn't find the words or they're just so used to shoving those experiences under the rug."
"There are a lot of Asian-American women founders in beauty. Probably for them, as well as for myself, it's personal; it hits home," said Hero Cosmetics founder Ju Rhyu. "They're probably leveraging their brands' social [media] to make more of a statement." She also experienced an incident of racism on the street in Paris during the pandemic. Hero Cosmetics released a statement against anti-Asian hate crimes on February 27 and another statement about the tragedy on Tuesday.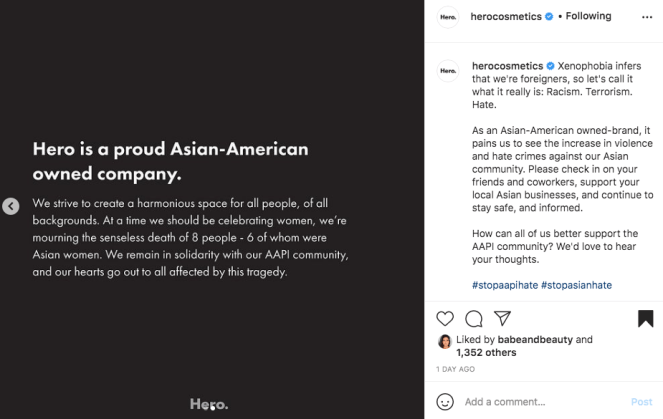 "Right now I don't feel safe taking the train, taking the subway," said Martin. "I've never had to feel like I had to look over my shoulder in New York City, and I've been here 22 years."
"It started last year when Trump was already calling it the China virus," said Ada Hsieh, founder of Ada Lip Beauty, of the recent wave of hate crimes. "I already knew this was happening. My parents were always worried about me being in the city by myself. This has been going on for a whole year already, and I'm glad that it's coming out now."
Beauty founders say that customers now expect them to take a stand against racism. According to a study commissioned by Unilever, 52% of consumers consider a company's stance on societal issues when making a purchase.
"Our customers in our community do feel strongly about social causes," said Cat Chen, the founder of fragrance brand Skylar. The brand donated to Stop AAPI Hate and is doing dollar-for-dollar employee donation matching. "Consumers aren't just viewing brands as places to buy products from. They also care about what brands stand for." 
"Right now, we're talking internally about what other things we can do," said Rhyu. She said the brand is considering donations, as well as "ways that the company could help or be involved politically, with legislation or petitions that we should be encouraging our audience to sign," she said. 
"Consumers definitely want to know where you stand," said Martin. "It's going to be more than creating a beautiful lipstick at this point. Consumers are going to be weighing that when they make their next purchase."