All products featured on Glossy Pop are independently selected by our editorial team. However, when you buy something through our retail links, we may earn an affiliate commission.
Tyler Malek, co-founder and head of innovation at Salt & Straw ice cream, and Josh Meyer, founder of Imaginary Authors fragrances, didn't initially realize all the parralels between their worlds. The duo first partnered in 2020 on a product collaboration, a perfume called A Whiff of Wafflecone. It's available for purchase on Imaginary Authors' website and at Salt & Straw's 27 scoop shops. Their newest collaboration, launched at Salt & Straw's scoop shops on Sunday, timed to National Ice Cream Day, takes things a step further. It's a collection of three edible perfumes that are being introduced as ice cream toppings.
Research suggests up to 80% of flavor is based on smell, and ice cream has no scent. So, the duo decided to level-up ice cream flavors by adding another dimension to them with fragrance.
The three fragrances will be sold for $65 each, while a sampler set of the three will be offered for $48. A Cloud of Cocoa features notes of Ecuadorian chocolate, malted milkshake and Japanese whiskey; A Plume of Blooms features jasmine, honeysuckle and wild country garden; and A Swoon of Citrus combines Key Lime pie, lychee and Italian lemon grove.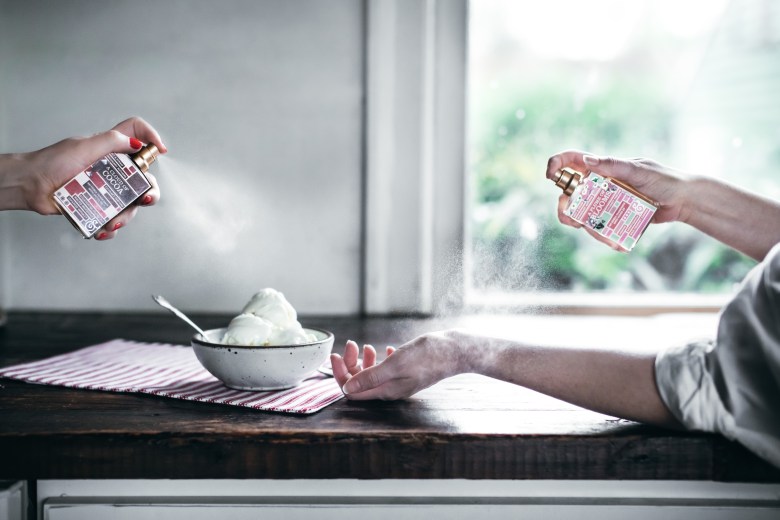 Malek discovered Imaginary Authors when shopping for perfume for his wife and reached out to Meyer. "It was the first time where I smelled something and could see the flavor progression and the journey they were taking me. It clicked for me that a really good perfume maker is actually very similar to a Michelin-star chef. It's this idea of knitting together 'a dish,' just in perfume form," Malek said.
The interweaving of the food and beauty worlds with collaborations is a trend that seems to have longevity — see: Elf x Dunkin Donuts, Elf x Chipotle, Hipdot x Tapatio and Hipdot x Girl Scout Cookies, to name just a small few. But the Salt & Straw and Imaginary Authors collaboration takes the concept to a more elevated place.
"You can just take patchouli and vanilla, and it smells great. But it was not only [about] finding the oils and then [figuring out] the concentrations to make them [both] something you'd want to want to smell [and] something unique to the perfume industry. [It was also about] making them something you'd want to spray on ice cream," Meyer said.
I asked Malek and Meyer if they envisioned this collaboration living more on one's vanity or in one's kitchen cabinets. "I'm leaning 51% more toward the food pantry, because that's where it really is revolutionary. I'm hoping that you're pouring it on your olive oil and, while you're at it, spritzing it on your wrist, too," Malek said. Meyer noted that, as perfumes, the new products don't last as long as his non-edible creations do.
The possibilities for mixing and matching the scents with Salt & Straw's flavors are endless, but the brands recommend combinations including a spritz of A Swoon of Citrus on a scoop of Arbequina olive oil ice cream and A Cloud of Cocoa as a topping on marionberry coconut sherbet.
It was a challenge to figure out how to work with essential oils in an edible way, Meyer said. On a more general level, the duo also needed the perfumes to have a tie to food, so they'd be easy to understand, Malek said. "Because no one has ever done this before — it's game-changing," he added.